Haseena Parkar, Daddy, Raees: Crime dramas in 2017 have been less gangster, more criminal
The botching of 3 gangster films in 2017 — Haseena Parkar, Daddy, Raees — can be brought down to one main point. As alluring power-hungry, menacing men (and women) can be, their stories are not so simple.
It won't be wrong to say that stories from the underworld have always fuelled our hunger and many times we have tried to bring the 'unknown' and 'unsaid' to the screen. Dark tales are high intensity and you are always on your toes while watching them.
As Narcos is the current obsession we all are suffering from, the bad guys have surfaced again on Bollywood charts. We had forgotten them for a while but they have come back. Leaving the moral debate aside, we all want to know what makes gangsters and men/women of crime so powerful.
The year started with Raees baniya ka dimaag aur miyabhai ki daring…and all of us went to the theatre in packs to be allured by Raees bhai, because if ammi jaan kehti haan then why wouldn't we.
The film was loosely based on Abdul Latif's life; a big-time bootlegger who eventually monopolised the illegal liquor business in Gujarat. At some places, SRK was applaud-worthy, but on the other hand the film was too long, populated with love sequences we didn't need. The minute an enjoyable cat and mouse chase got better, it was frizzled by an over bearing love ballad.
However, Raees was a cakewalk to watch, compared to other gangster films in 2017.
In the last two weeks I have watched two films that I was so excited about. Murky streets, cold blooded gangsters and power play on screen — I live for such drama. But 2017 has been — and there's no polite way to say this — disappointing.
It began with Daddy, which was so wonderfully shot but that's about it. Arun Gawli, the gangster on whom the film is based, was feared and worshipped by the people of Dagdi chawl.  The claustrophobia that is thrown at us while we watch the film sucks you in deep and you can't take your eyes off the screen. From cops to everyone who knew and fondly called him Daddy, everyone spoke about their version of the man who entrenched in the underbelly of Bombay.
These were the high points of the film but the point of matter? I didn't learn anything I didn't know about Gawli and I walked out feeling exhausted. Why would you subject your audience through the entire narrative and not give them something they don't know? A little unfair, isn't it?
But the crimes don't simply stop here. This weekend's release, Apoorva Lakhia's Haseena Parkar, is a depiction of Dawood Ibrahim's sister and how her life turned out the minute her brother became the man everyone feared. As inadequate Shraddha Kapoor was to play Haseena, even Siddhant's portrayal of Dawood was devoid of any personality.
Even today, when you think about the man who swung the system with one hand, shivers run down your spine. And here Dawood is just reduced to having bubble baths and candle light dinners in Dubai.
Did no-one go back to the storyboard when there was time? Here's a film with haphazard dialogues and a bland screenplay. This is the third gangster film of the year and even now, no one was able to diagnose the problems to fix them.
If only it was the job of background score and lipstick colours to invoke fear in us — why would we even need a theatre-watching experience then?
A timid Shraddha Kapoor suddenly turns eccentric and talks really, really slowly and says, " Aapa yaad reh gaya na, naam yaad rakhne ki koi zarurat nahi." Honestly, that is the only thing I remember from the film.
The problem of the matter lies in the first step of making a film. As alluring power-hungry, menacing men can be, their stories are not so simple. You just cannot begin without tying loose ends, lest you fall flat on your face. It has been almost two decades since Ram Gopal Verma's Satya and even today that is the best depiction of cold blooded gangsters. Satya was not only a great film but also gave us so many gems — from Anurag Kashyap, Ram Gopal Varma, Vishal Bharadwaj to Manoj Bajpayee.
The only time someone after RGV came close to making mean men work was Milan Luthria's Once Upon A Time In Mumbai (and the sequel was rather abysmal, so the curse remains). It has been so many years and sadly, I could just remember 2 films in a million. Pity.
Entertainment
The media event which was attended by SRK along with his co-actresses Anushka Sharma and Katrina Kaif became all fun, leaving everyone in splits following the actor's reaction.
Entertainment
Priyanka further also went on to say that her "ego is not bigger than her job" and that she is very professional and takes pride in it.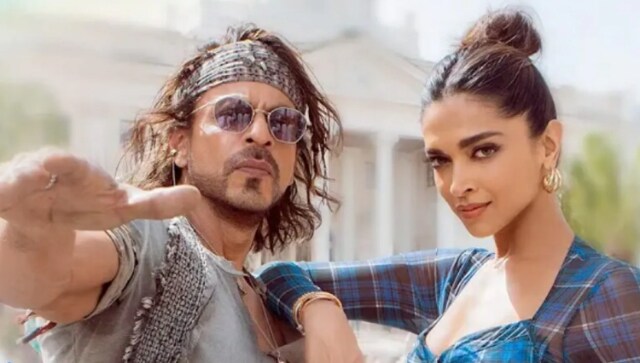 Entertainment
Featuring Shah Rukh, Deepika Padukone, and John Abraham, Pathaan has become a major hit of 2023.