Harvey Weinstein 'doesn't recall pressuring Salma Hayek' for an intimate scene in Frida, says statement
Harvey Weinstein has been accused of sexual harassment and assault over the past several decades by over 100 women including some of the biggest names in Hollywood.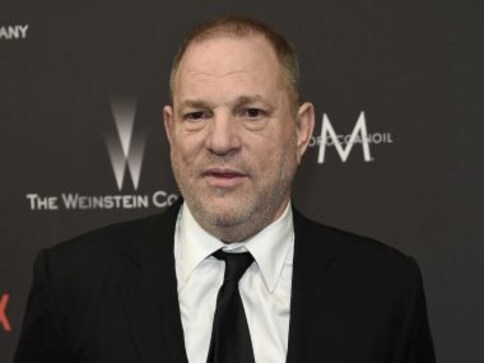 On Wednesday (13 December) Hollywood actress Salma Hayek wrote an op-ed on The New York Times detailing her harrowing experiences with the disgraced movie mogul Harvey Weinstein.
She had alleged that her continuous rebuffing of Weinstein's sexual advances had brought upon the wrath of the latter on to her, especially during the shoot of the 2002 film Frida. She said Weinstein forced her to do an intimate scene, which was not required at all, with co-actress Ashley Judd. Along with that, she was also subjected to physical assaults, death threats by him.
In a recent statement, Weinstein denied Hayek's accusations saying all of them were not accurate. He especially refutes Hayek's claims of having been pressurised by him into doing intimate scenes with Judd in Frida.
Vanity Fair carries a report which contains the whole statement issued by Weinstein's spokesperson:
Mr Weinstein regards Salma Hayek as a first-class actress and cast her in several of his movies, among them Once Upon a Time in Mexico, Dogma, and Studio 54. He was very proud of her best-actress Academy Award nomination for Frida and continues to support her work.

While Jennifer Lopez was interested in playing Frida and at the time was a bigger star, Mr Weinstein overruled other investors to back Salma as the lead. Miramax put up half of the money and all of the P&A; the budget was over $12 million. As in most collaborative projects, there was creative friction on Frida, but it served to drive the project to perfection. The movie opened in multiple theaters and was supported by a huge advertising campaign and an enormous Academy Awards budget.

Mr Weinstein does not recall pressuring Salma to do a gratuitous sex scene with a female co-star and he was not there for the filming. However, that was part of the story, as Frida Kahlo was bisexual and the more significant sex scene in the movie was choreographed by Ms Hayek with Geoffrey Rush. The original unibrow used was an issue because it diverted attention from the performances. All of the sexual allegations as portrayed by Salma are not accurate and others who witnessed the events have a different account of what transpired.

Ed Norton, who was Ms Hayek's boyfriend at the time, [worked with Mr Weinstein on the rewrite of the script in Mexico] did a brilliant job of rewriting the script and Mr Weinstein battled the WGA to get him a credit on the film. His effort was unsuccessful to everyone's disappointment.

By Mr Weinstein's own admission, his boorish behavior following a screening of Frida was prompted by his disappointment in the cut of the movie—and a reason he took a firm hand in the final edit, alongside the very skilled director Julie Taymor.
Hayek hasn't yet responded to Weinstein's denial of the accounts mentioned by her on The New York Times' op-ed.
Entertainment
"Unapproved voice cloning is a slippery slope": The use of deepfakes in Anthony Bourdain's docu Roadrunner has drawn criticism amid ethical concerns about the use of this technology.
Entertainment
NBCUniversal's August and September theatrical release schedule for India includes Promising Young Woman on 6 August, Old on 13 August and F9: The Fast Saga on 19 August
Entertainment
Jennifer Lopez and Ben Affleck, who were together from 2002 to 2004, have rekindled their romance since April this year after she ended her engagement with Alex Rodriguez