Happy New Year game review: Possibly even more painful than the film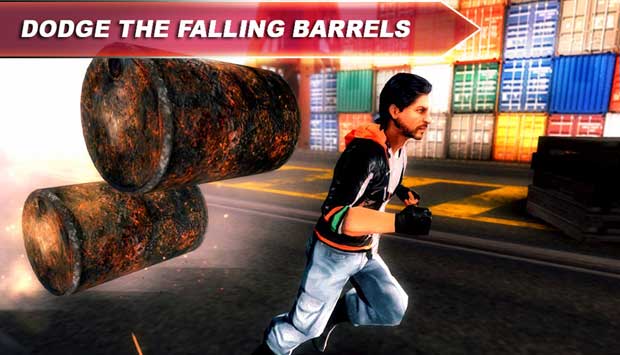 First things first, I've not seen Happy New Year, although I know the basic gist of the movie.
Now we've all read the reviews, be it the one that called the movie "Oceans 11 re-written by Baboons" or the Vigil idiot review that went viral on social media. To put it mildly: the critics didn't like this one, although (surprise surprise) it went on to make the Rs 100 crore club.
Given that the film had a mobile game, we decided to check out it out to see if it was any better than the movie.
I've been playing the iOS version of the Happy New Year game on my iPhone 5c and seriously I don't see why this should continue to occupy space on my phone anymore. I didn't go to the multiplayer mode, simply because the app automatically wanted to link to my google account to log me in. No Facebook or Twitter choice. Just the Google API. No thanks.
In theory, the game is simple.
SRK and his gang are the characters you can use in the game and you need to clear various levels. Like a typical mobile game, you have to complete the conditions of each level (like avoiding lasers, CCTV cameras and keeping your health intact so you don't die) and make sure you collect enough points (which are in the form of diamonds) to progress. Given that diamond theft is the central point of the film, it's not surprising that they are the objective of the game.
Easy enough. But not so fast.
Once you start playing, you realise that to move further ahead in the game, diamonds are indeed your best friends in this universe. For instance, the first level requires you that you get 40 diamonds and it's quite easy to achieve. Cake walk.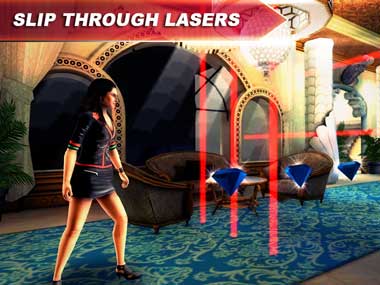 Does that mean you're automatically going to level 2? No sir, no. This is a game related to an SRK movie and thus it will test your patience.
Level 2 requires 80 diamonds just to unlock, and even if you clear level 1 with all conditions, you'll need to play the whole thing again to get those extra forty diamonds. You might think (as I did) "fine I'll do the whole rigmarole again", but then in level two you have guys attacking you with guns, and to get a gun you need another 100 diamonds. And worse. It's not even a proper gun, it's a taser gun which is of no use.
To sum up the game's logic: remember the key number is 100 diamonds. You need 100 to rejuvenate your health, 100 to buy a gun and 100 to buy a shield. Also when you get a gun you can only use it once. So get ready to shell out another 100 to buy more. Worst taser gun ever.
And if you want the rest of the characters prepare to shell out more. Deepika is 400 diamonds, Abhishek is 600, Boman Irani is 100 and Sonu Sood is 250. Poor Vivaan Shah is free and replaces SRK when he dies in the game.
So yes, the app allows for in-app purchases (surprise, surprise) and sure if you're the impatient kind who thinks it is fine to shell out Rs 60 for a pack of 500 diamonds than only exist in a game, just so that you get to the next level, then please go ahead.
Sure other apps (Candy Crush is the undoubted king of this) also depend on the in-app purchase revenue model, where a level often gets so tough that a lot of users buy these little boosts to go one-level up, (I've been tempted to do so many times) but that doesn't mean the game doesn't let you go to the next level. It's a little tougher, but not impossible to proceed. This game, is.
I understand that some levels can be made paid, but the fact that I had to jump through the same hoops, multiple times and then find myself still stuck on level two is just plain annoying. Level three needs 250 diamonds and I'm not sure if I'll stick with the game.
Other than the diamond obsession that the game-creators have, there are a few more problems with the game, which makes the experience a little buggy.
For starters, the graphics are just about passable. Every time SRK fights with the guard for instance, the little boom effect of each kick is not required.
Then there are times when SRK's character would be at what is effectively the end of my screen and I'll notice he's getting punched. The issue is that a guard is standing in front of the character, but since the game didn't move forward, I have to punch without actually seeing what I'm trying to hit. A little ridiculous but I'm guessing the creators thought that all users have a 5-inch screen nowadays.
To add to the buggy experience, there was the pause button, which should have ideally let me pause the game and go back to the main menu. The button never worked for me, no matter how hard or how gently I tapped it. In short, my best solution out of a level was to close the app altogether.
Then there are elements of the game that seem random.
For instance you have to disable to CCTV cameras in the game as you collect the diamonds. In front of the first few cameras, you see a little WiFi button and you have to press-to-hold on that symbol to disable it. An idea that sounds silly but it works as long as you don't remove your hand, till the camera is disabled which takes around 30-50 seconds. However as you move ahead in the game, you realise that some cameras get disabled on their own. What is the rationale for this? Why have that WiFi button early on and then nowhere else in the level? It all seems a little pointless.
For me, the most serious problem with the game is the whole-locked level concept. Nor is the game as addictive as a Candy Crush or even 2048. Truly I'm not inspired enough to get 250 diamonds to unlock the next level and frankly am too cheap to pay for this one.
Updated Date: Oct 31, 2014 08:58:57 IST
Find latest and upcoming tech gadgets online on Tech2 Gadgets. Get technology news, gadgets reviews & ratings. Popular gadgets including laptop, tablet and mobile specifications, features, prices, comparison.