Half Girlfriend, Hindi Medium, and why we love films about English Vinglish
Both this week's releases, Hindi Medium and Half Girlfriend dealt with how knowing the English language can drastically change your life for the better.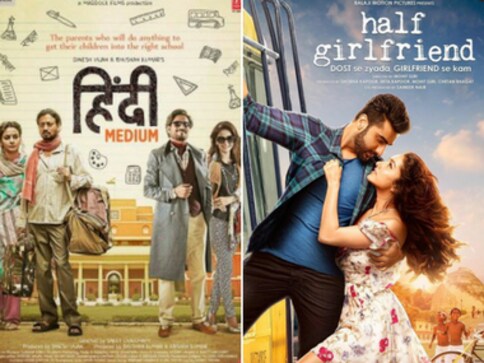 Both the releases this Friday, 19 May, Hindi Medium and Half Girlfriend dealt with how knowing the English language can drastically change your life for the better. In Hindi Medium, a couple struggles to get their child into an English medium school so he has a better future ahead, while the male protagonist of Half Girlfriend doesn't know English too well, which makes him feel inferior to his peers and love interest.
But we have always been obsessed with knowing the Queen's language. Our colonial hangover — where English is a status symbol — translates onto the screen as well and has been the subject of many films and TV shows. Not only Bollywood, many international films too focus on how the protagonist learns the English language and betters his/her life and attains success or the love of their lives. Here are a few other films that focus on language elitism:
English Vinglish (2012)
A middle-aged housewife (Sridevi) learns English in New York with a bunch of other immigrants, Mind Your Language style. Sridevi's Sashi learns English as a way to assert her independence, and in the hope that her family, who look down at her because she doesn't know English, will treat her with the respect she deserves.
Guari Shinde's 2012 directorial debut was not only genius because it looked at how we use English to classify people into categories, but also a brilliant feminist film. Women like Sashi who do more than romance the lead hero are rarely in the spotlight in Bollywood films.
Spanglish (2004)
Even Hollywood is obsessed with the idea of how knowing English can better your life. In the US, immigrants try and learn the language as fast as they can in order to live a better life. In Spanglish, a mother and daughter immigrate to the US from Mexico in search of a better life. The mother Flor Clasky (Paz Vega) works as a nanny to Jon Clasky's (Adam Sandler) messed up family. Flor knows only Spanish and the Claskys know English. Flor tries and learn the English to try and communicate with the family better, but as the narrator in the trailer asks, "She doesn't speak the language, but in a family that doesn't understand each other, she will fit right in."
Mind Your Language (1977)
The 1977 British sitcom revolved around Jeremy Brown, who teaches English to a bunch of immigrants (including an Indian with a thick Apu-from-The Simpsons-accent). For the immigrants, knowing English means fitting into Britain and sharpens their prospects of a better life.
My Fair Lady (1964)
The 1964 adaptation of George Bernand Shaw's Pygmalion looks at class identity and the manner in which one speaks English.
Back in 1960s London, Professor Henry Higgins (Rex Harrison), who is a scholar of phonetics, believes that the accent and tone of one's voice determines a person's prospects in society. He takes a young flower seller, Eliza Doolittle (Audrey Hepburn), who has a strong Cockney accent, under his wing. He tries to help Eliza with speaking and behaving 'like a lady' to 'raise her station' in work and love.
The film takes a hard look at how speaking and behaving in a certain way can make you fit in anywhere.
The Terminal
Steven Spielberg teamed up with Tom Hanks for a very sensitive comedy in The Terminal. Viktor Navorski has arrived in the American airport at New York just as his nation, Krakozia, has descended into a civil war. Therefore his passport and visa are worthless, his country no longer exists, and he cannot go forward or go back. Dixon, the customs official (Stanley Tucci), tells him he is free to remain in the International Arrivals Lounge, but cannot set foot 'on American soil.' As Navorski struggles to survive in 'the terminal' we see how his thick accent plays an important role in the way people treat him and how he copes with being stranded in an airport lounge.
Entertainment
Amitabh Bachchan says that Gauri Shinde has narrated ordinariness of everyday life in such a beautiful manner in her directorial debut English Vinglish that it has left lumps in his throat.
Entertainment
Gauri Shinde's English Vinglish that opened to a tepid response on Friday, picked up over the weekend, and has remained steady since then.
Entertainment
It is unlikely that you will come away unmoved from English-Vinglish because Gauri Shinde shows how casually we dismiss someone right at home where they should be the safest.