Habib Faisal on Qaidi Band, Lucknow Central content clash: 'I'm sure it's a coincidence'
Qaidi Band is Habib Faisal's fourth venture as a director. In an exclusive interview, Faisal speaks about the extensive research behind the film, and working with YRF.
It's strange that a conversation with director Habib Faisal lasting close to an hour and a half doesn't bring up the name of his upcoming film Qaidi Band.
More than the film, he is consumed by the origin of the film and the exhaustive research he had to undertake for 18 months. When I meet him at YRF's corporate building, he looks at ease in his black t-shirt and blue denim. His impeccable manners and clarity with words need to be applauded. So is he relieved that Qaidi Band will hit theatres before Lucknow Central?
"The year I made Do Dooni Char was also the year when it was screened in New York. There I discovered another film made with Deepak Dobriyal, which was about a teacher in the mountains who wins a Maruti 800 in lottery. The entire narrative then deals with what the poor teacher decides to do with the car. I am sure that at any given point of time there must be 1000 people thinking about a jail narrative, and two eventually ended up with the screenplay. I am sure that it's a coincidence and they are not saying that I have stolen the plot and vice versa," explains Habib.
Qaidi Band is Habib's fourth venture as a director and also the most tiring one in terms of research. For the Do Dooni Chaar director, it was tough getting permission to enter a jail. The research took him to most Central Jails in India, which included Pune, Delhi, Jabalpur and Guwahati among others.
"Most of the Indian jails were designed by the British and follow a pentagonal or a hexagonal pattern with a watch tower in the middle. As this was pre CCTV days, it was meant to keep a watch.  On an average there are close to 4000 convicts and under trials manned by roughly 150 wardens. In Maharashtra, there is no provision for non-veg food while in Delhi's Tihar, it's served every Sunday," reveals Habib.
The seed for Qaidi Band were sown in Habib's mind when he was shooting for Ishaqzaade in Barabanki, UP.  The news of a music band formed by Tihar Jail's inmates, called Flying Soul, caught his attention. From then on, it was continuous research even while he was shooting for Ishaqzaade and Daawat-e-Ishq. "This film is a sum total of all these experiences. I have not based my story in any particular city in India as all these things are happening in any city that has a Central Jail."
Habib directed his debut film in 2010, but not many know that he started his cinematic journey as early as 1992. The film was Electric Moon, directed by Pradip Krishen and written by Pradip's then-wife Arundhati Roy. Out of three assistant directors for the film, two were Habib and Tigmanshu Dhulia. While Habib was assigned to take care of floors and lab, Tigmanshu was in charge of the casting process. It was a fruitful beginning as the Naseeruddin Shah starrer went on to win a National award.
Greatly influenced by the narrative of Hrishikesh Mukherjee films and Iranian cinema, Habib tasted both fame and success with his initial two films – Do Dooni Chaar and Ishaqzaade, but his Dawat E Ishq suffered rejection. So what went wrong? "One was the script and second was me as a person. I would consider Dawat E Ishq as my own space but during the shooting of the film I realised that I had done similar things during the making of Do Dooni Chaar. I was in an auto pilot mode in my comfort zone."
Habib does have one regret about the film as he was hoping that someone would do some spoof on the trailer of Qaidi Band. The desperation even forced him to approach few digital companies. "I was told that they wanted some stuff to spoof and the trailer had such solid serious content that they failed to pick any. I felt a bit clueless on whether I should take it positively or in some other way," says a candid Habib. Our interpretation would be a positive one.
Entertainment
The big buzz film opening this weekend is Ishaqzaade. While the flashbulbs are going off for the young stars Arjun Kapoor and Parineeti Chopra, film buffs are excited about the man behind the camera - Habib Faisal.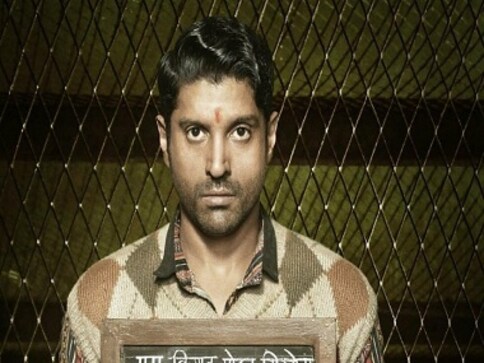 Bollywood
Farhan Akhtar's character in Lucknow Central forms a band with his fellow inmates. Similarities to Habib Faisal's upcoming film Qaidi Band?
Entertainment
In an exclusive interview, Aadar Jain talks about the nepotism debate, his family name and his introduction to Raj Kapoor's cinema, and how he landed the lead role in YRF's Qaidi Band.