Gultoo movie review: Janardhan Chikkanna's potboiler feels relevant in times of Aadhar and Facebook data breach
The timing of Gultoo's release could not have been better with Aadhaar and Facebook hitting the headlines with regard to data breach.
Kindly look around and look within before you hop onto the train of this review. What are you reading this piece of writing on: A super-smart hand-held device or a good old-fashioned laptop?
Don't worry. I am not trying to sell you anything. I just watched Gultoo and my mind is floating somewhere in the World Wide Web.
Why World Wide Web, you ask. Well, that is what the movie is about. Not entirely though. It takes quite a bit of a journey to reach there but boy, when it gets to that tipping point, surprises pounce upon you like thieves who attack lonely travelers after sunset.
Until this morning, I did not know what the title stood for. What could Gultoo mean after all? For a long time, I thought it was the name of a character in the movie. My commerce brain could not dig deeper than that. Speaking of commerce, there is a fine joke that pops up early on in the film where a young man sheds crocodile tears at a coaching centre, saying he cannot understand the encryption-and-decryption concepts. I should have taken up commerce, he mumbles. The theatre burst into laughter and so did I.
Oh, I have not told you about the title yet. Gultoo is the encrypted version of 'Log Out'. All these mini cakes add up to a bigger dessert in the end. The director, Janardhan Chikkanna, holds your hand and takes you through the preparation of the dessert. Take that encryption-and-decryption scene for instance – the film's leads, played by Sonu Gowda and Naveen Shankar, drill the information into your head till you get it. It is a sly manner of sliding entertainment and a few tips on science and technology through the help of dialogue and staging.
That scene holds the screen for about two and a half minutes. And when that happens, you can be sure of that concept being picked up for a later sequence. Gultoo has the elements of a musical-romance and a thriller. But it is spread out in the form of a tragicomedy – a tragicomedy because the viewers are left scratching their heads at the blatant truth staring at them and applauding the makers' vision at the same time.
Isn't it funny when the film's comedian, Aasthi (Ram Dhanush, who plays the hero's sidekick), sends a picture of his manly instrument and the receiver replies with a "Chota Bheem" text message? There are genuinely funny moments involving Aasthi and his shenanigans. Sometimes, the movie veers away a bit to give the actor the center-stage and it pays off wonderfully by making the audiences loosen up. This is probably done to set the viewers up for the hard-as-nails play of the third act.
In Gultoo's first major scene, Alok (Naveen Shankar) hacks into a movie ticketing website and purchases tickets. Hackers are respected by their friends and demonised by the government. Almost every movie that deals with hackers has a portion of this kind of recipe. Janardhan Chikkanna's directorial debut is not any different in that aspect. However, it is, perhaps, the best chance that Indian cinema has got to reclaim the baton of creative freedom that was snatched during the making and release of Sanjay Leela Bhansali's Padmaavat.
The movie takes several potshots at the government as the plot itself is centered on the lack of security measures dealing with their schemes (hello, Aadhaar!). And the icing on the cake is the name of Karnataka's Chief Minister, Anantharamaiah (Rangayana Raghu is made to lightly resemble Siddaramaiah). The team of Gultoo, thankfully, did not include these references in the trailer/promotional material. Who knows? Maybe, some useless Sena would have protested against the release of this movie too.
The roles of the leads are excellently written. A couple of thick layers of moral ambiguity reside in their characters. How far would you go to extract the truth from a person? The film does not question the choices its leads make. There is no character that points a finger at what Pooja or Anagha (Sonu Gowda) do to get to the bottom of the data-theft mystery, and in a similar vein, moral science classes are not pushed down your throat through Naveen Shankar's character either. Janardhan seems to be interested in focusing his energies toward narrating how people are losing their privacy.
Also, the timing of the release could not have been better with Aadhaar and Facebook hitting the headlines with regard to data breach. The stars must have lined up to help the movie.
And having scrumptious things to say, actors Sonu and Naveen put their best foot forward (not during the songs, though; they're poorly choreographed).
Gultoo makes you think and whine about the activities you conduct online and it certainly  works as a coherent whole.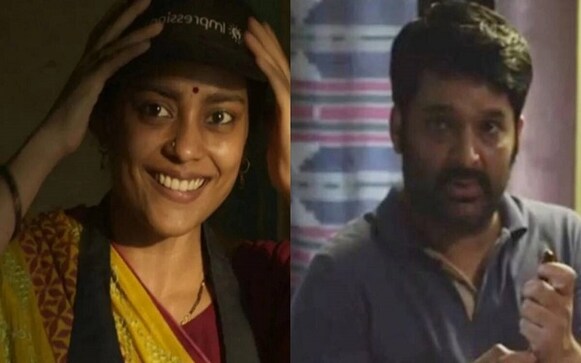 Entertainment
Nandita Das directorial Zwigato strikes a conversation on gig economy and unemployment situation of our country.
Entertainment
Keanu Reeves' John Wick: Chapter 4 is an action-packed adrenaline rush filled with breathtaking cinematic moments.
Entertainment
The latest of Scream makes the slasher franchise bloodier, gorier and brighter.