Gulaab Gang review: Madhuri does a Rajini, and she's not half bad
Gulaab Gang is exactly what its director wants it to be — yet another chip off the Bollywood block, just one that's pretty in pink.
Apparently, all debutant director Soumik Sen wanted to do with Gulaab Gang was make a good, old fashioned, masala film, in which two women would go head to head instead of two men. He delivers precisely that in Gulaab Gang. The only difference is that there is no romantic angle to distract attention from the main story or soften up the brawn fest. Madhuri Dixit and her gang of single ladies are fighting the good fight from the first minute to the last in Sen's film, pausing only occasionally to dance energetically or drink some water.
Gulaab Gang is the story of what happens when the fictional village Madhavpur's strongwoman Rajjo (Dixit) goes up against widowed politician Sumitra (Juhi Chawla). We don't know much about either Rajjo or Sumitra. The latter is, like all women politician in Bollywood, the wife of a political leader who is now dead. Rajjo appears first as an abused child and then, the film fast forwards to her all grown up, in pink and being played by Dixit.
However, it's clear that this isn't activist and Gulabi Gang founder Sampat Pal's story. Sen has stolen little more than a colour palette from Pal and if Pal had seen Gulaab Gang before moving to court, she might have been quite happy to be the inspiration for Rajjo, because Dixit's Rajjo is the Rajinikanth of Madhavpur. At the end of the film, Sen lists a number of women — whose portraits are drawn in pink — who have turned the hardships they faced into inspiration to become activists. It would perhaps have been polite to include Pal in that list, but as it stands, the only time Pal appears in Gulaab Gang is right at the beginning, when a slide informs us the events in the film bear no resemblance to Pal's life and experiences.
The other similarity between Gulaab Gang and Gulabi Gang is that both decide at one point to abandon vigilantism and try becoming part of the system by entering the elections. This brings Sumitra and Rajjo head to head. Sumitra commands most of the corrupt police force, the bureaucracy, her party workers and local thugs. Rajjo's army is limited to the group of misfit women to whom she's provided shelter after they were kicked out of their homes for 'crimes' like not bringing in enough dowry. In their pink saris and brandishing rustic weapons, the Gulaab Gang take on all the disgusting, patriarchal men and give them a taste of their own medicine. They fight, some of them smoke and drink, they curse. And they gang up and inflict severe violence upon the men who have attacked one of their own.
To the film's credit, while Dixit is very much the heroine with Chawla coming in as a distant second lead, the supporting cast comprising lesser-known theatre and film actresses like Priyanka Bose, Tannishtha Chatterjee and Divya Jagdale aren't treated shoddily by Sen's script. Their talent is largely wasted in Gulaab Gang, but they do get a fair amount of screen time. Bose and Jagdale's friendship is vaguely reminiscent of Sholay's Jai and Veeru, and both women get to unleash a fair number of dialogues, dance steps and fighting moves.
There's nothing in Gulaab Gang that you haven't seen Bollywood heroes and villains do for years. Chawla delivers dialogues with slow, dramatic menace, just as bad guys have for decades. There's not a tint of the positive in her character because as per long-standing masala tradition, Sumitra is the black to Rajjo's white, er, pink. The acting is a little over the top, but consistently so. The lines aren't coy about wanting to evoke wolf whistles. For example, Rajjo tells Sumitra during a meeting that is ostensibly cordial but actually has about as much fellow feeling as would a cat and a canary in the same room, "Sanghatan ki shakti hai, akele mein aapki phat-ti hai." Sumitra retorts in rhyme too, naturally.
Every stereotype that you can think of is present in Gulaab Gang: the evil stepmother, the weak father, the wastrel son, the toxic widow, the feisty tomboy, the meek woman with hidden reserves of strength, the corrupt policemen, the outnumbered honest policeman, the obsequious secretary, the spineless bureaucrat. As a result, there are few surprises in the film, but especially for a first film, Gulaab Gang is competent and it certainly isn't offensive or lazy. There are a few chilling moments, like the one in which a rapist is bathing in the village pond (while listening to his digital music player, inexplicably). He thinks he's alone with a young girl he raped recently, but the audience sees three of the Gulaab Gang rise silently out of the water behind his leering face. There's wonderful menace in that one moment.

Gulaab Gang also has some excellent fight sequences. At one point, Dixit does a vaguely kung-fu move that has her leaping off the ground, vaulting off the bonnet of a truck and then slam-dunking her opponent. It's as adrenalin-charged as any fight scene in Bollywood. Safe to say, Dixit is as credible as Salman Khan or Akshay Kumar when she's taking out her competition with leaps and flying kicks. Unlike the two men, she can dance although that talent doesn't come handy in this film, thanks to the ghastly choreography.
While films like Dabangg are self-aware and often make fun of the genre they belong to, Gulaab Gang is an earnest film that takes itself seriously. There's nothing tongue-in-cheek about Rajjo's desire to create a safe haven for women or to set up a school that will let the children of the area get an education. When Rajjo decides to compete against Sumitra in the upcoming elections, it's her zeal to do good that motivates her. Similarly, there's nothing comical about Chawla as the corrupt, evil politician who is formidable because of how conscience-less she is.
Gulaab Gang is exactly what its director wants it to be — yet another chip off the Bollywood block, just one that's pretty in pink.
Entertainment
Photo-Prem is a funny, quintessential take on what we leave behind for memories but quickly loses potential with half-baked writing and slow pace.
Entertainment
Time to Dance is pulled down by its unexceptional story, prosaic dialogues and colourless performances by the leads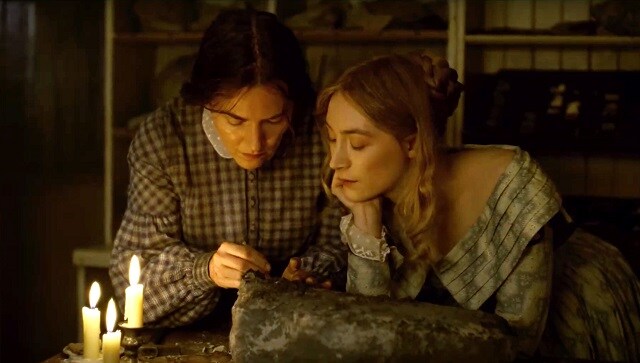 Entertainment
Ammonite suffers from a slowness, that intends to mimic the pace of life, but does not build or culminate into anything profound or satisfying.