Guardians of the Galaxy Vol 2: More about Nathan Fillion, Miley Cyrus' cameos
So many cameos, but so little time left for the Guardians of the Galaxy sequel.
As the days pass by until the release of Guardians Of The Galaxy Vol 2 , it's becoming something of a minefield of rumours and confirmed secrets out there, and avoiding spoilers around the plot is difficult, to say the least.
But if you're one of those fans who actually enjoys spoilers, it's a wonderful time to be alive, as the director and people who've seen the film are gleefully releasing as much information as they can.
After Firefly star Nathan Fillion posted a mysterious image on his Instagram account, Marvel fans went crazy assuming he has a cameo in sequel as Simon Williams — also known as Wonder Man — but his caption suggested that his role was cut from the film.
Here's the photo:
But the confusion was cleared up as Guardians writer/director James Gunn confirmed on social media that Wonder Man was never actually intended to show up in the finished film anyway. He said:
For the record, that was never a scene in the movie - that's simply @NathanFillion clowning around on set. https://t.co/o3oRI3O3xw

— James Gunn (@JamesGunn) April 21, 2017
. @NathanFillion was Simon Williams in some movie POSTERS in a scene cut from the movie. It was a way to have fun with one of my best pals. https://t.co/aueWcm88zb

— James Gunn (@JamesGunn) April 21, 2017
According to an official Twitter posting from lifestyle blogger Sarah Ruhlman, pop star Miley Cyrus will be lending her vocal talents to Guardians of the Galaxy Vol. 2 by way of playing original Marvel Comics character Mainframe.
As comics fans may already know, Mainframe is an alternate universe version of Vision from The Avengers who operates within the same fictive space as Peter Quill (Chris Pratt) and company — though how the character will be adapted to suit the purposes of the MCU remains to be seen.
Fun fact from the @JamesGunn @Kevfeige interview happening now! @MileyCyrus is the voice of Mainframe. #GotGVol2Event #GotGVol2

— Sarah Ruhlman (@SarahScoop) April 20, 2017
Guardians of the Galaxy Vol. 2 is scheduled for release on 5 May with director James Gunn reuniting with returning cast members Chris Pratt (Star-Lord), Zoe Saldana (Gamora), Dave Bautista (Drax), Bradley Cooper (Rocket), Vin Diesel (Groot), Karen Gillan (Nebula), Michael Rooker (Yondu), Glenn Close (Nova Prime), Sean Gunn (Kraglin) and Laura Haddock (Meredith Quill) alongside new additions Pom Klementieff (Oldboy) as Mantis, Elizabeth Debicki (The Man from U.N.C.L.E.) as Ayesha, Kurt Russell (The Hateful Eight) as Ego the Living Planet, Chris Sullivan (The Drop) as Taserface, Tommy Flanagan (Sons of Anarchy) as Tulik, Sylvester Stallone as Stakar and Michael Rosenbaum (Smallville) in an as-yet-unrevealed role.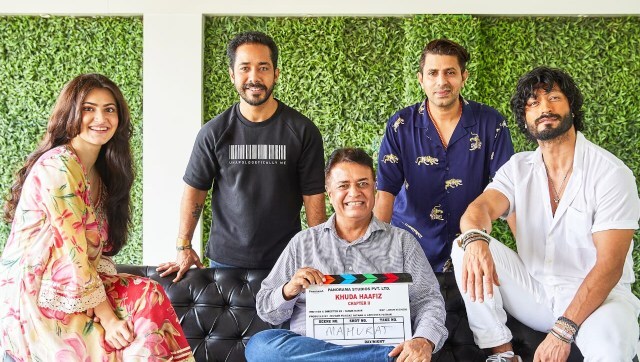 Entertainment
Other announcements include The Kapil Sharma Show's team getting vaccinated and America Ferrera boarding the cast of Apple's series WeCrashed.
Entertainment
From pandemic shutdown making way for newcomers, to streaming giants taking over traditional networks, here are five things to look out for as the nominations are unveiled.
Entertainment
The final chapter of Loki's solo adventure will premiere on Disney+ Hotstar Premium and Disney+ Hotstar VIP today.