Guardians of the Galaxy Vol 2 early reviews: Funnier than the original, with ton of surprises
After a press screening in the US, critics and journalists seem to have loved Guardians of the Galaxy Vol 2.
When Guardians of the Galaxy released back in 2015, it was an experiment for Marvel; the first film of the Marvel Comic Universe till then that was not a serious, 'save the world' superhero film.
Instead, it was funny, satirical take on the superhero genre. The film had great laugh out loud moments and an equally amazing soundtrack to boot.
Given the film's victory with both critics and at the box office, a sequel was almost immediately in the cards, and now it seems Marvel has another crowd-pleaser on its hands.
Vol. 2 scopes the life of a dysfunctional family of intergalactic outcasts and their unwitting involvement in saving the universe from almost certain annihilation.
A recent press screening in the US had critics and journalists emerging from the theatre to share their initial thoughts on the sequel, with most of them offering plenty of praise for the film and its place in the Marvel Cinematic Universe.
Guardians of the Galaxy Vol. 2 releases in India on 5 May.
Here are some early reactions on Twitter:
Going in with through-the-roof expectations, Guardians Vol. 2 still left me wishing it was never going to end. I seriously loved it. pic.twitter.com/kMvGQCeRiS

— Brandon Davis (@BrandonDavisBD) April 18, 2017
I say without hyperbole: #GotGVol2 is MCU at its very best. Grand adventure with intimate stakes. Uses every damn color in the crayon box. 🌈

— Angie J. Han (@ajhan) April 18, 2017
Guardians of the Galaxy Vol. 2 is funnier than the original, a ton of surprises, and an unexpected emotional profoundness. I am Groot.

— Peter Sciretta (@slashfilm) April 18, 2017
Had tons of fun with Guardians of the Galaxy 2. Incredibly funny, beautifully colorful, and great continuations of the heroes. Super happy!

— (((Eric Eisenberg))) (@eeisenberg) April 18, 2017
GUARDIANS OF THE GALAXY VOL. 2 is exciting, funny, gorgeous & a helluva tearjerker. For many, it will become their new favorite Marvel movie pic.twitter.com/Po4ZOSPs8Q

— ErikDavis (@ErikDavis) April 18, 2017
Don't think I've heard so much laughter at a press screening. People seemed to really be digging Guardians Vol. 2. Can't say more (yet)

— Aaron Couch (@AaronCouch) April 18, 2017
GUARDIANS OF THE GALAXY 2 kept a smile on my face from beginning to end. Funny, action packed, emotional, and tons of surprises. Thumbs up. pic.twitter.com/aIz7Redwin

— Steven Weintraub (@colliderfrosty) April 18, 2017
Holy smokes was Guardians of the Galaxy, Vol 2 fun! I had a smile plastered on my face nearly the whole time. Tons of Easter eggs too. pic.twitter.com/558Q7nw8yN

— Dan Casey (@DanCasey) April 18, 2017
We could only find one negative reaction to the film:
Hate to be the Voice of Reason, but GUARDIANS OF THE GALAXY VOL. 2 isn't as good as the first. What felt fresh now feels forced. 2.5/4 stars

— Jeff Sneider (@TheInSneider) April 18, 2017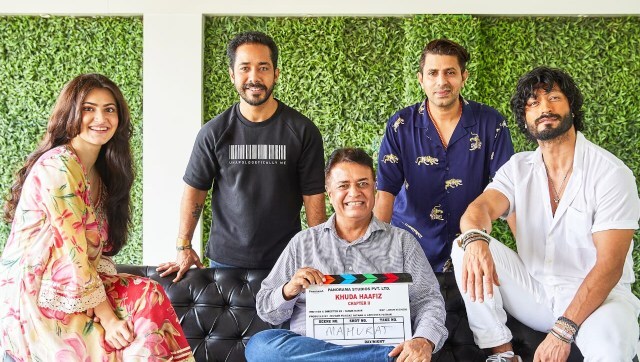 Entertainment
Other announcements include The Kapil Sharma Show's team getting vaccinated and America Ferrera boarding the cast of Apple's series WeCrashed.
Entertainment
Other announcements include the new trailer of Shang-Chi and the Legend of the Ten Rings, and the debut of Nithin Lukrose's Malayalam feature Paka at Toronto International Film Festival 2021.
Entertainment
Coasting on the strength of its visuals and the irreverence of its key characters, it launches a flat-out sensory assault from the word go.