'Great Grand Masti' review: Crude, clichéd, juvenile — check
'Great Grand Masti' is a regressive nod to Bhartiya sanskriti and misogyny in the middle of a bottoms-and-bust fest.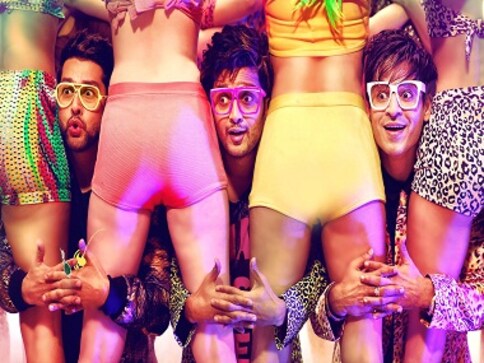 Caution: The content of this review may be unsuitable for children. Parental guidance is advised.
Great Grand Masti is the third in the financially successful Masti series directed by Indra Kumar and starring Riteish Deshmukh, Vivek Oberoi and Aftab Shivdasani as friends Amar, Meet and Prem, three sexually frustrated married men who are desperately in search of a roll in the hay with any and every available good-looking young woman.
In the latest instalment, they are kept away from their marital beds by familial interference. Amar's mother-in-law is a meanie. Meet's wife has an inexplicable connection with her twin brother (who is a body builder) as a result of which her sibling gets turned on every time her husband tries to make love to her. And Prem's sister-in-law does not realise just how hot she is.
When the men take off on a break to find some action, they encounter the spirit of a beautiful woman who is desperate to lose her virginity to one of them.
I watched the film this morning. This is my review:
Cheap – check.
Juvenile – check.
Loud – check.
Rape joke – check.
Sexism directed at women – check.
Ageism directed at women, including a scene in which old ladies are described as "baasi paav" (stale bread) – check.
An obsession with mammary glands, epitomised by a busty bai from a town named Doodhwadi, which leads to an abundance of wisecracks about milk (eww!) – check.
Degrading objectification of women, including a song called Lipstick laga ke in which a male star drums a woman's bum and sings about "apple jaisi booty teri" – check.
Reductive portrayal of men as being slaves of their penises – check.
Erections so large that they raise the height of a table at which a man is seated – check.
Rhyming dialogues – check.
Classism – check.
A mockery of disability – check.
Sense of sadness because Indra Kumar once directed a fun and not low-brow slapstick comedy, the Madhuri Dixit-starrer Raja in 1995 – check.
Heartbreak because Riteish Deshmukh is truly talented and one of Bollywood's finest comedians, but seems not to consider himself too good for this crass crap – check.
Sense of sadness at the realisation that sweet Aftab Shivdasani was once a Farex baby and his career struggles have brought him to this pass – check.
Vivek Oberoi going goggle-eyed – check.
Sadness brought on by the memory of Oberoi's fantastic debut in Ram Gopal Varma's 2002 film Company – check.
Assembly of dispensable actresses playing Amar, Prem and Meet's wives, who are so summarily written that they are indistinguishable from each other – check.
Note: The only one of Great Grand Masti's young actresses with a somewhat distinct identity is former beauty contest winner Urvashi Rautela in the role of a perennially semi-nude ghost from Doodhwadi. She seems like she just might have something to offer the world of cinema other than those football-sized breasts that the camera and costume managers of this film are so focused on, but if that is all the faith you have in your talent and screen presence, Ms Rautela, then … sigh! … the choice is yours, of course.
For the record, cleverly handled slapstick humour can be fun even for serious film buffs who may prefer a diet of Satyajit Ray and Abbas Kiarostami, but are also occasionally willing to let their hair down. Just check out the David Dhawan-Govinda combination at their best and you will know what I mean. Indra Kumar's Great Grand Masti though, is too lazy to cash in on the comic timing of at least two actors in the cast who are capable of being a scream when given a good script: Deshmukh and Sanjay Mishra.
There is little that is different in this film except one genuinely amusing quip about female infidelity and lesbianism, which is unexpected from an industry that otherwise finds humour only in bed-hopping men while placing promiscuous women in the dock and has barely acknowledged the existence of homosexual women in this world. Surprise surprise, this particular scene is not tasteless. It proves that Kumar possesses a quality not very common among humourists: the ability to crack jokes about a marginalised group without being condescending, to laugh with people rather than at them.
He might have drawn more on that gift if he did not have such a poor opinion of his potential audience and was not aiming pointedly at the lowest common denominator. It's a pity that he takes the easy path. And so what we get is a regressive nod to Bhartiya sanskriti and misogyny in the middle of this bottoms-and-bust fest. You see, sexually assertive women cannot but be witches and phantoms. Such women must be tamed, not satisfied. And the one thing even a horny, unfaithful Indian husband can bank upon to save him from death – or paranormal attacks – is a Karva Chauth vrat by a virtuous wife.
Medieval – check.
Hypocritical – check.
Cliched – check.
Crude – check.
Calls itself an "adult comedy" but is really directed at hormonally charged teenaged boys with a limited IQ (not the bright ones) – check.
Optimistic critic who was traumatised by Grand Masti but still dutifully watched Great Grand Masti in the hope that this time Kumar might have come up with something worthwhile – check.
also read
Entertainment
For Fatima Sana Shaikh suffering from epilepsy was a struggle and it took her 5 years to accept it, but now she is okay and opens up on raising awareness about the same.
Entertainment
In Bloody Daddy trailer Shahid Kapoor is seen fighting drug lords and cops
Entertainment
Just after her wedding Swara Bhasker completes the filming for her next 'Mrs. Falani' Mrs. Falani is real special film.