Grammys 2018: Lorde's Melodrama or Kendrick Lamar's DAMN — top contenders for Album of the Year
Ahead of the 60th Annual Grammy Awards, we take a close look at the album most likely to win Album of the Year and the most deserving one.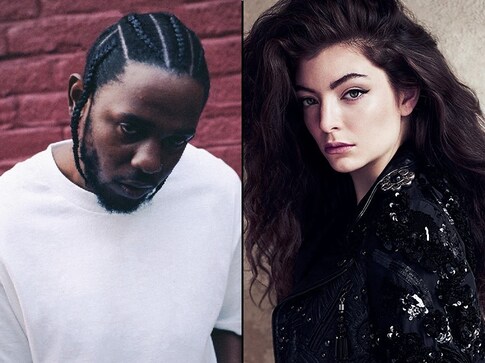 The Grammys — previously an annual love-in for white male musicians to pat each other on the back — will take on new relevance on Sunday after a cultural reckoning in 2017 about the pervasive nature of sexual harassment and the escalating racial tensions in America. The movie and TV brethren have led the way in regards to representation of minorities as the Golden Globes and the SAGs were, thankfully, not #SoWhite this year. But the music industry has been particularly slow in embracing this changing tide of progress towards a post-racial world.
The Recording Academy — a group of around 13,000 music professionals — have historically preferred artists of a paler complexion and have repeatedly snubbed hip-hop artists. This has obviously led to plenty of backlash over the years. So, to correct this glaring exclusion problem, the Academy has not nominated a single person from their go-to demographic — the white male — in the marquee "Album Of The Year" category for the first time in the ceremony's six-decade history.
Competing for the music industry's most prestigious prize are: Jay-Z (4:44), Kendrick Lamar's (DAMN), Bruno Mars (24K Magic), Childish Gambino (Awaken, My Love!) and the sole female nominee, Lorde (Melodrama).
You'd think they clearly want a non-white act to win this time around, right? Well, there is a white woman in contention and the two previous winners in the category were Taylor Swift (2016) and Adele (2017).
But who'll go home with the top prize from the 60th Annual Grammy Awards on 28 January at Madison Square Garden in New York? We take a look at two of the top contenders.
Melodrama, Lorde
When the precocious 16-year-old Lorde burst onto the music scene with The Love Club EP in 2012, her song writing already seemed more mature and thoughtful than most of her peers. Her debut studio album, Pure Heroine (2013), perfectly captured her feelings of suburban malaise. She was already weary of partying, disenchanted with fame and defiantly condemned the superficial excesses of contemporary pop music. Though she was lauded as the antidote to the formulaic, vapid music clogging our airways at the time, you kinda grew tired of the whole "I'm a famous but jaded teenager" act after a while. While the album did go on to win plenty of critical recognition and was even nominated for "Best Pop Vocal Album" at the 2014 Grammys, you could hardly call it 'ground-breaking'. She couldn't possibly have had a long, fruitful career relying just on smoky vocals, beat-driven minimalism and her adolescent anxieties.
But, after a four-year hiatus, as many began to doubt if Lorde was maybe just another 'one-album wonder', she dropped Melodrama in 2017 and damn, it was pure pop magic! Moving on from her teenage disillusionment to something more honest, earnest and self-aware, Lorde had matured after all in her remarkable sophomore effort.
Produced in collobration with Bleachers frontman and pop music producer extraordinaire Jack Antonoff, Melodrama is a concept album (of sorts) whose narrative is weaved loosely around the events of a fancy, dance-y house party — from its ecstatic beginnings to the emptiness and self-loathing one feels in its aftermath at the break of dawn. Written after a breakup with a longtime boyfriend, her heartache is clear in many of the album's best tracks. The album finds her on the cusp of adulthood as she realises that its trials can be just as turbulent and overwhelming as the teenage experience.
The opening track, 'Greenlight', features a burst of Antonoff-driven piano and synths and an incredibly catchy chord progression with the lyrics describing a roller-coaster of emotions (from pain to remorse) after a breakup. 'Homemade Dynamite' is another song brimming with 80s synth-pop grandeur and finds Lorde make an explosive connection with a kindred spirit at the party. 'The Louvre' is one of the more intimate, lyrically-driven songs with unobtrusive guitar strums as Lorde sings, "I am your sweetheart psychopathic crush/ Drink up your movements, still I can't get enough/ I overthink your p-punctuation use/ Not my fault, just a thing that my mind do." The undercurrent of humour in the lyrics depicts the obsessiveness of modern-day relationships and other tales of infatuation.
'Liability' is a piano ballad that really lets Lorde's voice take centrestage as she shines a light on how fame can impact a relationship, revealing a bitter truth: "The truth is I am a toy that people enjoy/ 'Til all of the tricks don't work anymore/ And then they are bored of me." On 'Hard Feelings/Loveless', she grapples and comes to terms with a failing relationship. It is essentially two disjointed tracks entwined together with a strange percussive bridge, ending with a rather warped quasi-anthem celebrating "the L-O-V-E-L-E-S-S generation," sung in school choir-nursery rhyme style. While you would hardly call it a remarkable success, it sure makes for an interesting music experiment — a choice that the angsty teen of Pure Heroine certainly would have eschewed.
'Writer in the Dark' sees Lorde channel her inner-Taylor Swift with a less vengeful but more heartfelt track. 'Supercut' is a buoyant, bittersweet dance anthem and, arguably, the best track on the album. Lorde reminisces and reflects on a former relationship as if it were a collage of only the most pertinent and perfect moments. It describes our tendency to over-romanticise and distort certain memories, dressing them up in Instagram filters, to make them seem more perfect than they really are.
Look at it as a volatile house party or an emotional coming of age for Lorde, Melodrama hardly had any missteps and was easily the best pop album in ages. It is a spectacular Grammy-worthy record filled with plenty of introspective moments that Lorde sings defiantly, megaphone to her chest, and makes us all dance to it.
DAMN, Kendrick Lamar
Rap's reigning prophet was at the absolute top of his game in 2017's DAMN. In what was his most succinct, accessible and anthemic album till date, Kendrick Lamar delivered fiery sermons about his own damnation and his ultimate salvation though religion. Much like his previous albums, there's a sense of urgency in his lyricism that is perhaps devoid in the work of many of his contemporaries. good kid, m.A.A.d city, was an autobiographical account of the anxieties of growing up in the chaotic circumstances in Compton and how it influenced his own perception of the world. To Pimp a Butterfly was a daring experiment — a flawless execution of rap infused with some delectable free jazz and funk beats — that transformed him into hip-hop's most powerful political voice. It was a scathing critique of capitalism and institutionalised racism in the wake of #BlackLivesMatter and the rise of white nationalism in America.
In DAMN, the Compton rapper retains the politically charged themes of his previous work — even sampling white Fox News hosts slamming To Pimp a Butterfly for corrupting African-American youth. The multi-faceted record also finds Lamar battling self-doubt and grappling with the repercussions of his burgeoning fame.
The opening track, 'BLOOD', is a brief allegory about how Lamar stops to help a blind lady on the street, only to be shot in return. It foreshadows the various internal conflicts discussed in detail throughout the record. As pumping bass swells in the dizzying 'DNA,' Lamar goes on a full-blown attack against FOX News while offering a critique of his black heritage. 'ELEMENT' finds Lamar take some subtle digs at his fellow rappers against a thrumming bassline and piano accompaniment. Rihanna's luscious vocals work surprisingly well with Lamar's softer vocal delivery on the radio-friendly 'LOYALTY' "Love's gonna get you killed/ But pride's gonna be the death of you and you and me," sings Lamar on 'PRIDE', remarking on his fear of morality and mortality.
In 'HUMBLE', Lamar flaunts his success and assigns himself a God-like status. Filled with highly-quotable verses against repetitive piano chords, the provocative hit's victory at the Grammys is a near certainty in at least three categories: Best Rap Performance, Best Rap Song, and Best Music Video.
'LUST' is an introspective track where Lamar describes a rapper's empty pleasures and vices as he lusts after a girl for mere distraction. In the synth-driven 'LOVE', on the other hand, Lamar hopes for a "homie for life" to love him regardless of his fame and fortune. 'FEAR' depicts a depressed Lamar wondering why God makes him suffer. It follows three different phases in a black man's life when he experiences fear. The guitar and piano make for an ideal accompaniment to Lamar's vocals on the track. Lamar signs out with an intriguing plot twist on 'DUCKWORTH' as he narrates the tale of his father's meeting with Anthony "Top Dawg" Tiffith years prior to Lamar getting signed by his record label. The outro of this track brings the album full circle, opening and closing with Kendrick saying, "So, I was taking a walk the other day..."
Filled with religious symbolism and autobiographical references, Lamar's DAMN reflects his fears of yielding to the Compton gangsta lifestyle and how religion helped him through it. In the last few years, he has grown into the most socially conscious rapper of his generation as his incendiary words and verses convey the fears and sorrows of an entire ethnic group of Americans. In an era of police brutality and systemic racism, his voice is one of the most potent and relevant across America.
Yet, the question remains, will the Recording Academy recognise his impact and award him a well-deserved Grammy for "Album of the Year" after snubbing him twice? (good kid, m.A.A.d city lost to Daft Punk's Random Access Memories in 2014 and To Pimp a Butterfly lost to Taylor Swift's 1989 in 2016).
While there was a lot of backlash after Taylor Swift beat Kendrick Lamar for "Album of the Year" in 2016, there was even more when Adele (25) beat Beyonce (Lemonade) in 2017. Out of winner's remorse, Adele nearly refused to accept it, since she believed Beyonce deserved to win.
But, in all seriousness, Melodrama and DAMN were both thoroughly enjoyable listens and near-perfect albums, aided by some excellent production choices. Unlike last year, where Lemonade was most definitely a better album than 25, it is almost impossible to separate Lorde and Lamar. While he lost to lesser albums in 2014 and 2016, you can't say the same if he does this year.
While history tells you, Lorde, on Sunday, it may be rewritten.
Entertainment
Beyoncé has won the Grammy for Best R&B song for Cuff It. Beyonce creates history, breaks record for most Grammy wins of all time
Entertainment
The 28-time Grammy winner Beyonce is likely to have a high chance to adding another trophy in her list
Entertainment
Previously video games were included in the Score Soundtrack for Visual Media category, which also featured music for film and television.