Gossip Guy episode 14: Baahubali stars Prabhas, Rana Daggubati talk about the film, and fans
In this week's Gossip Guy episode, Renil Abraham gets chatty with the star-cast of one the most awaited sequel in recent times, Baahubali: The Conclusion. Rana Daggubati and Prabhas talk about their crazy experiences during their shoot and the fun they had in making this film.
"I feel like I lost some weight; after four-and-a-half years we shot a video of having my hair cut!" said Prabhas.
Rana Daggubati told us that his co-star is the epitome of 'reserved and calm', while Prabhas said Rana is hyperactive on the sets.
Renil described how fans of south Indian cinema tend to be quite worshipful of their stars. He asked Rana had any crazy fan experiences, to which Rana replied that while he hadn't experienced any fanaticism, there are people who are passionate about films in general.
Rana and Prabhas also shared their off screen stories of people hitting on them. Prabhas said he generally deflects these situations with a smile, which confuses the person.
Baabhuali: The Beginning introduced us to a new language, and Renil asks the duo to converse in that language. To which Rana replies that this language was actually written by Madhan Karky, the dialogue writer, and director SS Rajamouli. It even has its own grammar!
The most interesting part was when Rana and Prabhas conversed in that language!
And with that, we come to an end of one more episode of Gossip Guy.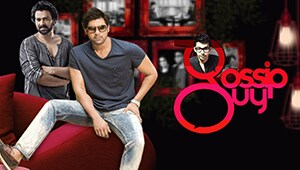 Updated Date: May 23, 2017 11:33:28 IST