Gossip Girl is ten years old: Guilty-pleasure TV show that became a bastion of millenial pop culture
I was in New York last summer for the first time, and like every TV and movie geek, I wanted to go around to all the spots where some of the most iconic scenes from my favourite shows and movies were filmed.
So there I was, pretending to wait in line to order soup from the "soup nazi" (like in Seinfeld), catching my reflection in the glass walls of Tiffany's on Fifth Avenue (a la Breakfast at Tiffany's), or pretending to be a love/relationship expert and writer, like Carrie Bradshaw (on Sex and the City) while taking a bite of my cupcake outside of Magnolia bakery on the Upper West Side.
Nowhere was my aforementioned geekiness more on display though, than at the steps of the Metropolitan Museum of Art (and since nobody in NY really calls it that, I'll refer to it as a New Yorker would - the MET).
My Gossip Girl obsession from the late-'00s came to the fore as I audibly whispered "you know you love me, xoxo" or "hello Upper East Siders" or some other corny-but-iconic line from the show.
I pictured myself sitting on the MET steps like Blair Waldorf and Serena van der Woodsen did so often during the show's first couple of seasons — back when you'd be forgiven for believing that the lives of NY's wealthy, affluent, and terribly spoilt private school kids were all about throwing sushi parties, attending New York Fashion Week, midnight break-ins into their elite private schools (which would invariably lead to a drug overdose or something else similarly nasty), and stripteases at speakeasies.
We know better now; apparently, their lives are all of this plus a healthy dose of capturing it all on social media.
The pop culture impact of Gossip Girl (GG) is still huge. To celebrate its 10th anniversary this week, let's look back at the show that captured the zeitgeist of the last wave of a pre-social media age so darn perfectly. You know you want to.
Gossip Girl — last bastion of mysterious public figures
In 2006, The OC — a modern soap about rich, tanned, and beautiful teenagers on the West Coast that thrust Rachel Bilson and Adam Brody to teenage-superstardom — was winding up its final season. An oddly paced show with an equally odd narrative shift, The OC was never quite good (except for a few episodes in the first season), although it was really popular.
When co-creators Josh Schwartz and Stephanie Savage were handed Cecily von Ziegesar's super-popular Gossip Girl book series (like The OC, also about rich beautiful teenagers, except that these teens were on the East Coast), they obviously jumped at the chance. And so Gossip Girl (the show and the titular blogger wreaking havoc in the lives of everyone on the show) entered our lives. The moment golden-haired It-girl Serena van der Woodsen walked into Grand Central Station (to the whistling indie soundtrack of Peter, Bjorn and John's Young Folks no less), we knew our lives were changed.
Today, very frankly, the idea of an anonymous blogger trolling people online doesn't seem all that interesting or new. Why would you need a TV show to portray an insidious phenomenon that's already too rampant in real life, all the time and everywhere? But remember that back in 2007, when GG first aired, the idea was like something out of the future. Teenagers weren't so massively hooked onto social media at the time.
Josh Duboff of Vanity Fair writes:
"If every generation has its one or two shows that prove defining, that essentially everyone seemed to watch as if there were no other choice in the matter, Gossip Girl would be that show for anyone who was a teenager or twenty-something (or, in many cases, older than that) when it first aired. The show premiered before Instagram or Snapchat had launched, and before Facebook and Twitter had become the juggernaut forces they are today. But the premise of the series — an anonymous blogger, who goes by Gossip Girl, monitors the goings-on of a small group of glamorous Upper East Side high-schoolers — predicted, to an almost eerie extent, what was to come for our culture.
The notion of a group of people being callously gossiped about online by an anonymous troll certainly has resonance in our current climate, in which celebrities (as well as politicians and public figures) are often blogged about with a blithe and biting disregard. On a meta level, the actors on the show were among the last wave of young television stars who were not broadcasting their every move on social media, which perhaps helped to create a certain air of mystery and intrigue about them, one that doesn't exist in the same way for young television stars now."
There was something quintessentially old-school about the show and its cast (because they were on the brink of a cultural change that social media introduced to our lives). Without an overdose of tweets or Instagram updates logging the actors' every move, the show managed to keep its storylines mysterious and intriguing for the audience.
Well that, and the fashion. The audience may have come for the storylines in Gossip Girl, but they stayed for the fashion.
Clothes make the (wo)man
Let's face it - no TV show set in NY (especially one with rich attractive protagonists) can be without its share of fashionable moments. Some, like Sex and the City, are so centered on the clothes and shoes (hello, Manolo Blahnik!) that the fashion becomes an integral character on the show. For Gossip Girl, it went a step (or a few steps) further. On GG, Blair Waldorf worships fashion as the most powerful art of our times ("it's movement, design, and architecture all in one" - her words, not mine); meanwhile, Serena was a regular at the front row at New York Fashion Week, but has the face and body of someone who could walk the runway herself.
Plenty has been written about Blair's headbands and her posh-preppy look or Serena's casually cool bohemian supermodel chic. The WWBD (What Would Blair Do) acronym is a mock-useful lesson that your inner Blair Waldorf can hand out whenever you're confused (let's say about wearing leggings outdoors or mixing different prints at once, or even when you're contemplating accessorising with stockings, gloves, and headbands).
But to understand the impact that Gossip Girl's fashion has on us ten years later, look no further than Blake Lively's presence at every major fashion event on the face of the earth; from hobnobbing with Anna Wintour and Karl Lagerfeld, to riding around in a vespa with Christian Louboutin to being the face of Gucci and Chanel, Lively has slowly surpassed her GG alter-ego in the fashion game.
As a viewer, what made fashion on Gossip Girl even more exciting and fun was that it was always viewed as an aspirational thing.
Female friendship
Ah of course, the BFFs. At its core, Gossip Girl (at least the TV show) was always about Blair and Serena. Best friends one moment and frenemies the next, the ongoing saga of their friendship (interspersed with love triangles and academic one-upmanship) was the heart of Gossip Girl. Sure, there was pretty boy Nate Archibald (whose hook-up with Serena was the reason for Blair cold-shouldering her on Serena's return from "boarding school") or lonely boy (and ultimately revealed to be the eponymous Gossip Girl) Dan Humphrey (who was also Serena's first real love), or even the "mother-chucker" himself - Blair's supposed soulmate Chuck Bass. But the boys men and their lives were often just secondary to the world of intrigue that were Serena and Blair.
Whether it was an angry Blair pushing Serena into a water fountain:
Or making mock-fun at the expense of the other:

When they needed each other, to look through college brochures:
Or being each other's biggest strength and support at life-changing moments: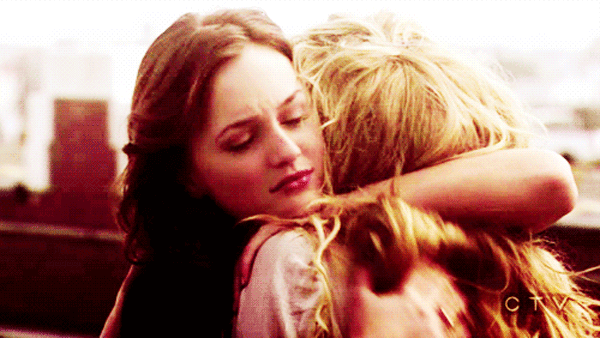 The sometimes-BFFs-sometimes-frenemies were like sisters. Can't live with, won't live without:
As a 20-something woman watching the show, Blair and Serena's sisterhood was, to me, the third best thing about Gossip Girl. Behind the fashion, and the dialogues of course.
Word play
Whoever wrote the overall Gossip Girl story has a lot to thank the person who wrote the actual script, i.e. the dialogues. Cecily von Zeigesar's books are super witty themselves, but Gossip Girl the show elevated the writing to a whole new level. Peppered with tons of champagne humour, a little bit of nastiness, and a splash of elitism, the show had dialogues that are now, ten years later, more gif-worthy than ever.
And there we are - amazing fashion, quoteworthy dialogues, friendship, sisterhood, and New York.
It's pretty much the perfect combination for a success story. Would a revival/reboot of Gossip Girl work now, with our Instagram feeds already saturated by the Hadids and the Jenners and other faux elites pretending to be living the rich life? I'm not sure.
Other than Blake Lively, none of the other actors have found the kind of success they all seemed to be destined for. I have to admit, I'll be interested in it - if they do it with the same actors (and maybe also cast Kristen Bell in a starring role). The good thing with what made Gossip Girl famous is that those are the things that never get uninteresting - fashion, sushi parties, the unbearably intriguing and convoluted lives of the rich, headbands, power battles etc.
And you, know, at the center of it all — the gossip.
Updated Date: Sep 19, 2017 16:36:23 IST
Your guide to the latest election news, analysis, commentary, live updates and schedule for Lok Sabha Elections 2019 on firstpost.com/elections. Follow us on Twitter and Instagram or like our Facebook page for updates from all 543 constituencies for the upcoming general elections.