Gone are the days of Dil Se, DDLJ: Has Bollywood moved away from its La La Land?
In a run up to the Oscars 2017, here's looking at how everyone's favourite La La Land has nothing on Bollywood's erstwhile romances.
It's a cold, stormy night. A young man with a thick mop of hair falling on his forehead, restless and shivering in a red jacket at a deserted railway station, is desperate to light a cigarette.
He hollers out for a matchbox at a shadow in black, huddled nearby. Lightening strikes. A black robe flies off with the force of the wind and his eyes fall on the most beautiful and innocent looking girl struggling to cover herself.
Dazzled, he rambles, he jokes, even asks her for a cigarette — anything to get a response or a hint of a smile from her. She finally speaks, her voice hasty and soft, "chai…ek cup garam chai.."
The scene ends with raindrops falling on him, a solitary figure, holding two glasses of chai, as he watches her go past, inside a train.
"Duniya ki sabse choti prem kahani hogi," he mutters to himself, his dimples deepening in disappointment.
This introductory scene of boy meets girl, from Mani Ratnam's Dil Se is one of Bollywood cinema's finest in romance, according to yours truly. There was a rush of anticipation, the exchange of the heroine's mysterious glances with the hero's smitten eyes, humour and charm in the lines, and the most evocative of all — the wonderful mood created by the sound of the train, the stormy wind, the image of rain diluted chai, captured so vividly by Santosh Sivan.
It left you as breathless and wanting more, just like the hero (Shah Rukh Khan).
The beauty of Dil Se's screenplay is that the scene has a perfect payoff later, full of longing when the hero (Shah Rukh's best performance to date, of an earnest, young man whose heart seems to be racing as he speaks) describes that night on radio, complete with sound effects recreating the sound of the train, the wind and the rain. While, somewhere else, in a remote area, unknown to him, she — a terrorist (therein lies the tragic conflict) — listens.
That was the sheer magic of romance in Hindi cinema in 1998. The writing, music, lyrics, cinematography, direction and the performances seemed to be in sync into each other like a beautiful poem and an ode to love.
Today, as Hollywood's musical love story La La Land sweeps five BAFTA awards and is nominated for 14 Academy awards, it still continues to be debated worldwide whether the film deserves the accolades and the praises.
Closer home, it does not hold a candle to a much richer work by Mani Ratnam, who does us proud with dance and song narrative like "Chaiya Chaiya" on a train top, at least if choreography and music is the criteria here. There is more passion and soul in every frame in his songs and visuals than in Damien Chazelle's two hour  musical. La La Land is undoubtedly great in technical details but simply not as entertaining nor as soulful.
It's not just Hollywood which seems to be complacent enough in it's lack of romance and chemistry among the characters.
Indian cinema too is changing in it's definition of love. In an attempt to be more real in its depiction — which is most welcome — it is losing the charm of escapist moments of yore. Take, for example, the latest offering by the most prolific Bollywood filmmaker, Karan Johar — Ae Dil Hai Mushkil.
In ADHM, the characters find it easier to be friends than lovers. The film is more cynical in its interpretation of love. The heroine (Anushka Sharma) prefers friendship to love, as she has only known its traumatic one-sided shade of dark grey pain.
Everyone in the film thrives, and even is poetic, about unrequited love and how it can actually be enough to live by. While Johar's first film on unrequited love, Kuch Kuch Hota Hai believed in finding love the second time round, his latest film does not believe in characters moving on. It's as if he wants to say, two people in love can live happily ever after, only in friendship.
The film seems to understand the dilemma of letting go of cinematic romance and yet clinging on to the soulful nostalgia. We can see that in its rendition of the classic, "Lag ja gale" or Farida Khanum's "Aaj jaane ki zid na karo" as a tribute to the melodious and glorious times. However, the faith in the simplicity of love is missing.
In the past two years, Tanu Weds Manu Returns and Ranjhanaa — both directed by Anand Rai, have successfully brought out the love, the passion, the craze and the delightful delusions of romance with its eccentric characters and within the parameters of song and dance, commercial dramas. Such movies are far and few. We no longer seem to have romantic movies, which continue to entertain with repeat watching, like Dilwale Dulhania Le Jaayenge or the timeless Lamhe.
Lately, there is only one film which brought back the simplicity of story telling and the beauty of innocent love — Marathi movie, 'Sairat'. The film's resounding box office success has re-opened a new hope that Hindi cinema will take a red rose from there and bring that "zing zing zing zingaat" rhythm back in our scripts and recreate the entertaining 'la la land' of Bollywood love.
Meanwhile, this Valentine week, one will have to be happy to revisit…
"Dil hai to phir dard hoga, Dard hai toh dil bhi hoga. Dil se re…dil se re."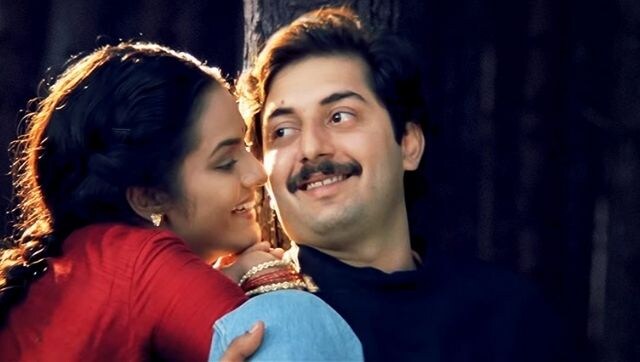 Entertainment
OK Kanmani to Dil Se, here's a comprehensive guide to Mani Ratnam's best films and where to stream them
Entertainment
Brian Cullinan and Martha Ruiz were responsible for handing Warren Beatty and Faye Dunaway the wrong envelope at the Oscars 2017.
Entertainment
Moonlight is a film that lost and won at the Oscars. Much like the struggles of the characters it depicts