Golmaal Again's Best Film win is proof (if any were needed) that Bollywood awards are a sham
in a year where there have been films such as Anaarkali of Aarah, Bareilly Ki Barfi, A Death In The Gunj, Newton, Shubh Mangal Savdhan and Tumhari Sulu, a Golmaal Again walking away with the award for Best Film of the year (at Zee Cine Awards) is unbelievable.
When it comes to films, Stanley Kubrick once famously quipped that if it could be written or thought, it can be filmed. Perhaps Kubrick was not aware of the universe within which the Hindi film awards operated for he would have updated his stance and added that anything unimaginable could probably take place in Hindi films, both on and off the screen.
After all, in a year where there have been films such as Anaarkali of Aarah, Bareilly Ki Barfi, A Death In The Gunj, Hindi Medium, Lipstick Under My Burkha, Mukti Bhawan, Newton, Shubh Mangal Savdhan and Tumhari Sulu, or even the big tent pole hit like a Toilet: Ek Prem Katha, a Golmaal Again walking away with the award for Best Film of the year (at Zee Cine Awards) is an example of the unimaginable becoming a reality.
For a little over two-decades, popular film awards honouring Hindi cinema have come to be seen as nothing more than a farce.
This year's Zee Cine Awards, where not only a Golmaal Again walked away with the Best Film citation but almost the entire mainstay of 'Bollywood' was given an award on some pretext or the other, only reiterated this.
At this year's edition, three men – Akshay Kumar, Varun Dhawan, and Rajkummar Rao – and three women – Alia Bhatt, Taapsee Pannu, and Sridevi – got the Best Actor award. If Varun Dhawan and Sridevi were considered the 'Best Actor' for Badrinath Ki Dulhaniya and Mom respectively, Akshay Kumar and Alia Bhatt were given the 'Viewer's Choice' Best actor male and female awards for Jolly LLB 2 and Badrinath Ki Dulhania and at the same time Rajkummar Rao and Taapsee Pannu were honoured for Newton and Naam Shabana with something as absurd as 'Extraordinary Impact Actor' award!
The manner in which awards are doled out at functions comes across as an exercise to please as many as possible from the mainstay of the industry.
Rao's performance in Newton has been hailed one of the best in Hindi films in recent times and if his portrayal can be considered one with 'extraordinary impact', why can't he be given the "main", in the manner of speaking, Best Actor award? What's more, this year Zee Cine Awards presented Shah Rukh Khan an award for his contribution to cinema and TV over the last 25 years, Priyanka Chopra was presented with a 'Global Icon Extraordinaire' Award and Amitabh Bachchan 'Legend Extraordinary' Award.
If you think some boxes were left unchecked then reconsider — there was 'Extraordinary Franchise Award' handed over to Baahubali.
The fact that almost every major media house has its own award is also telling about the way film awards operate in India. Far from a celebration of the best in cinema that year, these awards appear nothing more than annual PR function of media brands. Is this the reason why every single A-Lister, be it a producer, a writer, a filmmaker or even a production house, are more often than not duly 'acknowledged' at such events?
Take a closer look at the names of the winners across any big Hindi film awards and you'd notice how everyone's a winner.
This year's Zee Cine Awards have recognized all major names: (Akshay Kumar, Shah Rukh Khan, Priyanka Chopra, Aamir Khan, Amitabh Bachchan, Ajay Devgn, Varun Dhawan, Ranbir Kapoor, Anil Kapoor, Ali Bhatt, Hrithik RoshanAshwini Iyer Tiwari, Nitesh Tiwari, Karan Johar, Rohit Shetty, Amitabh Bhattacharya, Rajkummar Rao, Taapsee Pannu, etc.)
Some years ago this writer came across an urban legend that defined the mindset behind a majority of these Hindi film awards. At an awards event, a leading actress (hint: she has a mega year-end release lined up) was slated to perform but threw a fit when she came to know that another leading lady, who hails from a great film family, was being given an award even though she didn't have a release or a big hit that year. The former was finally pacified with a promise that next year she would be given her 'due.'
There are many such stories around award shows and it's hardly surprising then that social media (read the 'aam janta') has a field day commenting (read trolling) on the proceedings. So, the next time you come across a Bollywood award function, take a long look at the winners and play in mind what Captain Renault from Casablanca (1942) said – Round up the usual suspects.
Entertainment
As part of the initiative, the foundation will offer Rs 5000 to the women and senior citizens of the industry as well as distribute ration kits to workers' families for a month through Youth Feed India.
Entertainment
Disha Patani says she's '"grateful that Radhe is finally releasing in the best possible way."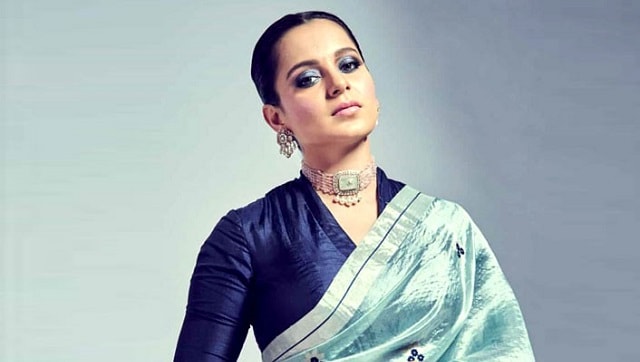 Entertainment
A Twitter spokesperson confirmed Kangana Ranaut's account has been suspended because it violated the Hateful Conduct and Abusive Behaviour policies of the microblogging website.