Goldspot's Siddhartha Khosla: Nobody would've thought of an Indian American writing a Motown song
Los Angeles-based singer, guitarist and songwriter Siddhartha Khosla of the band Goldspot talks about making music for the show This Is Us and his journey so far
It's difficult to forget Evergreen Cassette, a song that Los Angeles-based singer, guitarist and songwriter Siddhartha Khosla wrote for his band Goldspot's 2013 album Aerogramme.
Bedrocked in a swelling arrangement that includes vibraphone as well as an Indian beat, Khosla emotionally recounts stories his mother would tell him, not while he sat by her, but via a recorded tape that he heard at his grandparents' home in India, sent to him from the US, where his parents were both studying and working. As much as it's a deeply personal experience for Khosla, it's one of the most relatable songs on Aerogramme.
Khosla explains over the phone, "I think what it is, that ('Evergreen Cassette') at its core is about sacrifices a parent makes for their child. That's relatable, whether you send your child back to India or whether you're a single mom living in the US with not much money and trying to raise a child — we're all born to this world to mothers, by virtue of that, that song is relatable."
It's a skill that the songwriter has carried over outside Goldspot, as he helms composing duties for family drama series This Is Us, which recently finished its first season on Star World Premiere HD. It's a show that's found favour among millions of viewers worldwide as well as gaining nods at the Golden Globes, the American Film Institute Awards and People's Choice Awards.
Khosla, for his part, was brought on board by college friend Dan Fogelman, who previously invited the composer to lend his hand to songs for TV shows like The Neighbors. It's always been interesting how Goldspot has managed to have an American indie rock-loving audience as well as a stronger (or at least deeper) connect to American Indians and Indians for their story-telling and Khosla's sonic influence from the likes of Kishore Kumar, S.D. Burman and Mohammad Rafi. He says, "For Indian kids hearing it here or in India, there's a nostalgia about it that reminds you about your childhood.
It's kind of been best of both worlds. The other thing too, what really helped me, songs like 'Friday' or 'Rewind' or anything off my later albums, they just seemed to connect to people on a larger level. People on movies and TV, they want music to connect to watchers on a larger level."
He's talking about Goldspot's most well-known songs, both off their 2005 debut album Tally of the Yes Men. It used in an episode for How I Met Your Mother, while 'Time Bomb', off the same album, found its way on to The OC. Goldspot was signed to UK's Mercury records and had quite the memorable year, from playing at festivals like Glastonbury to making Album of the Year lists.
At that point, when he was 28 years old, Khosla says he's grateful for the success but even more grateful for something else. "This was the greatest thing I experienced in my music career — that early on, radio and record companies and press, and big companies got behind what I was doing and didn't force me to become an artist I didn't want to become. They never tried to make me into something that I wasn't. By virtue of that, I got to create music that I believe in."
He mentions how Aerogramme was equally successful, even if not so much in commercial terms. It did make Los Angeles Times pop music editor Lorraine Ali's top album of the year in 2013, Khosla points out. He adds, "Aerogramme was my proudest moment as a musician — I honoured by heritage, my parents and who I was as a person. It wasn't as commercially successful — but did it matter? No. But success in art is being able to make something you believe in."
And it's got a fairly large audience in India, as mentioned earlier. He's heard kids sing along to it every time they've been here. When he's not fully immersed in the TV music composing grind (that involves studio time every day of the week) — there will be more Goldspot shows. And when he latches on to an overall theme like he has on past albums – there will be a fourth Goldspot album. He says about the direction it will take, "It's going to sound like a band you've never heard before."
But the overarching theme and lyrical content, perhaps, will still be familiar to Goldspot fans. Khosla says, "I think by virtue of me being Indian American and just by that fact alone, the music that I write for Goldspot is going to have that influence musically and lyrically. It's just the way I naturally write. That's the soul, it's in my soul."
Find latest and upcoming tech gadgets online on Tech2 Gadgets. Get technology news, gadgets reviews & ratings. Popular gadgets including laptop, tablet and mobile specifications, features, prices, comparison.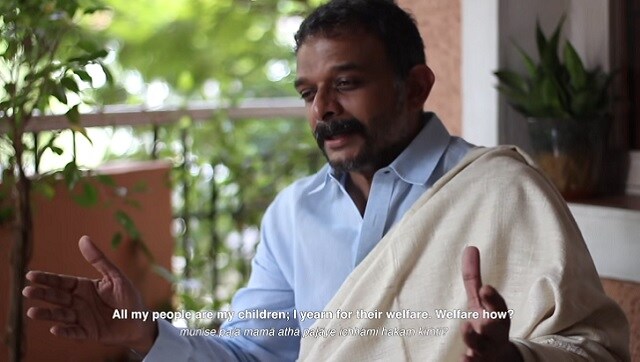 Arts & Culture
In the stunning Edict Project, TM Krishna has sung the lines that Ashoka engraved in rock and pillar millennia ago.
Entertainment
The Weeknd and Roddy Ricch will compete against Justin Bieber, Post Malone and Taylor Swift for the artist of the year trophy at this year's American Music Awards.
News & Analysis
The app will allow users to cruise through music collections, control playback and select casting options straight from their Apple Watch.