Golden Globes 2018 highlights: Awards, speeches, black dresses, and Oprah Winfrey's astonishing speech
The Golden Globes 2018 was Hollywood's first big awards show, post the Harvey Weinstein reckoning and the #MeToo movement, and it was, as expected, a show alright.
I don't necessarily mean to begrudge the just-concluded Golden Globes awards: it was the first showcase for Time's Up (Hollywood's anti-harassment group consisting of over 300 women, including Reese Witherspoon, Shonda Rhimes, and Ashley Judd, among others) and the all-black fashion on the red carpet (despite many peoples' misgivings about it) did its bit to make the event seem more funereal than usual.
The not-so-invisible elephant in the room 
Seth Meyers' opening monologue (where he called out alleged perpetrators Weinstein, Kevin Spacey, Woody Allen etc.) was pretty savage, and Oprah Winfrey's acceptance speech when she received the Cecil B. Demille award was inspiring and full of hope. Really, there was not much the Globes or the stars or the media could have done differently, to make it any better.
Well, except maybe the Hollywood Foreign Press (the non-profit organization of journalists and photographers who conduct the Golden Globes) could've nominated the many deserving female directors who were outright snubbed in that category. Oh and, maybe the stars could've brought a bit more attention to the activists that escorted them to the event, rather than making it seem more like a token gesture. And well, the media (ugh, looking at you, E! News) could've not strayed from an activist talking about something important to instead focus on the grand entrance of a star(let).
It's so infuriating to watch E! shift focus from women like Tarana Burke and Monica Ramirez. Literally shows the extent of their commitment to this. pic.twitter.com/48bDxArzav

— Emilia Petrarca (@EmiliaPetrarca) January 8, 2018
Okay so, it could've been a lot better, sure. But, to be fair, it was a pretty decent awards show, that did manage to highlight our culture's ingrained gender-inequality, workplace and sexual harassment, domestic abuse, and oppression of minorities.
Here's to a not-altogether-crappy event. Bring on the 2018 awards season!
Red carpet shenanigans
Let's start with the beginning, with what's been (in the less-competitive and impressive years) the very reason I even watch these awards shows - the red carpet arrivals; I follow the philosophy of Jessica Morgan, of the fashion blog Go Fug Yourself that, "It is not a personal or intellectual weakness to like clothes and be interested in them".
But this was no normal red carpet; this year, a horde of actresses, actors, other bigwigs vowed to wear black to show solidarity with women across industries struggling with workplace harassment. The usual frothy celebration of fashion and vapid questions about the actresses' manicures had to be replaced by something more serious.
And for a large part, the all-black dress code of the #TimesUp movement managed to succeed: it forced interviewers to ask the stars why they were wearing black, instead of the usual "who're you wearing?" which, in turn, led to a variation of the #AskHerMore movement, i.e. more conversations about the stars and their intent, as well as drawing attention to the work done by the female activists who'd accompanied a few of the female actors. Some actors managed to do this better than others, but that's expected. Of course, as I mentioned earlier, E! News goofed up, but that's expected as well. All in all, a moderately successful display of solidarity.
The Seth Meyers show
Then there was host Seth Meyers' opening monologue. Meyers, arguably late-night television's best talk-show host, also is (or seems to be) a staunch feminist. The "Jokes Seth Can't Tell" segment of The Late Show with Seth Meyers is funny as hell, and true to form, his no-holds-barred-towards-assholes and often-self-deprecatory opening monologue at the the Golden Globes was peppered with quite a few gems: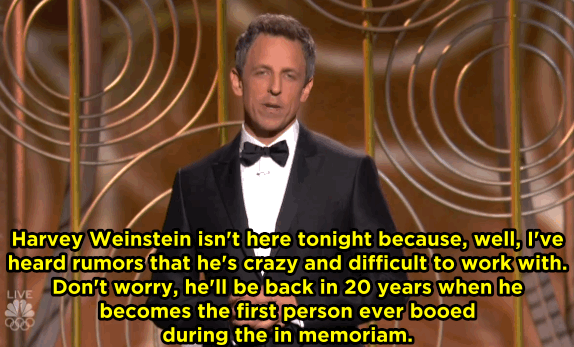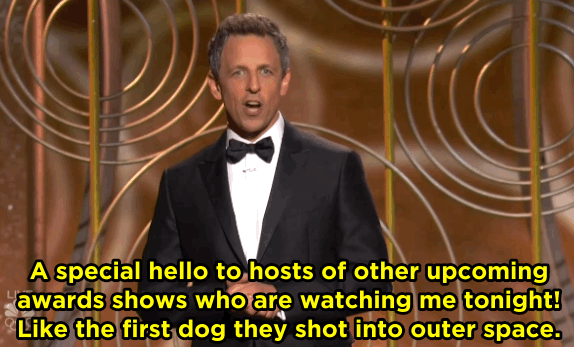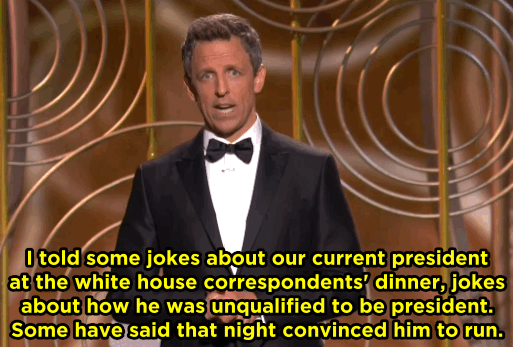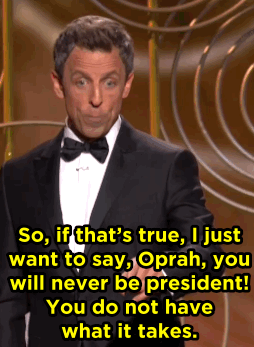 Oprah Winfrey made almost everyone cry with her speech
Meyers' monologue may have set the tone for the evening, but nothing prepared the audience (including those, like me, watching from their homes) for the rousing brilliance of Oprah Winfrey's speech. I suppose people were expecting something amazing from her anyway, because, well, Oprah.
But when she finally got onstage to accept her Cecil B. Demille award from Reese Witherspoon (her co-star in the upcoming Ava Duvernay movie A Wrinkle in Time), it was like the room was charged with an energy that's indescribable. And then there was her actual speech: she started off remembering a day in 1964 when she saw the great Sidney Poitier win the Golden Globe Award for Best Actor for his role in Lilies of the Field, to recounting the moment in 1982 when he became the first black actor to win the Cecil B. Demille award, to acknowledging the fact that many little black girls were probably watching her right then being the first black woman to win the award.
Oprah spoke of harsh truths: the rape of Recy Taylor, the struggle and determination of Rosa Parks, of the many unseen-and-as-yet-unheard victims of abuse and harassment, of the importance of speaking up against oppression and abuse, and then finally, gently, she ushered the rather-stunned audience into a dawn of hope.
Her parting words, "I want all the girls watching here and now to know that a new day is on the horizon! And when that new day finally dawns, it will be because of a lot of magnificent women, many of whom are right here in this room tonight, and some pretty phenomenal men fighting hard to make sure that they become the leaders who take us to the time when nobody ever has to say 'Me Too' again." brought everyone to their feet, hope in their hearts, and tears in their eyes. Even those who were miles and countries and continents away, like I was.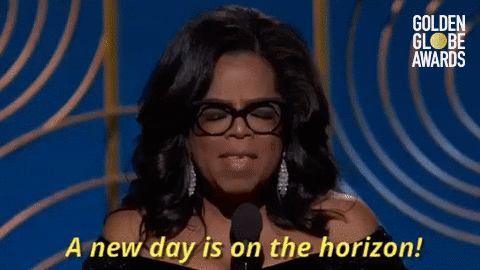 A breakdown of the awards
As for the actual awards, there were really no surprises. I was super happy that some of my personal favourites, like The Marvelous Mrs. Maisel and Master of None got the recognition and awards these shows totally deserve. The Marvelous Mrs. Maisel (Gilmore Girls' creators Amy Sherman-Palladino and Dan Palladino's brilliant new period show) won Best Television Series - Musical or Comedy and the awesome Rachel Brosnahan (who plays the titular character) won Best Television Actress - Musical or Comedy. Aziz Ansari won Best Television Actor - Musical or Comedy for his role as Dev Shah in Master of None, the show he co-creates and co-writes. I love both shows, and it was great to see them win!
Big Little Lies swept the awards in all the categories it was nominated in - Best Actress in a Limited Series (Nicole Kidman), Best Supporting Actress in a Limited Series (Laura Dern), Best Supporting Actor in a Limited Series (Alexander Skarsgard), and Best Television Limited Series. All super-worthy wins and I can't wait for season 2 to begin! Elizabeth Moss and The Handmaid's Tale both won (for Best Performance by an Actress in a Television Series - Drama and Best Television Series - Drama, respectively), and all was right with the world.  
I'm at a point where movies just don't excite me anywhere near as much as television series do, so I had a pretty lacklustre interest in the proceedings when the movie awards were on. Saoirse Ronan and Frances McDormand won (Best Performance by an Actress in a Motion Picture - Musical or Comedy for Ladybird and Best Performance by an Actress in a Motion Picture - Drama for Three Billboards Outside Ebbing, Missouri, respectively); Ronan's lovely Irish brogue and McDormand's adorable don't-give-a-damn-ness were a delight!
The rest of the Golden Globe Awards show happened and was, well, competent, I suppose.
Additional highlights:
Natalie Portman, along with Ron Howard, presented the award for best director in a motion picture. Her very-pointed dig at the lack of female representation in that category was incredible because (a) somebody had to point it out on stage, and (b) it made so many male directors uncomfortable. So this is what male privilege looks like, when it's kicked in the balls.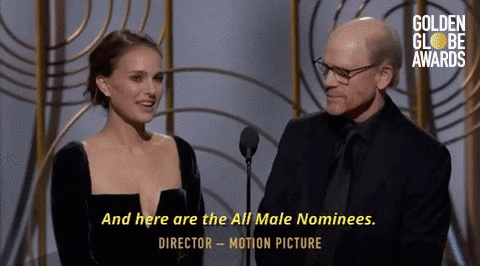 Amy Poehler's wickedly amusing refusal to let Seth Meyers mansplain his joke set-up; she delivered the punchline by itself, "said the peach in Call Me By Your Name, "this scene is the pits!"" Classic Poehler!
One Amy to the next, as a die-hard Gilmore Girls fan, I was super-excited to see Amy Sherman-Palladino win an award for The Marvelous Mrs. Maisel. I'll be honest, I just wanted to hear her talk and deliver some witty one-liners, and she didn't disappoint: when thanking Amazon Video for giving them the creative freedom to make their show the way they want, she also thanked them for the budget they provided saying, "Every cheque cleared." Cut to Jeff Bezos' face in the audience, laughing. 
Stray observations:
Did anyone else hope to see Amy Poehler's face, when Aziz Ansari won for Master of None? No? No Parks and Recreation fans, wanting to see Leslie Knope's proud mother-hen face as Tom Haverford stumbled onstage? Okay, just me then. 
Can we just not eviscerate everything by overthinking and being offended? Like the L'Oreal Elvive ad with Winona Ryder, that aired multiple times during the show. I'm not just saying that because I'm a huge, beyond-all-rationale fan of Ryder, but come on!
Her career isn't literally being compared to bad and damaged hair. Comebacks are of many kinds, second chances of many sorts. If Ryder's fine doing the ad (as she should be!), why be offended? My favourite tweet about the ad was a positive one, and it really did make me wish L'Oreal had used the classic line from Heathers. 
Updated Date: Jan 08, 2018 14:57:42 IST