Go Goa Gone review: Saif's not the only star in the laughathon
Go Goa Gone works because it doesn't take itself too seriously.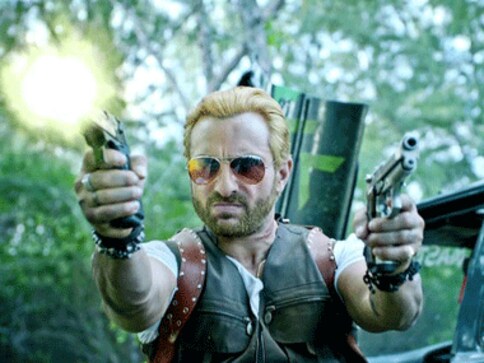 Let's get this straight right at the beginning. A film about zombies attacking Goa sounds more like an idea befitting a video game from the nineties, than a masterpiece of a movie. The template of horror and supernatural films that we are familiar with in India is mostly populated by long and white-faced, self-righteous ghosts with the behavioral patterns of a certain Dolly Bindra. You can't be blamed if you walk into a theatre screening Go Goa Gone looking forward to just the caramel popcorn.
And that is exactly why DK and Raj Nidimoru's film catches you unawares and sends you on a trip that's ridiculous, shamelessly slapstick and as a result completely satisfying.
There's not much of a story that the directors set out to tell in Go Goa Gone. The film revolves around three friends-cum-flatmates in Mumbai. Hardik (Kunal Khemu), is a doped slacker whose only interests in life are marijuana, cigarettes, alcohol and women in no particular order. His best friend and colleague is Luv (Vir Das), who is caught between his ambition to be a 'better man' and the vices he shares with Hardik. And Bunny (Anand Tiwari), a solemn faced, industrious employee of the same firm the other two work in.
Soon, Hardik loses his job, Luv gets dumped and they chance upon the news that Bunny is off to Goa to make a presentation. Much to Bunny's dismay the two others pile on and end up in Goa. Once there, they get invited to a rave party on a far off island and yes, that's where the zombies turn up.
Saif Ali Khan in his home production, takes a step back, and lets the rest of the cast hog the limelight and rightfully so. He makes and appearance quite late into the movie as the pretending-to-be Russian Mafioso Boris and even then he doesn't make himself a constant fixture in the storyline. Kunal Khemu, Vir Das and a brilliant Anand Tiwari hold the film together quite spectacularly in the absence of Saif. In fact, the sequences which crack you up the most are ones which don't have Saif in it.
Having said that, Saif does deserve a healthy amount of applause for agreeing to turn up in that film and have his hair dyed in that atrocious shade of blonde. Especially when it threatens to rekindle scarring memories of an abomination called Tashan. Yes, he looks nothing like a Bollywood star is supposed to look in our films – impossibly suave or artfully tragic. He looks like a caricature and plays it to the hilt.
Go Goa Gone works in a manner similar to why Delhi Belly did. Superbly paced and smartly edited at just over two hours in length, the directors don't let you dwell too much on the ridiculousness of the story they are telling you. Unlike horror films that Bollywood has made in the past, it is neither shot in a solemn tone of a biopic nor peppered with supposedly stirring visual metaphors like a hyperventilating crow, self-obsessed door and woefully suspicious domestic help.
In fact, while you don't expect a film like this to do it, Go Goa Gone does take up stereotypes perpetuated by Bollywood and invite you to have a good laugh at them. Case in point: the much abused dancing-around-trees sequences played out with a zombie girl chasing Kunal Khemu.
The other star of the film of course, is its dialogues. Saif's 'I keel dead people', is just a small snatch of the bordering-on-cocky dialogues of the film that feast on the unintentional comicality of the ignorance of the main characters.
Watch Go Goa Gone if the utter boorishness of a troika of losers has the potential to entertain you instead of sparking off a feminist offensive. You can take my word for it, you won't regret putting your money on it.
Entertainment
Makal struggles despite its endearing cast and the enduring charm of Anthikad's observational, slice-of-life approach to filmmaking.
Entertainment
Saani Kaayidham is a solid revenge drama that achieves its humble aspirations
Entertainment
Don plays with lofty ideals, yet it rarely engages with nuance and only deals with extremes.