Ghoul review: Netflix's horror series featuring Radhika Apte is atmospheric, partly disturbing but fully gripping
There are several levels of horror at play in Ghoul, and this layered approach to an oft-misunderstood genre comes from a director who seems keenly aware.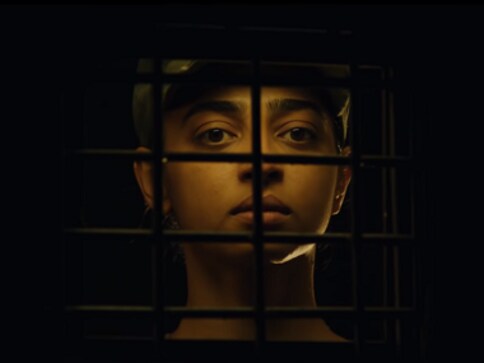 "I take a lot of pleasure in watching horror films."
Patrick Graham, director of the Netflix series Ghoul, which premieres on 24 August on the streaming service, admittedly loves the horror genre.
One would imagine this is a prerequisite to direct a show like Ghoul: an atmospheric, partly disturbing, fully gripping three-part series that explores the entry of a supernatural ghoul-like creature in a covert, military-controlled detention facility (presumably) in India. Radhika Apte plays Nida Rahim, a new recruit in a specialised interrogation team headed by Sunil DaCunha (Manav Kaul). It is when terrorist mastermind Ali Saeed (Mahesh Balraj) arrives at the detention centre that things start to go horribly wrong.
Ghoul is set in a dystopian future that will seem so familiar. I'm refraining from saying to whom, since even in the show, names/geography/general labels are given a miss. The familiarity is purely emotional and ideological. The entire action of the three-part series happens in Meghdoot - 31, a detention facility that seems to be on the outskirts of a metropolis. We don't know what year it is, or who's in power, but it is evident that there's a military clampdown.
Nida Rahim is a righteous Muslim student at a paramilitary school who is picked up by the Meghdoot - 31 team to interrogate a deadly terrorist. Why her? She just turned her father in for spreading "anti-national" thoughts and teaching "seditious literature" to his students. Practicing or furthering dissent is a punishable offence, and even family is not spared.
In the Ghoul universe, being a war veteran is the highest honour and gives you a free pass to be an entitled prick. The morality of war is an alien concept to the inhabitants of this world. Words like "anti-national" are thrown around like a badge of dishonour. "Waapsi" — an ideological conditioning of citizens who are previously deemed too intellectual — is commonplace. Terrorists are among us, reads a signboard. Islamophobia and power are clearly black and white concepts, so far.
The horror in Ghoul begins with its setting. This sense of disturbing fear and trepidation only furthers as you watch the three extremely fast-paced episodes. Nida's religion is questioned by the other members of the facility, especial Major Das (played by Ratnabali Bhattacharjee), but this is soon taken over by an overarching sense of fear. Ali Saeed is on the premises, and he is clearly inhuman (in so many different ways). They soon find out he is actually a ghoul who feeds off guilt and insecurity. Soon all the members of this basement facility turn on each other and all hell breaks loose as the ghoul picks and eliminates his targets.
Not a moment goes by in the series where you aren't thinking of five different things at one time, trying to understand each character's motivation and what the hell this ghoul will do next. It's nail-biting action, where action isn't physical rapid movement as much as lots going on within a confined space. Graham cleverly uses the Arabic trope of the ghul, a demon who eats human flesh, turns your guilt into sin and takes over the image of the last person it conquered. As far as the characterisation of the ghoul is concerned, the element of fear is predictably scary. With blood, gore and a claustrophobic setting, all the scenes involving said ghoul are terrifyingly satisfying. The exoticisation of the supernatural character really helps Ghoul establish a sense of edge-of-your-seat paranoia.
There are several levels of horror at play in Ghoul, and this layered approach to an oft-misunderstood genre comes from a director who seems keenly aware.
There's the horror of the setting ("Are we heading to this state of being?" I kept wondering as I watched the series), the horror of the ghoul and the horror of never really knowing what, where or how this world came about to be. The latter, however, is also a major flaw in Ghoul. The makers of the show, Anurag Kashyap and Vikramaditya Motwane's Phantom Films, Jason Blum's Blumhouse Productions, and Ivanhoe Pictures, admitted that it was originally conceptualised as a film. This is a realisation I had midway through the show, without knowing so. Had Ghoul been conceptualised as a series, the setting and the character motivations would take its time to unravel. As a three-part series, a lot of time is spent in showing us the horror elements and the thrill of the hide-and-seek chase. But what about the dystopian setting? How did they get to a point of military clampdown? What is it that makes Radhika Apte's character so righteous that she turns her own father in? At what level is this brainwashing of citizens being meted out? What crimes have the existing prisoners in the basement facility committed? What is the back story of the officers from the interrogation team? These are questions you are left with by the end of the third part. You end up feeling like you're missing something. Now either this is a fundamental writing problem, or a clever ploy to leave us wanting more, maybe a second season?
I found myself overthinking every plot point through the three episodes. I went down the Shutter Island route too, at one point. Maybe Ghoul is a metaphor for psychological warfare at a larger level? Maybe it's all in Radhika Apte's head? Apte does have the ability to steal the limelight in a way that even her talented supporting cast aren't able to do in the show. Manav Kaul as Sunil Dcunha too is able to bring the politics of war manifested within an army official to the fore only subtly, before the attention goes back to Apte's character Nida and her fight with the actual ghoul, and the ghoul within.
Coming from Blumhouse productions, the production house behind films like Insidious, Split, Get Out and Sinister, among many others, Ghoul fits right into the mould of an intelligent, spooky thriller. The cinematography by Jay Oza and editing by Nitin Baid greatly aid in creating this. In a recent interview it was revealed that the cast and crew shot in a 'leaky, damp and horrible smelling' place for over 14 hours a day. This is a palpable feeling, even as a viewer. The biggest horror in Ghoul is not in the supernatural presence. It's in the very air.
Entertainment
In Qala's soundtrack, no lyric or verse is accidental. Music is a character in Qala which has a distinct identity of its own. There are times when it acts like an oracle prophesying future events.
Entertainment
The narrative is repeatedly massacre-prone. Bihar willy-nilly is rendered as a war zone with repetitive images of caste wars where dozens are mowed down in the name of class equality. None of the bloodbath sequences are epic in their seething exertions.
Entertainment
Khakee: The Bihar Chapter feels familiar but is shouldered by some spectacular performances.