Game of Thrones season 8 episode 3: Sophie Turner congratulates Maisie Williams on heroic Arya Stark moment
Sophie Turner has congratulated Maisie Williams for her heroic Night-Kingslayer moment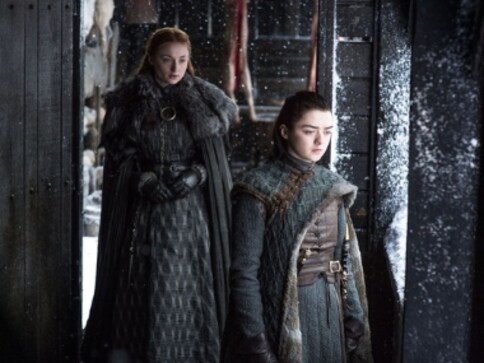 Disclaimer: The following article contains spoilers from Game of Thrones season 8 episode 3

See our full coverage on Game of Thrones here.
The third episode of Game of Thrones season 8 brought with it a saviour of the living. Arya Stark plunged a hole in the Night King's heart, thereby saving humanity from the threat of extinction. Sophie Turner, who plays Sansa Stark in the HBO juggernaut, has congratulated her on-screen sister and off-screen friend Maisie Williams for that badass move in a Twitter post.
In today's episode of Game of Thrones, Melisandre predicted that the younger Stark sister will fulfill the prophesy of killing the one with blue eyes. In a heroic moment, Arya then fulfilled the prophesy as she killed the Night King.
The last time we saw the Stark sisters together was when they wait for the Army of the Dead as the Long Night befalls Winterfell. After convincing Sansa to retreat to the crypts, Arya gives her a dagger and advises her to "Stick 'em with the pointy end" if wights were to attack her. The moment reminds one of Jon's words to Arya after gifting her the Needle.
Entertainment
The actress shared a picture of the pizza sent to her by Shilpa on her Instagram story.
Entertainment
The actor shared the pictures of the posters too, which have been used by the Congress party for their movement against corruption in Karnataka by the ruling party.
Entertainment
Raju Srivastava's character Gajodhar bhaiya became a household name. The stand-up comic was also famous for his style of dialogue delivery that left everyone in splits.