Game of Thrones Season 7 teaser on HBO: Will Sansa, Jon reunite with Arya Stark?
The first teaser for Game of Thrones Season 7 shows Sansa and Arya Stark as well as t Jon Snow spending some time at various locations in the North.
The seventh season of Game of Thrones is set to premiere in 2017. While there is no official release date yet, we got a glimpse of the first teaser on Sunday's (27 November) episode of the current HBO favourite, Westworld. The first teaser offers us a look at three familiar faces.
In the montage, viewers can see Sansa and Arya Stark as well as their half brother (or cousin) Jon Snow, who all seem to be spending some time at various locations in the North. While the shots of Sansa in the godswood and Jon on the ramparts of Winterfell should come as no surprise, the image of Arya on horseback decked out in full winter garb is definitely intriguing. Is the youngest Stark daughter finally going to reunite with her siblings? Or is she just on the way to cross another name off her kill list?
A fan community for Game of Thrones news, Watchers of the Wall had these three screenshots from the teaser:
Last month, on set photos showed a possible meeting between Jon Snow and Daenerys Targaryen. There were also photographs of Tyrion Lannister and Jon Snow meeting after six seasons apart.
(Also Read: Game of Thrones season 7 spoilers are here and it involves updates on Jon Snow, Daenerys)
Entertainment
Ravaged by war and winter, Westeros is in poor condition to play host to those descending upon it. With the increasing proximity of the impending war, let's see how people survive on the lands of Westeros in the season seven of Game of Thrones.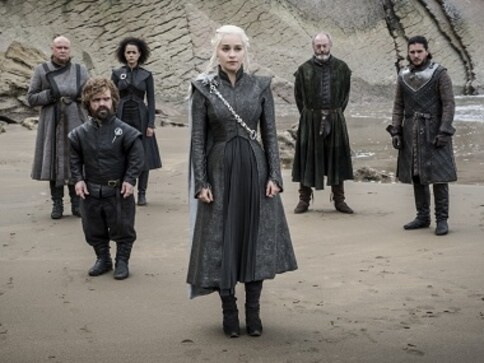 Entertainment
Bron and Jaime give Dany and Jon some serious couple goals, and other happenings from Game of Thrones season 7 episode 4, The Spoils of War
Entertainment
Here's how Game of Thrones season 7, episode 2 — 'Stormborn' — plays out