Game of Thrones season 5 trailer: New teaser promises dragons, Daenerys, blood and fire
"Lannister, Baratheon, Stark, Tyrell, they're all just spokes on a wheel." The latest Game of Thrones teaser trailer begins with the Khaleesi's soliloquy and its enough to send shivers down your spine.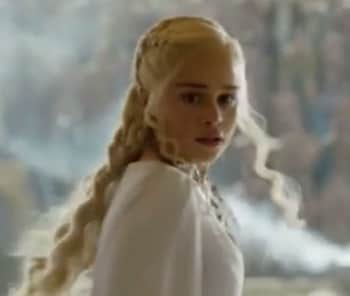 The latest trailer showcases the swordfights and killings to come in season five. It's packed with everything we love about GoT. Dragons, fire, battles, weddings, throats being slit and of course the fact that for Jon Snow, winter is still coming.
Meanwhile, King's Landing has its own share of problems with the High Sparrow decreeing that the "gods demand justice" as his followers go on a rampage draining beer barrels and smashing up idols.
The upcoming season also introduces some new characters, including the High Sparrow (Jonathan Pryce) and the Red Viper's brother Doran Martell (Alexander Siddig).
The new season is out on 13 April.
And while we're all gearing up for the new season, George RR Martin dropped a bit of a bombshell on fans of the series, when he said that that the television show would take a different course from the books.
While this is reason enough for your anxiety levels to hit the roof, Martin also said at the Writers Guild West Awards that as many as four characters would die in season 5. He said, "People are going to die who don't die in the books, so even the book readers will be unhappy."
The Independent said that last year Martin has told that Daenerys' handmaiden Irri, Walder Frey's wife Joyeuse Erenford and Qarth merchant Xaro Xhoan Daxos were among those whose lives may be in danger. But the question is who is the fourth one? Is it Tyrion Lannister? or will yet another Stark die?
Apple unveiled the trailer for the new series of Game of Thrones on Monday, where HBO unveiled its new streaming service, HBO Now, and the clip can be downloaded in full on iTunes. Watch it here:
We know how we'll be watchin' @GameOfThrones season 5.
Updated Date: Mar 11, 2015 09:20:24 IST