FTII row: From Amol Palekar to Anupam Kher, list opposing Chauhan appointment gets longer
With the FTII controversy refusing to die down, more and more Bollywood celebrities are joining the growing list of people arguing that Gajendra Chauhan does not merit the post of chairman of the prestigious institute going by his body of work.
New Delhi:  With the FTII controversy refusing to die down, more and more Bollywood celebrities are joining the growing list of people arguing that Gajendra Chauhan does not merit the post of chairman of the prestigious institute going by his body of work.
The chorus against Chauhan's removal has been going louder day by day with filmmakers Kundan Shah and Aziz Mirza being the latest joinees.
FTII alumni Shah, who is known for making the cult classic "Jaane Bhi Do Yaaro", says that appointing Chauhan as the chairman is an "absurd" decision.
"Isn't the whole issue shameful? It's a shameful decision by the ministry. Who knows this man (Chauhan)? Just see his body of work? By appointing such a person, what is the government trying to do? He's completely unwilling to step down despite so much of chaos. It's very sad. What country we are living in?" Shah told PTI.
Echoing similar sentiments, Mirza says, "Chauhan should step down as he is not wanted.
"Chauhan is putting up a flop show by not resigning. He should step down soon. Even students are being persistent. By doing all the protests they are just being foolhardy."
But unfazed by this opposition from the Bollywood fraternity and other quarters, Chauhan is adamant maintaining that he has been appointed on the merit of the 34 years he has spent in showbiz. Best known for his role of Yudhisthira on TV epic "Mahabharata", his filmography is, however, not that impressive and includes movies like "Jungle Love", "Khuli Khidki" and "Vasna", which are considered B-grade.
He took over as the chairman of the Pune-based institute's governing council last month and his appointment was stoutly opposed by students, whose agitation entered the 30th day on Sunday.
Celebrated cinematographer Santhosh Sivan, actress Pallavi Joshi and National Award-winning filmmaker Jahnu Barua have resigned as members of the FTII Society in support of the striking students. Film personalities like Adoor Gopalakrishnan, Anupam Kher, Rishi Kapoor, Ranbir Kapoor, Amol Palekar, Resul Pookutty, Kiran Rao, Rajkummar Rao, Sudhir Mishra, Sayeed Mirza and Piyush Mishra among others have voiced their strong reservations over Chauhan's appointment.
However, National Award-winning filmmaker Shyam Benegal feels Chauhan need not resign as of now as students should "sit and discuss things" with him.
"According to me, students should meet the chairman designate. Time has come for the meeting and put forward all the apprehensions and grievances. They (students) don't know him. He has been nominated as per as the rules. If he does not come as an eligible person, then they should continue their
strike. But at the moment he should not resign," he says.
Eminent filmmaker Gopalakrishnan had criticised the government, saying, "An institution like FTII cannot be closed in a day at the behest of a minister and higher authorities. If the government has made the wrong choice then it is up to them to correct it.
"I would personally request him (Chauhan) to decline to take up this position because it will not do him any good. It will not be good for students, in fact it will harm everyone concerned," the 74-year-old ace director said.
Questioning Chauhan's body of work, veteran actor-director Palekar had said that he must step down from the post of chairman voluntarily as his body of work is not "inspiring for the students".
"This is something we should be talking about and by this we will clearly know that it is a mistake and that he has no credentials... If I would have been in place of Chauhan and I would have seen that my fraternity does not want me, I would have withdrawn," he said.
Backing the agitating students, veteran actor Rishi Kapoor said Chauhan should not fight for his post but step down as students "are not able to look up to him".
"They need someone to look up to and be inspired from and this post requires someone who has knowledge about production, direction, cinematography and fine nuances of filmmaking," he said. Son Ranbir made a plea to the authorities to pay heed to the students' demands, initiate a dialogue with them and address their grievances.
"I think it is only fair that students deserve a fair hearing of what they want, all they require is an aspirational figure to look up to somebody with a large body of work, (if) not large body of work but a body of work that they can aspire or they can be inspired from," Ranbir said in a video.
According to actor-filmmaker Kher, FTII needs a "much qualified" person at the helm of affairs and also supported the idea of turning the government institute into an autonomous body.
"I personally feel that FTII represents a certain art form... it does need a person who has a great body of work. Certainly FTII needs somebody who is much more qualified than whatever Gajendra ji's qualifications are coming across," Kher had said.
PTI
Find latest and upcoming tech gadgets online on Tech2 Gadgets. Get technology news, gadgets reviews & ratings. Popular gadgets including laptop, tablet and mobile specifications, features, prices, comparison.
Entertainment
In October, Sana Khan, who has played supporting roles in several Bollywood films, announced her exit from the entertainment industry.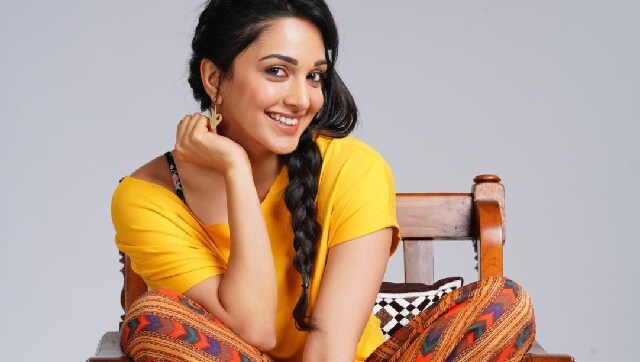 Entertainment
Directed by Abir Sengupta, Indoo Ki Jawani also stars Student of the Year 2 breakout star Aditya Seal and Mallika Dua.
Entertainment
Madhur Bhandarkar wrote that Karan Johar and Apurva Mehta had requested him to use the title Bollywood Wives for a web series, but after he refused, they called their show Fabulous Lives of Bollywood Wives.