From Tholiprema To Tej - I Love You: Director A Karunakaran opens up about his brand of cinema
Right from his debut film Tholiprema, starring Pawan Kalyan and Keerthi Reddy, to his latest film Tej - I Love You, director A Karunakaran has stuck to exploring the upheavals of romance, especially those related to 'first love'.
Almost every filmmaker delves into certain themes and motifs which give his or her work a certain texture and depth over a period of time. While some directors have primarily focused on the battle between good and evil, for others highlighting a social issue or relationships within a family define their brand of cinema. And when it comes to A Karunakaran, his entire filmography has been about romance and friendship.
Right from his debut film Tholiprema, starring Pawan Kalyan and Keerthi Reddy, which has inspired several romantic entertainers in the past couple of decades, to his latest film Tej - I Love You, the director has stuck to exploring the upheavals of romance, especially those related to 'first love'. In an exclusive interview with Firstpost, he explains all about his choices. Excerpts from an interview:
You seem to take a break of a couple of years, at least, between your films. However, this time, it took you nearly four years to make a comeback of sorts with Tej - I Love You. What took you so long?
Right from the days of Tholiprema, I have had the habit of taking a break of a couple of years between my films; however, this time, it took me three-and-a-half years. Pawan Kalyan anna always used to tell me to not let down people who have faith in me. And it scares me that people still love Tholiprema so much. I don't aspire to be someone like Rajamouli who delivers a blockbuster every single time. And it's not that you can deliver hits when you take long gaps. We spend a lot of time thinking about good stories. When everything falls into place, it's almost like a God's gift. I enjoy my life, love spending time with friends and family. When I start listening to music and read books, I forget about everything else.
I felt a little guilty that my previous film, Chinnadaana Nee Kosam, didn't work well. A long time ago, ANR garu once told me that success gives you a lot of confidence to think of new ideas. But when you are down, no matter how strong your willpower is, you don't have faith in your own abilities. It's hard to work on any script when you are in that phase. I used to take two years to come up with a good script when my career was going well, now imagine how much time I needed when my previous film didn't do well!
So, how did this film with Sai Dharam Tej come together?
I remember meeting Sai Dharam Tej during Tholiprema's shoot. He was still a kid back then. I used to joke and tell him, "When you become a hero in future, please don't forget to give me a chance." And he would say, "Okay, uncle!" I think that helped me a lot (laughs). A couple of years ago, he called me and evinced his interest to work with me. We knew that we are going to make a romantic film, but I was kinda dull during our first meeting; however, he was quite supportive and encouraged me to make my kind of cinema. That gave me a big boost. By the time we started shooting, I felt the same kind of excitement which I felt while making Tholiprema. That's why I keep saying if Pawan Kalyan is my anna (elder brother), then Tej is like my Thammudu (younger brother). It makes a lot of difference when you get such support from the actors and producers.
You've consistently made romantic films throughout your career. Is there a particular reason behind your obsession with this genre?
There are directors who shuffle between different genres. But I've pretty much stuck to making romantic films. Moreover, I don't write scripts with any calculations in mind to achieve a certain effect. When I am not shooting films, I spent a lot of time with my friends and their family members. A lot of humour is inspired by the interactions I have had with my friends and their kids. My sole aim is to entertain the audience. I want to make them laugh and in the end, leave them with something to think about. It's a little easier for me to do all this in the romantic genre.
Initially, I used to write love stories because my love story wasn't a success (laughs). But that's a thing of the past. I still have a lot of incidents from my own love story and life that I haven't portrayed on screen yet. I love my family. I try to stick to just two aspects — family and love — and weave a story around them. It's the same thing in Tej - I Love You too. You'll see a different Sai Dharam Tej in this film. He's a fantastic performer.
When I think about your filmography, one of the things that stand out is your fascination for montages, especially when it comes to songs. Is there a reason behind doing this instead of shooting a song in a set?
I prefer storyboarding everything that I am going to shoot, right from scenes to the songs. For Tholiprema too, it was this storyboarding that impressed Pawan Kalyan so much that he decided to work with me. The storyboard has all the details you need that anyone can complete the shoot without my presence. But then, I'm so crazy about art and filmmaking that I prefer doing everything on my own (laughs). When I was part of director Shankar's team during Premikudu, he used to tell us, "When you want to shoot a duet, make sure it has extraordinary visuals, costumes, and choreography. It's a chain and it'll make the song look grand."
When you think about songs, it's like jumping from one bar to another in a circus because you are breaking the rhythm of the storytelling. I prefer narrating a story within a song and hence, I shoot a lot of montages to show time-lapse in a scene. It's hard because you have to tell a lot of story in a small time. You need like twelve scenes for a montage song. It's almost like you are shooting a string of ads. Sometimes we don't have enough time, but whatever it is, you need a good coordination between actors and cinematographer to pull it off.
You say that you prefer doing everything on your own because you are obsessed with the craft. Are you very impulsive during the shoot?
Absolutely! I can never sit idle. If it starts raining all of a sudden during the shoot, I keep thinking if I can shoot something right then. I come from a school of filmmakers who value time and resources. I don't want to waste the producer's money. Even if there are no artists on location, I have to do something. Sometimes the light might not be great, but then God gives you plenty of other beautiful opportunities to capture something. If people think that some of the scenes in my films look like paintings, the full credit goes to the cinematographer and music director, apart from the actors. They make me look good (laughs).
On a different note, the concept of romance has changed a lot over the years. Do you feel the pressure when you write or shoot something?
Oh yes! A lot of things have to come together really well for you to pull off a good romantic film. I like surrounding myself with positive people, good music, and classics that have inspired me over the years. Sagara Sangamam is my bible. I also keep revisiting films like Hum Aapke Hai Koun, Dilwale Dulhaniya Le Jayenge, Mera Naam Joker, Bobby, Alaigal Oyivathillai, Varusham Padhinaaru. I feel great when I watch them. There is no secret trick to writing a great romantic film. It all about executing it properly.
Also read: Anupama Parameswaran talks Tej - I Love You, working with Karunakaran, and Kannada cinema debut
Find latest and upcoming tech gadgets online on Tech2 Gadgets. Get technology news, gadgets reviews & ratings. Popular gadgets including laptop, tablet and mobile specifications, features, prices, comparison.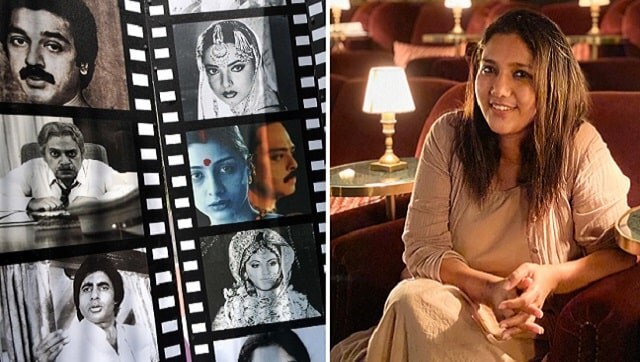 Entertainment
MUBI India's director of content Svetlana Naudiyal on bringing world cinema to Indian audiences, providing a platform to smaller Indian films, and why the streaming service operates in collaboration with movie theatres.
Entertainment
The new deal covers Universal films — which include the Fast & Furious franchise, Jurassic Park movies and the Despicable Me series — in the US over the next three years.
Entertainment
In this exclusive Q&A with Firstpost, Dark cinematographer Nikolaus Summerer talks about crafting a unique visual style for each time period.