From Leon to Annihilation: How Natalie Portman went from child prodigy to Oscar-winning actor
Before she became an Oscar-winning actor and an A-list star, Natalie Portman made her debut at the age of 13 in Luc Besson's Léon: The Professional.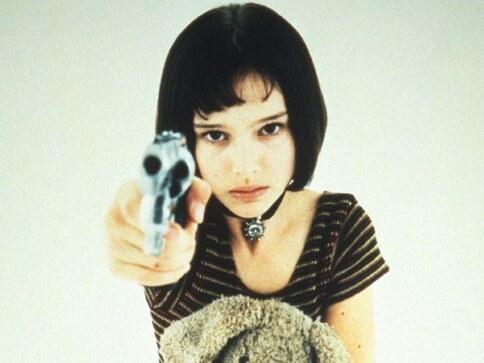 In Annihilation, Alex Garland's follow-up to his 2014 sleeper sci-fi hit Ex Machina, Natalie Portman leads a diverse cast of bad*ss women into the nightmarish alien vistas of an environmental disaster zone. In a genre dominated by white men, it sure is comforting to see more empowering female-driven stories. And one can't think of many better actors to challenge the patriarchal status quo of the sci-fi community than Portman. The Harvard-graduated animal rights activist will hope to normalise female-led sci-fi stories and more with Garland's latest head-scratcher, which is set to release on Friday in the US and two weeks later on Netflix.
But before she became an Oscar-winning actor and an A-list star, Portman made her feature film debut at the age of 13 in Luc Besson's crime thriller Léon: The Professional. Armed with guns, brains and an intrepid curiosity (much like in Annihilation), the gifted child actress delivered a performance way beyond her years and proved that she was a force to be reckoned with.
Besson introduces us to Portman's Mathilda — contemplatively smoking a cigarette and swinging her legs — in the stairwell of an apartment block in New York. She is rocking her signature dark brown bob and fringe combo, a black choker, a striped jersey, a bomber jacket, a denim mini skirt and a pair of stomper boots with scrunched socks. As expected, she became a '90s fashion icon.
When her family is murdered by a corrupt DEA agent (played by an uninhibited Gary Oldman), the doleful and desperate Mathilda turns to her next door neighbour — Léon (a more restrained Jean Reno), a mysterious hitman. He becomes her reluctant custodian and she, his apprentice. The two then develop an unlikely friendship and business partnership as Mathilda, motivated by her desire for revenge, sets Léon on a collision course with the rogue agent in a bloody climax.
Sure, you must be thinking precocious teenager + older man might cross a line of appropriateness. But there is nothing untoward or Lolita-esque as Besson handles their relationship tastefully. Even when Mathilda says she's falling in love with Léon, it is clear she misunderstands her need for a father figure with deep romantic bonding. She is, after all, a confused 12-year-old girl, who comes from a dysfunctional family with an abusive father and no real friends to speak of.
So, both these outcasts of society find comfort in one another. Mathilda awakens in a reticent Léon an appreciation for life and gives him a reason to exist. On the other hand, Léon allows a vengeful Mathilda to move on from her troubled past and start life anew.
Portman portrays the chain-smoking, p*tty-mouthed Mathilda with an unmatched honesty and ferocity in one of the most memorable performances by a child actor. She internalises her character's deep-seated emotions like an absolute pro. "I finished growing up, Léon. I just get older," says Mathilda, proving her maturity beyond her years, much like Portman herself. The character's child-woman juxtaposes perfectly against the man-childness of Reno's emotionally bereft Léon.
Yet, Portman also maintains the innocence (or what's left of it) of someone ignorant of the indifference and violence in her external world. Mathilda is the heart and brain of the film.
In one of the film's most riveting scenes, Mathilda begs Léon to teach her his 'cleaning' ways in order to avenge her family's murder. Consumed by unbearable pain and anguish, she puts a gun to her head to compel him. The range of emotions that Portman displays in that scene alone should have earned her first nomination — if not win — at the Oscars.
And she was all but 11 when she was cast from a group of more than 2000 girls.
It took Portman another 17 years to finally — and deservedly — win the coveted Oscar for Best Actress for her fearsome portrait of psychosis in Black Swan. Darren Aronofsky's film depicts a ballerina's descent into madness — as she battles with the duality of an innocent but unassertive white swan and a liberated but beguiling black swan — during a production of Tchaikovsky's Swan Lake. While it is arguable if Nina achieved her goal of artistic perfection, Portman surely did and she earned herself not just an Academy Award but a Golden Globe and a Screen Actors Guild Award along with it.
It is interesting to note that some of Portman's most memorable performances have often come when she explores the duality of her characters. In Closer, Mike Nichols' sexual drama devoid of sex, Portman plays a psychologically overdressed stripper with a remarkable fearlessness and vulnerability. In V for Vendetta, she is a timid, ordinary citizen until her anarchic awakening. More recently, in Jackie, she again struck that perfect balance between vulnerability and strength as the wife of the slain president John F Kennedy. It is absolutely stunning watching her — in those innumerable closeups — battle grief and trauma and, at the same time, provide emotional support to her children. She also manages to perfectly capture Jackie Kennedy's cadence, her distinct elocution and mannerisms with uncanny brilliance.
Twenty-four years since her debut in Léon, Natalie Portman still remains one of the most sought-after actors in Hollywood and that is a testament to her sheer talent and commitment to play characters of hypnotic complexity. She's gone from a 90s child prodigy to an Oscar-winning star. And it will hardly be a surprise if she ends up with a few more statuettes on the mantlepiece in the foreseeable future.
Watch the trailer for Natalie Portman's Annihilation below:
Entertainment
Anne Heche is in a coma and has not regained consciousness since shortly after her car crash.
Entertainment
This weekend is the perfect time to get yourself in the documentary groove and binge on these eye-opening docuseries only on Lionsgate Play.
Entertainment
Emmy-nominated actor Anne Heche is in very critical condition since her car crashed into a residential building and caught fire in the Mar Vista area of Los Angeles.