From Kaante to Memento: 23 films to keep you occupied for the next 12 weekends
Catch up on some forgotten gems, some guilty pleasures, or even some perception-changing cinema, with this bucket list of 23 films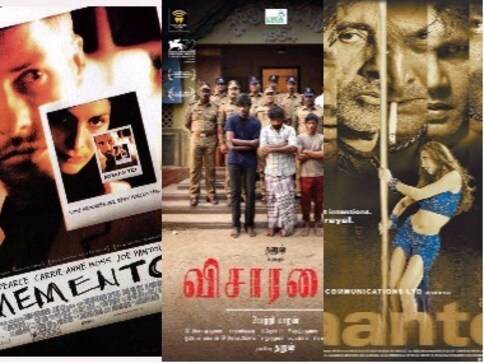 Let's face it: 2017 has been a thoroughly mediocre year at the movies. A stray indie like Newton and the sheer spectacle of Baahubali 2: The Conclusion apart, most of 2017's releases can safely be filed under the header Toilet: Ek Prem Katha; because even though the toilet is where most of the year's films belong, our love affair with the movies will never end.
We don't know how long it'll be before the next truly good film will come along, so what better time to catch up on some forgotten gems, some guilty pleasures, or even some perception-changing cinema, than now, when the future appears bleakest? Here, then, in no particular order, are 23 films to keep you occupied for the next 12 weekends.
1. Dil Pe Mat Le Yaar
If Hansal Mehta hasn't yet gotten over the whole fiasco surrounding Simran, he should just revisit his own Dil Pe Mat Le Yaar, for some soul-searching and solace. And so should you. A stellar cast (with Manoj Bajpayee, Tabu, Saurabh Shukla and the likes), Vishal Bharadwaj's nascent, still-evolving music and its entertaining, dark humour, Dil Pe Mat Le Yaar is about the dichotomy of two Indias, about how innocence and villainy are just a matter of where you stand and where you're looking from.
2. Buried
Ryan Reynolds stuck in a coffin. That is all this film is, and yet, it's so much more. The film is about literal and metaphorical constraints, and it's a wonder that with no visual relief at all, the film still manages to hold you by the scruff of your neck all through. This is cinema that pushes the limit through sheer irony. Be warned — it is claustrophobic and it'll keep your heart pounding.
3. Lucia
India is obsessed with its film stars. In Lucia, director Pawan Kumar takes this trope and packages it with *lazy writing alert* Inception-level mind trickery. Lucia may be the first crowd-funded Kannada film, but that's not why you should watch this. Few low-budget films can manage this level of kitschy audacity, while also being thoroughly entertaining at the same time.
4. Inside Llewyn Davis
Music, love and the love for music; this may not be the Coens' best film, but there's such humour, such irony and such bittersweet emotion in this little gem, that it's hard to get out of your system once you watch it. Oscar Isaac turns in a winning performance, as you spend some time with him in a wintry week in New York of the '60s. Oh, and there's a cat as well. Enough said.
5. Fandry
Before there was Sairat, there was Fandry. The former may have catapulted Nagraj Manjule and 'Zingaat' to national fame, but Fandry had far more incisive social commentary, masked with the trademark black comedy that Manjule seems to revel in. A crisp, funny and devastating piece of art, Fandry also happens to have the best use of the Indian national anthem in our cinema. That moment in which it chimes in, bang in the middle of a scene, is so cinematic, so contextual, it puts the act of playing the national anthem in theatres to absolute shame — because what does that national anthem really mean to the disenfranchised Indian?
6. 22 Female Kottayam
The year 2017 saw filmmakers aggressively chase the revenge-for-rape theme, with films like Kaabil, Mom, Maatr, Bhoomi. But to watch something that marries this theme with style, technique and genuine intrigue, watch Aashiq Abu's 22 Female Kottayam — a sleek little thriller that will hook you, hurt you and then leave you with perverse gratification.
7. Bound
It doesn't matter what their genders and first names are — the Wachowskis have always made thrilling cinema. Bound is their first feature, a small, low-budget affair that makes up for its lack of scale with edgy thriller writing. It takes you by surprise more than once, both in terms of plot, and in terms of how it treats the lesbian romance at the core of the film.
8. From Dusk Till Dawn
Vampire films may not be everyone's genre, but Robert Rodriguez's pulpy treatment of Quentin Tarantino's outrageous script (not to mention the latter's terrific turn as an actor in the film) make this one of the most entertaining, un-vampire movie-like vampire movie that you could watch. George Clooney and Harvey Keitel smash some memorable lines out of the park. Call me barking mad, but From Dusk Till Dawn is the most twisted kind of feel-good movie you can watch.
9. Memento
Before Nolan bent space/time, he just had regular old fun on the edit table. Memento is still, for me, his best work; because no matter how many times you watch the film, the non-linear narrative puts you in the shoes of the amnesiac protagonist every single instance. Like him, your memory is also searching its own darkest recesses, and like him, you can't wait to get to the end. Except, there is no end, is there?
10. Predestination
This Australian time travel thriller is like Chris Nolan on some cheap Hollywood smack, obtained right off the street. Packing in much, scarcely giving you time to think, and creeping you out quite a few times, this is a film that you can't look away from even when you want to.
11. Ugly
Anurag Kashyap is known for 'dark' cinema, but Ugly is best described by its title. Humankind can be truly ugly at its core, and I suspect that's the reason behind its nomenclature. You see the most grotesque facets of life in the most real situations, and Ugly gets it bang on. Before you watch the film, though, you must watch a five-minute prologue to it, which is available on YouTube. It puts the film into context in the most heart-breaking way, making the experience of watching the film even more intense.
12. Visaranai
In India, if you're poor, then you're f***ed. Highly acclaimed and for good reason, Visaranai is a difficult film to watch, for both physical as well as emotional reasons. Migrant labourers from Tamil Nadu, working in Andhra Pradesh, but belonging only to their own poverty get embroiled in a situation not of their own making — hurting them (and you, the viewer) in more ways than one. If you're watching Visaranai, then you're living a life of privilege that you just haven't fully acknowledged.
13. Kaante
You will, at some point, need the comfort of campy Bollywood to soothe your senses. I don't know if Quentin Tarantino liked this Reservoir Dogs rip-off as much as the internet says he did, but Kaante is still smashing good fun. Frequent claptraps, big stars doling out theatrics, Sanjay Gupta diving into his colour filter cabinet for something that's a little less green than Jazbaa and a little more red than Kaabil — all this and more lead to this gangland flick being a fun watch almost every time, though the film does exhaust you towards the fag end.
14. 3 Deewarein
When you're watching this Nagesh Kukunoor film for the first time, it takes you by surprise with how it goes from being a jail drama to a jail-break thriller to a whodunit. Clever writing and terrific performances apart, there's subtle commentary being made about plenty of issues, including marriages and the justice system.
15. Ek Hasina Thi
Revenge is a dish best served in cinema. Everyone fantasises about getting back at that one person who did that one thing to you that you can't get over, but there's scarcely little you can actually do about it. Sriram Raghavan's thriller is one of those films that let you experience the joy of revenge within the confines of your own head. It's sharp, engaging and reminds you of a time when Ram Gopal Varma had an instinct for backing the right talent.
16. Ek Main Aur Ekk Tu
A mish-mash of a number of Hollywood rom-coms, Ek Main Aur Ekk Tu often feels contrived and un-Indian, but it is also a film that has genuine feel-moments like few others. The film is driven more by the characters than the plot, and it is that rare love story that makes you feel good about the fact that *spoiler* the guy and girl don't end up together.
17. Luck By Chance
Movies about the movies are always fun, and Luck By Chance is what we have against La La Land — and Zoya Akhtar did it first. The film may not resonate with you as much as it would with someone who has actually come to Mumbai from afar to make it in showbiz, but there are few Hindi films that make you love the movies as much as this one does. Of course, it helps that some of our biggest, brightest stars keep popping up through the film.
18. 13B
Save for Ram Gopal Varma, who is still searching for his mojo in the wreckage of his recent filmography, Indian cinema just doesn't do horror that well. In that regard, Vikram Kumar's 13B is a thoroughly under-rated and strangely satisfying horror film. A family moves into a new home, where strange things begin to happen. Yawn. But wait, there's also a strange twist with a daily soap and an age-old murder. The film is bleak and bizarre, but also rather intriguing. You can't quite tell, but it also seems to be a subtle sarcastic dig at the horror genre in general.
19. Angry Indian Goddesses
Every time I've suggested this film to someone, I've gotten a dismissive reaction. Nobody, not even some real angry Indian goddesses I know, seem to be interested in watching a film with this title. But it is an important film, because it is yet another take on femininity and consent. It traverses the graph from warm and funny to dark and hurtful effortlessly, and has some good music and fine performances to hold it together. If there is one recent film about feminism that you must watch, it is this one.
20. Kammatipaadam
Dulquer Salmaan nails his role in one of the most original and important gangster films India has produced, and it also reinforces Rajeev Ravi as one of the most exciting filmmakers to look out for. There's caste, economics, urbanisation, and so much more. From a technical standpoint, what's most interesting is how Rajeev Ravi — who has long collaborated with Anurag Kashyap as a cinematographer — directs films that don't always rely on conventional styles to make a good-looking film.
21. Man On Wire
The Walk, starring Joseph Gordon Levitt, was a dramatised tale about high-wire artist Philippe Petit, but Man On Wire, a documentary on Petit, is infinitely more engaging. The film chronicles how Petit walked a tightrope between two towers of the World Trade Center in 1974, and it's amazing how Hollywood's might couldn't convert the incredible true story into an engaging piece of cinema.
22. 13th
Ava DuVernay is a bold, original voice in the fight against racism and sexism in pop culture today, and her Netflix documentary 13th — named after the Thirteenth Amendment to the US Constitution — gives you a gritty insight into how race has never stopped being an institutional problem in the US, apart from being a social one.
23. Anomalisa
An animated 'dramedy' for adults, Anomalisa is a difficult film to describe. Charlie Kauffman's take on loneliness and love makes you forget that it's an animated film rather soon, because one of cinema's most original voices deconstructs some of humankind's deepest fears. It is a crushing, enlightening tale on the workings of the heart, and it also happens to have one of the most 'real' love-making scenes in cinema. Oh, the irony.
Entertainment
The Malayalam-language action-drama, directed by Shaji Kailas is all set to release on Prime Video this August.
Entertainment
Rajinikanth's daughter Aishwarya Rajinikanth shared pictures on Twitter from a recent event in Chennai, where the Income Tax Department of Tamilnadu and Puducherry honoured her father.
Entertainment
In an exclusive conversation with Firstpost, Nivin Pauly talks about his latest release Mahaveeryar, reuniting with filmmaker Abrid Shine and more.