From Jai Lava Kusa to Jyo Achyutananda, a tale of onscreen brothers
Be it Jai Lava Kusa or Seethamma Vakitlo Sirimalle Chettu and Jyo Achyutananda, there's something poignant about stories that evolve around brothers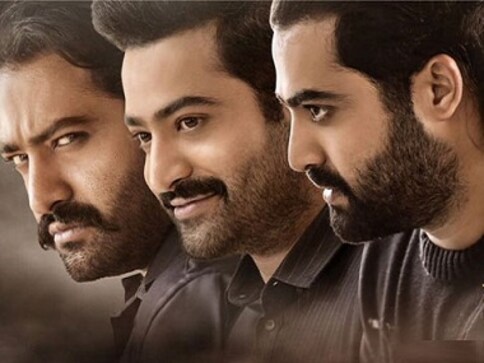 [Spoilers ahead.]
I remember tearing-up in the dark hall of a single screen theatre in 2013, blink hard to send the tears back from whence they came. I didn't want the gang of boys I was with, to ask me, "What's wrong?"
After all, the movie wasn't a romantic tragedy. It was a simple tale about two brothers. Seethamma Vakitlo Sirimalle Chettu featured two stars from different generations, Venkatesh and Mahesh Babu as Peddodu (elder one) and Chinnodu (younger one), respectively. Never had a Telugu film made such noise for its star cast since the turn of the millennium. The film, obviously, had managed to catch the attention of filmgoers.
I thought Srikanth Addala's film would have the usual sentiments of a family drama. But it threw some surprises.
Although there were plenty of emotional dialogues and sentimental fireworks in SVSC, they weren't of the '90s kind where sacrifices by the parents were spoken of in monologues that acted as a trigger for a group hug. Peddodu and Chinnodu had a lot of differences (as any brothers do), yet they didn't give up on each other.
During the interval, I made an announcement: "I'm Chinnodu." My friends laughed at my naivety. But I had an answer ready for their sniggers. "You won't understand what I'm feeling right now because you don't have brothers. All of you have sisters. Only I have an older brother." That declaration didn't work in my favour — they continued laughing.
***
There's something about brothers — reel or real — that speaks to me. The fact that I shared a roof with my brother for more than two decades, naturally, has an effect on it.
In most of the fiction pieces and stories from the world I breathe, I've gathered that the older brother has a soft corner for his little one.
It would definitely be foolish to paint my opinion as a sort of universal truth. Sibling rivalry is a big part of mythology and we would have heard of ghastly incidents involving brothers from our own neighborhoods. Despite this evidence, the proverb, "Blood is thicker than water," stands true. The recently released Jr NTR-starrer Jai Lava Kusa, too, operates on this stage.
NTR's three roles — Jai, Lava, Kusa — gives him space to explore himself as an actor (a rogue who ruthlessly kills people; an honest man who cannot lie even when push comes to shove; a thief who uses words to charm his listeners). NTR is a fine actor and several movies have already proven that. This particular film, however, puts him under a magnifying glass.
As the movie slips into the latter half, the differing looks of Jr NTR's roles that dominated the screen for the first hour-and-20-minutes disappear and, Lava and Kusa become Jai (Lava — to help his political dreams bear fruits; Kusa — to make a girl fall in love with him).
[The idea of identical people switching places was made famous by the Tamil film Michael Madhana Kama Rajan starring Kamal Haasan. Kamal played four roles in the blockbuster comedy. In the last 40 minutes of MMKR, Michael, Kama, and Rajan sport similar haircuts and look alike but speak in different accents and try to behave like Madhan.]
***
The story of Jai Lava Kusa starts off with Lava and Kusa (as 10-year-olds) earning cheers and recognition for their on-stage performances, with Jai being taunted for his inability to deliver a lengthy line due to his tendency to stutter.
Jai believes that he'll be sidelined if he continues to stay with them. So, he turns into a beast and comes up with a plan to move away from his brothers' shadows and start afresh.
By fashioning himself after Ravana, the demon, Jai loses the need to hold on to the crutches of human emotion. Twenty years later, when he's in the same room as his brothers, he still feels the pain of being made an extra in their uncle's (Posani Krishna Murali) plays. These memories make it hard for Lava and Kusa to get their brother back to the righteous path.
Although Jai plans to eliminate Lava and Kusa (in the end) so that they don't show up as thorns in his political journey, he sacrifices his own life thereby saving his brothers, after hearing that Kusa and Lava willingly drove a car fitted with a bomb (to help him).
In the final few moments, before breathing his last, Jai reminds them that he'll be an everlasting presence.
Such is the brotherly love in Jai Lava Kusa. As a triplet, Jai would have been older than Lava and Kusa by just a couple of minutes. Even then, he takes it upon himself to protect his younger brothers.
***
In Srinivas Avasarala's Jyo Achyutananda, brothers, Achyut (Nara Rohit) and Anand (Naga Shourya), hug it out in the closing scene and put an end to all the silly fights once and for all.
During the course of the movie, Achyut and Anand would have ended their brother-liness on account of a woman (Regina Cassandra as Jyotsna). Older brother, Achyut, sets things right — by beating a person black and blue for attacking Anand and getting back his brother's book from a scrap dealer which he had sold in haste (he actually gets him a fake copy, yet Anand doesn't make a fuss about it) — when he realises that he'll lose his brother (Anand decides to move to Bengaluru for better opportunities and peace of mind) forever.
As a smile of satisfaction fills Anand's face, in one swift dialogue, he equates Achyut to his father.
I, invariably, teared-up again. Perhaps that's how older brothers look after their younger siblings.
If my first question to my brother is, "Which movie did you watch recently?" his first question would be, "How's your health?"
Opinion
Choice of Indian celebs on Cannes jury duty has gravitated towards mainstream icons over the years
Entertainment
Cinema for change is significant, and love stories that explore the real side of it are gladly welcomed, but is it greedy to want the best of both worlds? Is it asking too much, if I desire over-the-top romances, and rooted love stories as well?
Entertainment
Like Satyajit Ray, Asit Sen also had the daak naam (nickname) "Manik". Like Ray, he was also briefly associated with the ad agency D.J. Keymer, and he also completes a centenary this year. But precious little is known about this sensitive artist, who made iconic movies across three different film industries. Amborish Roychoudhury revisits the early years of Asit Sen.