From Blood Simple to Fargo to The Big Lebowski: A look at the most memorable films from the Coen brothers
To celebrate the legendary filmmaking duo of Joel and Ethan Coen, we take a look at some of their greatest films from Blood Simple to Inside Llewyn Davis.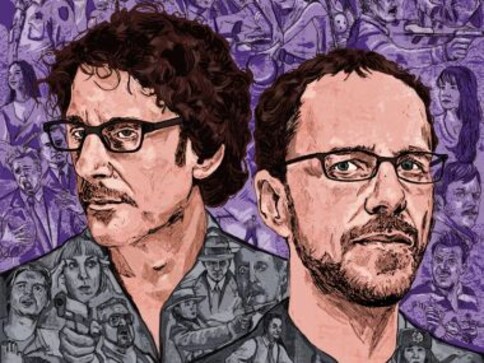 More than three decades ago — on 18 January, 1985 — the Coen brothers' first feature film, Blood Simple, premiered in American theatres. Joel and Ethan Coen's neo-noir debut was a violently dark and twisted tale of adultery, revenge and miscommunication set amid the dusty country back roads and neon-lit roadhouse bars in rural Texas.
A suspicious husband and bar owner (Dan Hedaya) hires a diabolical private detective (M Emmet Walsh) to kill his adulterous wife (Frances McDormand) and her lover (John Getz). But fear, guilt, double crosses and false assumptions turn this seemingly straightforward premise into an intricate contraption of fatal misunderstandings.
Blood Simple put the Coen Brothers on the map in the 1980s independent filmmaking scene and laid out plenty of the themes (senselessness of violence, power of unchecked ambition and dramatic possibilities of sheer stupidity), motifs (double crosses, illicit love affairs and opportunistic businessmen) and tropes (circumstance-filled plot, dream sequence, voice-over narration, frequent actor collaborators and sharp, exaggerated dialogue) that they would continue to explore throughout their illustrious career with comedies (be it black, slapstick or screwball), neo-noir, western or even rom-com (Think Intolerable Cruelty).
The films of the Coen brothers are usually genre mashups that don't always fit into any established categories. Hence, the origin of the word, "Coenesque".
To celebrate the legendary filmmaking duo, we take a look at some of their greatest films.
Miller's Crossing (1990)
The Coen brothers grew up reading the classic potboilers of Dashiell Hammett, Raymond Chandler, and James M Cain and watching classic gangster movies and film noir. These influences are especially visible in their third film, Miller's Crossing, which is littered with references to the Prohibition-era gangsters popularised by Hammett's novels and the steamy noir atmosphere of Carol Reed's The Third Man.
Tom Regan (Gabriel Byrne) is the right-hand man to the Irish mob boss Leo O'Bannon (Albert Finney). When rival Italian mob boss Johnny Caspar (Jon Polito) seeks Leo's permission to kill low-level bookie Bernie Bernbaum (John Turturro) for having shorted him, Leo refuses as he's fallen in love with Bernie's sister Verna (Marcia Gay Harden), who also happens to be having a secret affair with Tom. As Tom starts to "play" both sides to navigate his own survival, a bloody gang war for political power erupts. Carter Burwell's music perfectly taps into the emotional core of this tightly constructed movie, which sails as smoothly as the elusive black fedora flying through the serene forest. Sadly, having released nearly simultaneously with Martin Scorsese's Goodfellas, the film failed to make a mark at the box office or on the minds of impressionable movie lovers.
Barton Fink (1991)
Faced with writer's block while writing the screenplay for Miller's Crossing, the Coen brothers began working on a different project and wrote Barton Fink, a surreal comedy about a playwright suffering from writer's block. Struggling to adapt to the medium of film, he seeks the advice of a film producer, an alcoholic novelist and his wise mistress as a bizarre sequence of events begin to distract him. The film is most memorable for John Goodman's fearsome performance as Barton's next door neighbour, Charlie Meadows — an affable insurance salesman with a mysterious past.
Fargo (1996)
Coen brothers regular Frances McDormand plays Marge Gunderson, a pregnant Minnesota police chief, who's investigating the most hamfisted kidnapping in cinematic history by one Jerry Lundegaard (a desperate car salesman played by William H Macy) and his inept, blathering lackey (Steve Buscemi).
Perfectly complimented by Roger Deakins' gorgeous cinematography and that awfully haunting motif from a Norwegian folk song, this snowbound crime caper is the quintessential Coen film. While many initially wrote off FX's idea of a TV anthology based on Fargo, Noah Hawley's interpretation sure was a welcome surprise and has continued to capture the Coen brothers' bleak vision and black comedy consistently through its three seasons.
The Big Lebowski (1998)
This cult classic turned Jeff Bridge's hairy, bathrobe-clad, White Russian-loving The Dude into the ultimate stoner icon. He's your typical hippie slacker: someone who's lost his passion to change the world, so he would rather spark one up and bowl. After a case of mistaken identities, The Dude and his bowling buddies — John Goodman's howling, raging Vietnam vet Walter Sobchak and Steve Buscemi's less talkative Donny Kerabatsos — are drawn into a convoluted kidnapping plot.
Other than its famous stylised dream sequences, this noir inspired chaotic crime comedy attained cult status over the years as it is replete with repeatable quotes from The Dude ("Mr. Treehorn treats objects like women, man!", "I'm the Dude, so that's what you call me. That or, uh His Dudeness, or uh Duder, or El Duderino, if you're not into the whole brevity thing", "The Dude abides") and Sobchak, ("This is not 'Nam. This is bowling. There are rules," and "Shut the f**k up, Donny!").
O Brother, Where Art Thou? (2000)
The Coen brothers pay their tribute to Preston Sturges' 1941 classic Sullivan's Travels and Hollywood's golden age in this magical realism comedy set in Depression era America. A trio of escaped convicts (George Clooney, Tim Blake Nelson, John Turturro) embark on an Odyssey-like adventure as they pursue their freedom and a hidden cache of loot. Along the way, they get drugged by three alluring sirens, meet a hearty one-eyed Bible salesman and gatecrash a Ku Klux Klan ritual in the woods. It is one of Coen brothers' most imaginative films.
No Country for Old Men (2007)
Adapted from Cormac McCarthy's 2005 novel of the same name, No Country for Old Men depicts the chain reaction of bloodshed and mayhem triggered by a drug deal gone bad as the man who stumbles upon the scene of the carnage walks away with a satchel containing a couple of million dollars. The film feels like Dante's Divine Comedy set in the bloody frontiers between Texas and Mexico: Javier Bardem's Anton Chigurh embodies the Inferno, Josh Brolin's Llewelyn Moss is in purgatory and Tommy Lee Jones' Sheriff Ed Tom Bell is the manifestation of Paradiso.
Bardem's sociopath and Jones' sermons are particularly memorable. Perceiving himself to be an arbiter of fate, Chigurh is the stuff that nightmares are made of: A remorseless hit man who allows his potential victims a way out of their death sentence with the toss of a coin. As the film concludes, Sheriff Bell waxes philosophical about the moral decay of humanity in the final monologue. The movie went on to win four Academy Awards for Best Picture, Best Director, Best Adapted Screenplay and Best Supporting Actor (Bardem) in 2008.
A Serious Man (2009)
Having grown up in the Jewish enclaves of suburban Minneapolis, the Coen brothers deliver their most Jewish film brimming with Jewish angst in the oddly compelling A Serious Man. The film depicts the travails of a physics professor named Larry Gopnik (Michael Stuhlbarg) and his crestfallen Midwestern Jewish family: his wife, Judith, his teenage son Danny, and daughter Sarah. Larry's life begins to unravel when his wife plans to leave him for the more wealthy, middle-aged Sy Ableman (Fred Melamed) and demands a gett (Jewish divorce document).
His kids too are ungrateful imps, and his forlorn, whiny brother (Richard Kind) camps on the living-room couch and refuses to look for work. It is a criminally underrated absurdist comedy about middle-class Jewish life in American suburbia with the Coen brothers' own version of profound philosophical inquiry.
Inside Llewyn Davis (2013)
Set in the Greenwich Village folk scene in the early 60s, Inside Llewyn Davis is a sombre and achingly beautiful film of a proud but down-on-his-luck musician (Oscar Isaac) trying to relaunch his career as a solo act after his musical partner's suicide. Unfortunately, Davis is a bit of a self-pitying, egotistical asshole. He couch surfs his way around the Village in the homes of well-meaning friends whom he constantly alienates — including fellow folk singer Jean (Carey Mulligan), who is pregnant with his child and wants money for an abortion.
As the days grow darker and colder, he tries his damnedest not to sell out despite seemingly insurmountable obstacles. This unflinching and unsentimental portrait of an artist in the New York  folk scene (before the arrival of Bob Dylan of course) earned the Coen brothers the Grand Prix at the 2013 Cannes Film Festival and two Oscar nominations.
Entertainment
The most remarkable aspect of Psychosexual is how consistently Joel Kim Booster draws attention to the nuts and bolts of how he put it together.
Entertainment
Halle Berry, Patrick Wilson and John Bradley starrer Moonfall is directed by Roland Emmerich.
Photos
Chris Pratt, along with Constance Wu, Riley Keough, and Patrick Schwarzenegger attended the premiere of the upcoming Amazon Orginal The Terminal List in LA.