Ganesh Chaturthi, as captured by Bollywood: From Bajirao Mastani to ABCD
Our Ganesh Chaturthi compilation has a mix of modern, traditional and classical sounds plus a whole lot of Bollywood.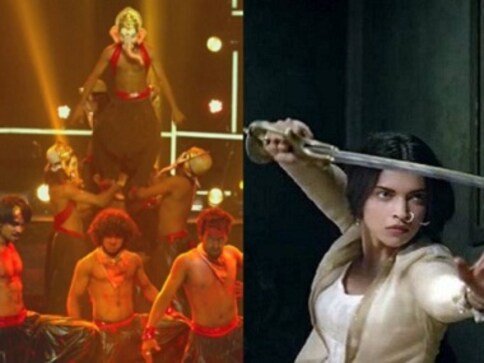 Ganesh Chaturthi is set to be celebrated on Monday 5 September 2016 with lots of pomp and splendour. Colour, dance and grandeur are as much as a part of this festival as much as they are a part of any other place.
The Ganesh idol comes in all shapes and sizes. It almost seems like a competition of which pandal has the most innovative Ganesh idol on a street.
Ecofriendly Ganesh? You have it.
A digital Ganesh idol? You have that too.
Bollywood has also embraced the festival and makes it a point to include a Ganesha song or a scene whenever a situation seems fitting, especially if the setting of the film is in Aamchi Mumbai.
Here how Bollywood has depicted Ganesh Chaturthi throughout the years.
'Thank You Bappa' by Riteish Deshmukh
'Thank You Bappa' is a track from Riteish and Nargis Fakhri's forthcoming film Banjo which revolves around Lord Ganesh. The song has Riteish rap praises of Lord Ganesha in marathi and a guitar riff you can head bang too. A very fun track to listen to on the whole:
'Gajanana' from Bajirao Mastani
Sukhwinder Singh's voice is a winning note in this song from Bajirao Mastani. The dramatic song yet catchy song from this periodic film is a must add to your Ganesh Chaturthi playlist.
'Hey Ganaraya' from ABCD
The climax of Any Body Can Dance is a collaboration of contemporary dance moves with ganpati music. It's also a lesson on how to break into cool dance moves this festive season.
Shor In The City
The story of Shor in the City focuses on their trials and tribulations as they battle life in the city of Mumbai during the chaotic period of the festival of Ganesh Chaturthi.
The three protagonists go their separate ways and the film set at the background of the 11-day Ganesh Chathurti festival, as the title smartly symbolises. The excessive external festivities noise is much ado about nothing as compared to the hollow inner sentiments.
'Jalwa' from Wanted
Salman Khan's danced his heart out on this song from Wanted.  Wajid, who has expertly composed the song, also turns singer for this energetic song.
'Ganpati Apna Gaon Chale' from Agneepath
This song from Agneepath is the defining moment of the film. This Amitabh Batchan-starrer was known as much for its storyline as it was known for this song.
Watch Mithun Chakravarthy break into some festive dance moves in this passionate song. Composed by Lakshmikant Pyarelal, this song is one of the most memorable Ganesh Chaturthi moments in Bollywood history.
'Sindoor Lal Dhadayo' from Vaastav
This inspirational Ganesh aarti in the climax of Sanjay Dutt-starrer Vaastav has a fervent Marathi flavour to it and was composed by Jatin-Lalit and sung by Ravindra Sathe.
'He Ganpati Bappa Moriya' from Pujarin
Craving a beautiful black and white Ganpati song?
This song from the film Pujarin is one of the oldest Bollywood odes to Ganpati, and is sung like a bhajan.
also read
Entertainment
The producer Sajid Nadiadwala himself made sure that the scale of the song is as huge as any of his previous films including big blockbusters with Salman Khan or Akshay Kumar films
Opinion
The success of 'The Kerala Story' is a wake-up call for Bollywood. While most makers will not make films dealing with similarly controversial subjects, they should now realise that producing a remake or just any other film with an established male star without right content is not an option today
Entertainment
The awards will be interspersed with live performances by a mega star cast, with Bollywood's much-loved Bhaijaan, Salman Khan, leading the way.