Forever 21 removes white model sporting Black Panther sweater, following backlash
Forever 21 was quick to remove the image completely and issue a statement of apology about the mistake stating that they were a conscious brand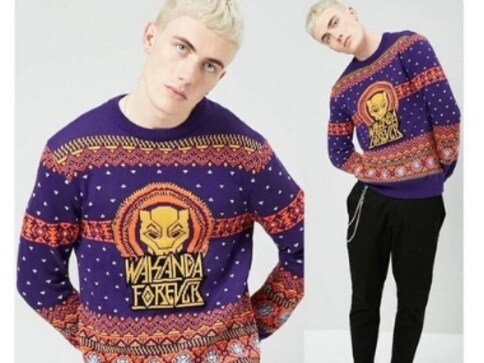 Forever 21 has removed images of a white model sporting their Black Panther-inspired "Wakanda Forever" sweater from the official website, state reports. The fast fashion franchise had released an image of a white model with blonde hair and blue eyes wearing a purple and yellow sweater with the words "Wakanda Forever" sewn on it.
The image came with a link to order the sweater. The picture evoked strong reactions from fans on social media who claimed that the very essence of Wakanda was to helm the power of other ethnicities.
The image remained on the website a few hours after people started noticing the disparity, but the link redirected to another page where a black model was seen sporting the sweater. But soon after that, Forever 21 was quick to remove the image completely and issue a statement of apology about the mistake. They stated that the brand took the sentiments of its buyers with utmost seriousness and apologised in case they inadvertently hurt anyone's sentiments.
Despite the apology and the removal, the incident brought about a deeper conversation among people where most questioned the sensitivity with things and collectibles are merchandised, especially for items which have been used by people of colour in films.
This is not the first time that a Black Panther item came under scrutiny. Earlier in the year, Disney came under serious criticism when a particular Black Panther pin portrayed a white skinned man beneath it.
Entertainment
The author noted that living in the closet is often glorified in the film industry.
Entertainment
He said the ministry does receive complaints about content on over-the-top (OTT) platforms, but almost 95% grievances are settled at the level of producers