Forever 21 removes white model sporting Black Panther sweater, following backlash
Forever 21 was quick to remove the image completely and issue a statement of apology about the mistake stating that they were a conscious brand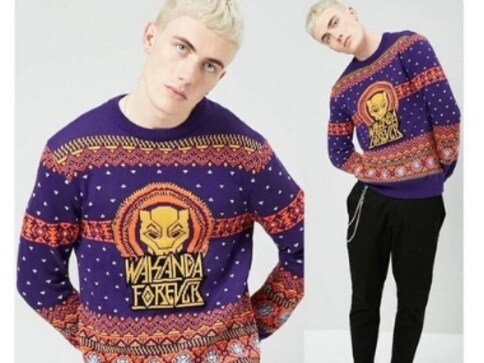 Forever 21 has removed images of a white model sporting their Black Panther-inspired "Wakanda Forever" sweater from the official website, state reports. The fast fashion franchise had released an image of a white model with blonde hair and blue eyes wearing a purple and yellow sweater with the words "Wakanda Forever" sewn on it.
The image came with a link to order the sweater. The picture evoked strong reactions from fans on social media who claimed that the very essence of Wakanda was to helm the power of other ethnicities.
Hey @Forever21 this ain't it pic.twitter.com/D31C8gN7jv

— BMW the DJ (@BMWTHEDJ) December 18, 2018
Hey @Forever21, In What Universe Did You Think It Was Ok To Feature A White Model In Wakanda Gear? Granted, Chances Are You Knew It Wasn't Ok, But Still. As A Former #21Men Brand Specialist For The Company, I'm Highly Offended. — Mark-Paul (@WhoIsMarkPaul) December 18, 2018
You had one job @Forever21 pic.twitter.com/0A3WWbB8m1 — Wheelchair Jerry (@BostonJerry) December 18, 2018
See what when they cap and buckey in a purple dude wipe out half the universe. #KeepWhitePeopleOutOfWakandaForever — Akai (@AkaiLee28) December 18, 2018
You may want to re-think this one, @Forever21... https://t.co/MiSgiPpn1O

— Tailor & Barber (@TailorAndBarber) December 18, 2018
But they got the whitest kid you know wearing the sweater... pic.twitter.com/NrzaFFeO9q — Prince of Gwangju (@KirstiQueTee) December 18, 2018
The image remained on the website a few hours after people started noticing the disparity, but the link redirected to another page where a black model was seen sporting the sweater. But soon after that, Forever 21 was quick to remove the image completely and issue a statement of apology about the mistake. They stated that the brand took the sentiments of its buyers with utmost seriousness and apologised in case they inadvertently hurt anyone's sentiments.
Despite the apology and the removal, the incident brought about a deeper conversation among people where most questioned the sensitivity with things and collectibles are merchandised, especially for items which have been used by people of colour in films.
This is not the first time that a Black Panther item came under scrutiny. Earlier in the year, Disney came under serious criticism when a particular Black Panther pin portrayed a white skinned man beneath it.
Find latest and upcoming tech gadgets online on Tech2 Gadgets. Get technology news, gadgets reviews & ratings. Popular gadgets including laptop, tablet and mobile specifications, features, prices, comparison.
Entertainment
"I'm proud to be a part of building a new universe centred around Black superheroes; our community deserves that," Michael B Jordan on producing Static Shock
Entertainment
If you are curating a Halloween movie marathon, I would advise skipping the four features of Welcome to the Blumhouse altogether.
Entertainment
Mahmoud Yassin is widely known for his patriotic roles in films portraying the 1967 and 1973 Middle East wars