Finally an answer to what went wrong in Bollywood in 2017 — haywire budgets and unrealistic star fees
Rangoon, Raabta, Tubelight, and Jab Harry Met Sejal, despite the hype and hoopla, ultimately proved to be loss-making propositions. On the contrary films like Newton, Tumhari Sulu, Hindi Medium, Bareilly Ki Barfi and Shubh Mangal Savdhan shone bright.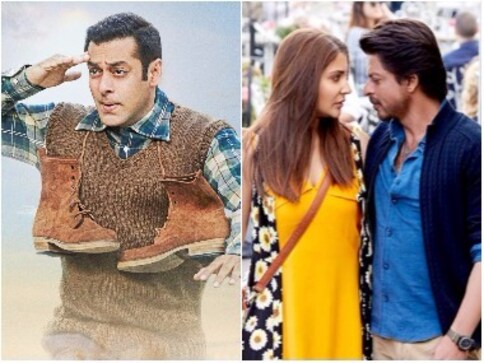 (This is part one of Showsha's two-part series on what went wrong in Bollywood in 2017. Widely considered to be an unsuccessful year for the Hindi film industry, 2017 saw big films fail at the box office, and concept-heavy, indie films took away the cake. Here, we try to decode this paradigm shift in how cinema is being consumed in India. Part two here.)
Like its predecessor 2016, there was nothing exceptional about 2017 as far as Hindi cinema is concerned. The year's biggest duds involved two unstoppable forces - Salman Khan and Shah Rukh Khan. The failures of their films conveyed in in loud and clear terms that public is unforgiving. Tubelight and Jab Harry Met Sejal came crashing down at the box office with complete rejection from all quarters.
However, as opposed to these big-budgeted-potential-blockbusters, there were also films that made three times the money of their stipulated budget. This brings to the fore the biggest point of 2017: the only thing to have worked at the box office was controlled budgets. The year saw potential blockbusters falling like ninepins at the box office while the low keys ones, which carried no expectation, defied all norms.
Rangoon, Raabta, Tubelight, Mubarakan and Jab Harry Met Sejal, despite the hype and hoopla, ultimately proved to be loss-making propositions. On the contrary films like Newton, Tumhari Sulu, Hindi Medium, Bareilly Ki Barfi and Shubh Mangal Savdhan shone bright. The clear-cut message that 2017 gave was that lavish spending is simply not the way ahead. While most of big budgeted flicks suffered a tearful fate at the box office, producers who were prudent enough to tighten the noose around their budget earned the privilege of throwing a success bash.
One oft repeated cliché that filmmakers never fail to cite during conversation with scribes is that films never fail; it's the budget that fails.
It's baffling to know that despite being well versed in tricks of the trade most of them simply love to ignore it. Rangoon was made at an exorbitant budget of 70 Cr and could manage only 20 Cr at the box office. 100 Cr was pumped into the making of Tubelight but despite the Salman Khan-Kabir Khan combo all it could manage was just 116 Cr. Made at 75 Cr, Jagga Jasoos could not even recover it budget, at a dismal 52 Cr at the box office. Shah Rukh Khan's much awaited film with Imtiaz Ali proved a whimper and suffered a fate that was beyond expectation.
As opposed to these paper tigers, Lipstick Under My Burkha, in terms of percentage, made 300 per cent profit. Hindi Medium made at a budget of 23 Cr repeated the same wonder and recovered three times it cost. The investment of 20 Cr in Bareilly Ki Barfi fetched the makers 33 Cr while the figures for Tumhari Sulu was similar to BKB.
Thanks to an already established brand image identity, the only thing that worked in favour of big budgeted flicks were the sequels. Had there been no Judwaa 2, Badrinath Ki Dulhania, Golmaal Again, Jolly LLB 2 and Tiger Zinda Hai, this would have been an even more disastrous year for Bollywood.
It's bizarre that filmmakers often turn a blind eye to the most basic rule of doing business. If filmmaking is a business proposition then it's no rocket science to comprehend that lower the production cost of a film, higher is the probability of making profit. Only a few in Bollywood have followed this dictum. Production houses like Vishesh Films and Junglee Films have been following this mould for a long time. But they too felt the heat when greed engulfed them. In 2013 when Aashiqui 2, made at a production budget of mere 9 Cr, fetched Vishesh Films a whooping 110 Cr, what followed next was greed. When 40 Cr was stipulated as budget for Hamari Adhuri Kahani it was pure greed to earn more but the final collection, which was close to 33 Cr, gave the makers a reality check.
'Content in king' is another much abused adage by filmmakers. While 'content' solves most of the problems, it's the failure to remember the motto that eventually takes a toll. Reality check is something that the industry loves to detest. Vishal Bhardwaj is known for making films under a controlled budget, but one success in form of Haider disturbed his apple cart. It won't be far fetched to assume that the mega failure of Rangoon was seeded somewhere in the lavish budget of Haider and its collections.
When Shah Rukh Khan and Salman Khan decided to compensate the lobby for the failure of JHMS and Tubelight respectively, it made news. True, they have the potential and the ability to make amends in their next film, which might just cross the 200 Cr or the 300 Cr barriers, but the issue always and often boils down to the fate of a stand alone film and people associated with that film.
Somewhere the onus also lies on the A listers of Bollywood. If a ballpark figure of 15 Cr remains the remuneration of even the non A-listers then only the almighty can save the industry.
It's heartening to see that the current most saleable star, Aamir Khan, is also an astute businessman. In its 15 years of existence, all the films that were produced by Aamir Khan Productions (the only exceptions being the one in which he starred) were flicks that were made under extremely controlled budgets. If the practice of not charging a salary and accepting a percentage from the film's profits were to become a norm for the A-list stars then chances are it might just solve most of the ailments of Bollywood, as a major chunk of a film's budget is spent in their remuneration.
Here's hoping for smarter productions in 2018.
Explainers
The high-ranking US official who visited Taiwan 25 years ago was Newt Gingrich. China backtracked its protests after the then-House Speaker threatened to skip Beijing on his tour of Asia. Beijing laid one precondition – that Gingrich could not fly directly to Taipei
Entertainment
Brides have run away from marriages in our cinema, often to cathartic effect. But they have also usually vacated one mandap to head to another.