Films like Raazi merely amplify India's Pakistan obsession — making us seem smaller than we are
If among the general public Pakistan is seen as India's biggest rival, how does rivalry with a fourth-rate power tie in with India's global self-image? Being vigilant is not the same as being obsessed
Indian popular films are virtually incapable of mixing basic emotions. A film is either patriotic or about love and when a film is about both, as in Manoj Kumar's Upkar (1967), the two lovers must be patriotic together; love of the nation brings them close. Meghna Gulzar's Raazi tries to do the impossible, bring the conflicting emotions together but with doubtful results. Raazi is a spy story set just before the 1971 war with Pakistan. It claims to be based on a true story but 'true stories' of historical situations — even when 'true', are embellished or distorted to serve ends other than historical accuracy.
[Spoilers ahead.]
In the film Sehmat Khan (Alia Bhatt) is married off at her father's instance to a Pakistani army officer Iqbal Syed (Vicky Kaushal). Her father Hidayat Khan (Rajit Kapur) was a friend of Brigadier Parvez Syed even while doing intelligence work for India and since he is dying of cancer, he wants his daughter to marry a Pakistani and carry on his espionage work for India. Sehmat is studying in Delhi but she is from a Kashmiri family. Having the woman protagonist of a popular film marry a good man because he belongs to an enemy country she wishes harm to, is a tricky moral position. If he is a good man he cannot but also do his duty; so how does an upright woman who marries someone from an enemy country reconcile the love she must feel for her husband with the great harm she intends doing him and his country? Whether this is reconcilable or not, one must admit that Raazi raises questions about personal and political ethics, but many more than it intends to since it is positioned as a patriotic film.
When Sehmat crosses over she has to interact with several people, her father-in-law, her husband and her husband's older brother Mehboob Syed. The film takes two liberties here but neither does it much credit. In the first place can people be appointed as spies so casually by Indian intelligence without wondering about the suitability of recruits? It must surely be recognized by all spy recruiters that a person required to marry and spy upon her own family will be beset upon by conflicting emotions. If she has conflicting emotions and then comes under suspicion from the enemy, what is to prevent the enemy side from recruiting her as a double agent to pass on misinformation to her home country?  Anyone who has read a spy novel knows that information elicited must be checked for reliability.
The second issue is a moral one: if her husband's family does not suspect her, does it not show that they trust her and would not conducting herself treacherously make her doings a betrayal of trust? If the member of a family is suspected of being a spy, so will the other members; they would all risk the heaviest punishment, and Sehmat is thus endangering all of those who have treated her well. There is a key question of personal and political ethics here: is it justifiable for a person to conduct himself/herself dishonourably in his/her personal life for 'correct' political reasons? People were encouraged under Hitler and Stalin to spy upon their families and friends — leading to their executions; Raazi is similarly suggesting that people's love of the nation is reason enough for them to betray their loved ones.
These are questions that might have been explored but only by a director who had done some thinking. Where Sehmat Khan deserves to be judged morally for her acts, Meghna Gulzar prejudges her as 'patriotic' and plays down her family relationships in Pakistan. Sehmat's in-laws are all 'good' but there is an element of emotionlessness in family behaviour; there are, for instance, no demonstrations of affection. Sehmat's love for her husband is also not much in evidence and when conjugality is introduced — hesitantly — the camera dwells on the sex without the romance needed to signify 'love'. Sehmat is under no suspicion within the family at all except from a cook and when he catches her transmitting messages she kills him by running him over. Here again, the sequence is handled in a sterile manner: the vehicle might have had bloodstains on it but she does nothing to check. Washing off the bloodstains of an innocent servant doing his duty might have seemed too coldblooded. This is, essentially, insincerity on the film's part, making it appear that Sehmat's acts awaken few moral questions. Later on, she kills her brother-in-law when he becomes suspicious. But there are no scenes of the family — and her widowed sister-in-law — grieving; the camera catches only the military funeral.
At the climax of the film Sehmat is fleeing but she has a general's child in her car — a hostage. Iqbal Syed has come to know of her doings and is in pursuit. Sehmat visits her contact in the town even as Indian agents are trying to rescue her. As luck will have it, another woman dresses in Sehmat's burqa and the Indian agents fling a grenade, killing both the woman and Sehmat's husband.  Sehmat is extricated and brought back to India, where she is in hospital, and in tears — till her superior tells her that such acts happen in war, and it quietens her. The issue here is whether exploding a grenade in a market place among civilians is not a terrorist act, and if the act is not being justified because it is on behalf of India? Could not Ajmal Qasab's handlers have used a similar argument with him when they sent him out to Mumbai? Terrorism is dastardly because its kills innocents, not because Indians are the victims. The moral demands a state can make of its citizens depends on its image among the public, and one doubts that the Indian state has the moral authority to make demands of the kind made on Sehmat.
Meghna Gulzar last made waves with Talvar (2015) and in that film she showed law enforcement as inept and prejudiced and the judiciary as incapable of delivering justice. In Raazi she shows the intelligence wing as full of highly competent dedicated persons, who only do what is right and make no mistakes. One cannot help wondering, since the failure of state machinery is indicative of a weak or corrupt state, how the work of the intelligence wing can be so impeccable — both in terms of efficiency and morally. Are not the employees being recruited, trained and put into service by the same corrupt, weak state?
Sehmat relays information about the plans of the submarine Ghazi to attack INS Vikrant at Vishakapatnam port and this ties the film to The Ghazi Attack (2017), another patriotic anti-Pakistani film. To conclude this essay with general reflection on the portrayal of Pakistan in Hindi films, let us begin by looking at India's global ambitions. Unlike in the earlier regimes where 'foreign policy' meant issuing statements when Indian students were attacked in Australia, there is a concerted attempt to make India seem a global/regional power now. The Prime Minister meets Putin and Xi where the earlier regimes left it to the External Affairs Minister or undersecretaries in the foreign ministry to talk to their counterparts. It is no small achievement for a country's leader to meet his counterparts in countries not known to be friendly (like China) and, if anything, it shows India's ambitions in the world, its intention of becoming influential.
At the same time, in political speeches Pakistan is repeatedly mentioned and made to seem most important. The shrill anti-Pakistani rhetoric in the public space makes Pakistan the average person's chief political concern and the recent controversy over Jinnah is a symptom of how public energy is wasted on it. Often it seems that the Pakistani establishment is actually much more casual about India than vice versa. If among the general public Pakistan is seen as India's biggest rival, how does rivalry with a fourth-rate power tie in with India's global self-image? Is there not a case to be made for Indians to forget Pakistan — at least as the reason for their worst nightmares? There is no knowing what perfidy will come across the border but being vigilant is not the same as being obsessed. If anything, films like Raazi merely amplify the obsession.  The obsession with Pakistan makes us look smaller than we are.
MK Raghavendra is a film scholar and author of seven books including The Oxford India Short Introduction to Bollywood (2016). He is deeply interested in social, political and cultural issues in India, an interest that informs his books on film.
also read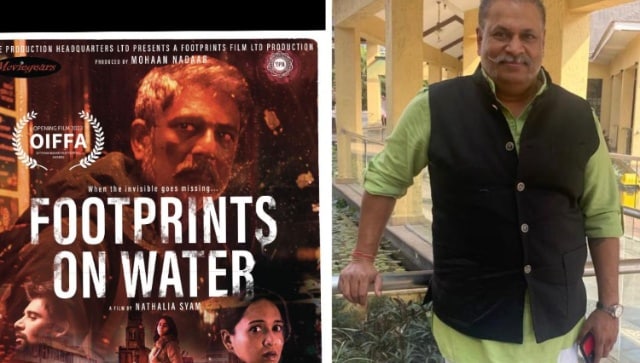 Entertainment
Adil Hussain won the Best Actor – Making Waves Globally – at the United Kingdom Asian Film Festival (UKAFF) 2023 and Footprints on Water won the Celebrating Stories and Theme at UKAFF.
Arts & Culture
Talking numbers with the founder of Purple Style Labs, India's biggest fashion conglomerate