Films like 'Neerja' and 'Udta Punjab' show that next gen stars choose braver films
While watching 'Udta Punjab' you realise Alia Bhatt made her debut with 'Student of the Year'
While watching Abhishek Chaubey's Udta Punjab, you spend a lot of time intrigued by the hows and whys of a mysterious, nameless character, played by Alia Bhatt. Then, as the film draws you in, it builds up to one thunderous outburst from her, which is when the enigma that is her character begins to make sense.
Simultaneously, at precisely the moment you get socked in the gut by that scene, another simple but powerful revelation might just strike you – the fact that the actor performing that scene made her debut in a candy-floss Dharma film (Student of the Year), and has since been touted as the next big 'commercial' Hindi film heroine.
That, in essence, is what makes this current phase so important for Hindi cinema; because hits and flops apart, we're consistently seeing young, talented actors with already significant fan followings break out of the mould and choose the kind of roles you'd least expect them to – a refreshing change from the bloated yet weightless popcorn entertainers that seem to have become the norm in Hindi cinema in the past decade and beyond.
Take Sonam Kapoor in Ram Madhvani's Neerja Bhanot biopic, the eponymously titled Neerja, for instance. Better known as a fashionista and pop culture icon, Sonam's acting chops have always been under the scanner. Yet, for her to choose to shoulder a character loaded under the weight of such history, was no mean feat.
Here was a film that was wholly centered around her, where she had to display a gamut of emotions and bring to life the inspirational, complex character of an unusually rare real life hero. Whether Sonam eventually did justice to that character or not is surely debatable, but it is the intent and choice of role that undoubtedly deserves applause.
Or look at Arjun Kapoor (whose relationship to Sonam is only incidental to the point at hand). Like Sonam, Arjun Kapoor is a thoroughbred industry kid, expected to be far more at home in testosterone-fueled 'massy' actioners like Gunday and Tevar. Indeed, the young man seems to revel in such roles.
It is heartening, then, to also see him choose to play one of the lead roles in R Balki's Ki and Ka — a film that attempted to turn the concept of gender on its head. Again, the attempt may have been a flimsy one because of the writer-director's limited understanding of gender, but the film as well as Arjun's choice to do it were both steps in the right direction, for the respective issues they represent.
For the textbook definition of a 'brave choice', one can even look at Shakun Batra's Kapoor & Sons, ostensibly an uncomplicated Dharma film. Fawad Khan has quickly amassed a whole generation of people drooling over him, nationality and gender no bar. He's is a Pakistani Muslim actor who played a homosexual man in an Indian film. Best to let that thought hang.
Even Sidharth Malhotra, another from the young brigade of actors who're helping steer commercial Hindi cinema to new waters, came off the back of films like Brothers and Ek Villain to play an understated character role unlike any he has done so far, in Kapoor & Sons. One might have missed how unusual the character was because of how it appears on the surface — stereotypically urbane and yuppie. He may have struggled a wee bit to hold fort in Kapoor & Sons, but his performance had heart, and that he did the film itself is commendable.
The best thing about all these interesting film choices from the younger lot, though, is the fact that even the older generation of superstars is beginning to widen their horizons, maybe even taking a cue. After all, a 50-year-old man named Shah Rukh Khan did play a rather convincing (if a wee bit annoying) 25-year-old not too long ago. Fan marks a new phase in the career of Shah Rukh Khan, as he's poised to play a host of interesting characters in films directed by exciting filmmakers, over the next few years. Aanand L Rai and Imtiaz Ali, to name two.
In an industry that is so strongly driven by the star before anyone else, such film choices by the young (and the young-at-heart) is a stellar change. This, combined with the fact that actors like Irrfan and Nawazuddin Siddiqui are enjoying their own unique brand of stardom, truly augurs well for Hindi cinema.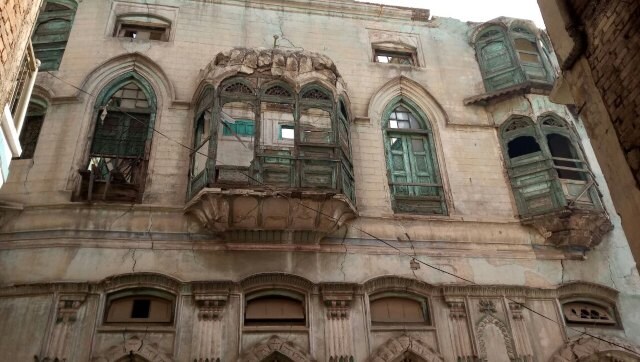 Entertainment
The director of Khyber Pakhtunkhwa Archaeology and Museums Department said the restoration work will take place after Eid-ul-Fitr following the takeover of the two houses.
Sports
The fixture was postponed 11 days ago when supporters stormed the pitch and a protest turned into violent clashes with police.
Entertainment
Randhir Kapoor, who was hospitalised earlier this week after testing positive for COVID-19, said he will be discharged soon.