Filmfare Awards: Could it be that one show where all the awards are not bought?
All in all, it wasn't that terrible or maybe I'm just more favourably inclined towards the awards this year around because of the choice of winners.
Could it be that the Filmfare awards aren't fixed? That the awards don't go to just the superstars or people who come and dance at the show or own the big production houses? If you watched this year's Filmfare Awards, you may just believe that yeh sab bikau nahin hai. Queen won Best Film and Kangana Ranaut won Best Actress even though she didn't attend the event. Tabu won Best Supporting Actress and Shahid Kapur won Best Actor for Haider - not really a big ticket film. Sure, there were no films with Shah Rukh or Salman Khan in the running, but there could have been and the awards could have still gone to Madhuri Dixit or 2 States. But they didn't. Small budget films like Aankhon Dekhi won awards and so did Highway and the non-commercial Haider.
Maybe it is really acche din for everyone – Bollywood included.
Sadly, one can't say the same for the entirety of the three-hour long Filmfare award ceremony. Yes, it had its moments, but they were few and far between. For one, the audience of celebrities, stars, supernovas and black holes seemed to be very easily amused. The show was hosted by Kapil Sharma and Karan Johar, who was dressed as one of the downstairs people from Downton Abbey. Their script was peppered with jokes about Johar's sexual orientation, about people who can't speak correct English, and not much else.
Johar seems to have decided offence is the best form of defence: he's making jokes about his own sexual orientation before others can do so. There were various references to his alleged leanings, which included his favourite dialogue from Sholay ("Kitne aadmi thhe?") to his love for doing things to himself, and his relationship with SRK. It's impressive to see anyone from Bollywood refer to their supposed homosexuality, even if as a joke, in front of a fraternity known for keeping anything remotely "scandalous" in the closet. That said, some of the sexual innuendoes were collegial at best. Although you wouldn't have thought so, judging from the way the audience was guffawing and doubling over at every punchline. Maybe it's all nervous laughter. Who knows?
The awards actually took place a week back and were only aired now, which means a lot of work has happened at the editing table. But it seems, not enough. I'm quite certain I spotted Varun Dhawan sitting behind Kajol while watching Varun Dhawan perform on stage. More critically, a song and dance routine every two awards followed by a 10-minute ad break is more a test of patience than entertainment. Especially when the song and dance routines are nothing to write home about. I must thank Macho underwear, though, for showing an ad in every break because it made sure I didn't miss Saif Ali Khan at all.
One of the odder moments was when they showed a video of all the industry people who had died in 2014 and then segued into announcing the Lifetime Achievement award even as the sad music from the In Memoriam section wailed in the background. Actress Kamini Kaushal, who received the Lifetime Achievment award, must have felt like the Grim Reaper had come calling. They may as well have played "This is the end".
Fortunately, Kaushal didn't let any of this distract her, and her award as well as her speech were among the highlights of the night. It was also the first time in decades that I've seen Jaya Bachchan emote and not look like the Grinch. But seriously, full credit to Bachchan for making a wonderful speech while introducing Kaushal. Bachchan spoke about how Kaushal becoming an actress broke down the walls preventing girls from "good families" and "educated girls" from joining films 70 years ago. It was thanks to women like Kaushal entering cinema that it became a more acceptable profession for later generations of women. Kaushal's speech was sad, touching, and so well worded. She didn't shy away from praising herself and you had to sniffle just a little when she said, "I am missing my gang, most of them are gone. I feel lonely here today. All of them are disappearing and going one by one."
While we may not have stars willing to cock a snook at themselves and their careers on the big screen a la Michael Keaton in Birdman, it was nice to see Rekha crack a joke about Tabu and her perpetually single status. And that they were fasting in the hopes of finding a husband. Maybe Bollywood is finally getting a sense of humour.
Then there were the ironic moments, like when Ranbir Kapoor danced as the opening and closing act while being watched closely by his ex and his current girlfriend's ex. Both looked suitably pensive and impressed at the same time. You had to admire Kapoor's dedication to the cause (or the cheque) because he wasn't even nominated. Rekha announced an award and while doing so, also announced that she was as old as the Filmfare awards. Jaya Bachchan looked on emotionless. Let's not forget the bizarre: a slew of Miss India winners and runners up started handing out awards and Ileana d'Cruz walked on stage, wearing a caped gown that seemed inspired by Maleficent's gown. But what's an awards show without some bizarreness?
All in all, it wasn't that terrible or maybe I'm just more favourably inclined towards the awards this year around because of the choice of winners. We'll know whether this year was a fluke if in the coming year small budget and offbeat films and performances beat out the mega stars again. Till such time, we may as well be happy at the thought that yeh sab bikau nahi hai, bazaar bhi nahin hai.
Subscribe to Moneycontrol Pro at ₹499 for the first year. Use code PRO499. Limited period offer. *T&C apply
Entertainment
Kareena Kapoor Khan and Saif Ali Khan welcomed their second child, a baby boy, on 21 February at Mumbai's Breach Candy Hospital.
Entertainment
A bench headed by Justice Ashok Bhushan also asked Solicitor General Tushar Mehta to place before it the recent guidelines of the government to regulate social media platforms on Friday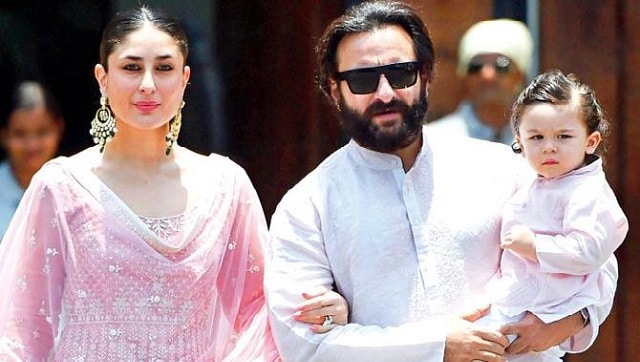 Entertainment
Kareena Kapoor Khan delivered the baby at Mumbai's Breach Candy Hospital on Sunday morning, confirmed her father Randhir Kapoor.