The Fault in Our Stars review: There will be tears, of boredom
Thanks to Josh Boone's utterly insipid adaptation of The Fault in Our Stars, you could just be bored to tears while watching this film.
From the moment the decision was made to turn John Green's bestselling novel, The Fault in Our Stars, into a film, it was a guaranteed hit.
Hazel Grace Lancaster (Shailene Woodley) is 16, "the Keith Richards of cancer" and has to carry an oxygen tank around with her because her lungs barely work. At a cancer support group, she meets the smart-mouthed and charming survivor, Augustus "Gus" Waters (Ansel Elgort). Even though the stars are not on their side, the two fall in love. They go for walks, they visit Amsterdam, they talk about books, they text each other and it's all supposed to make you feel warm and fuzzy until you realise it was an elaborate setup to make you weep copiously. Which you do, because really, what else can you do while watching a love story starring two kids with cancer?
Well, thanks to Josh Boone's utterly insipid adaptation of The Fault in Our Stars, you could just be bored to tears while watching this film.
For fans of Green's novel, there's the satisfaction of seeing beloved characters come to life. Such is the hysterical love for Green's novel that its devoted readership in the West didn't care how mediocre the film is. They flocked to the theatres, they cried, they wailed and, from the look of things, a few of them went so far as to steal a bench.
There are a number of things wrong with The Fault in Our Stars. To begin with, it has True Blood's Sam Trammell cast as Hazel's father, which means that whenever he's on screen, you expect him to turn into a dog. This is largely because Trammell's acting talents are limited to a single, perplexed expression.
More seriously, The Fault in Our Stars has the technical sophistication of a film made by a high school student with their handycam. The cinematography is flat and uninspired, which is a feat in itself since a large part of the film is set in the beautiful city of Amsterdam. The script by Scott Neustadter and Michael H. Weber is not only awkward and dull, it actually manages to make the original novel seem very flawed in its logic. Why, for instance, does Hazel, with her intensive knowledge of the cancer-verse, not wonder about Make-A-Wish granting Augustus's wish with such haste when his cancer is in remission? And why would anyone travel from Holland to America only to hand deliver the printout of an email?
But the biggest offender is director Josh Boone, who is entirely unable to handle his cast and as a result both Woodley and Elgort struggle to win the affections of those viewers who aren't already in love with Hazel and Gus, thanks to Green's novel. Elgort in particular struggles with the lines that he has to deliver. Most of the time, he sounds like he's been possessed by one of the aristocratic heroes from a Barbara Cartland romance. Nothing else explains why he says lines like, "It would be a privilege to have my heart broken by you." The words on the page and in Green's writing are fluent, funny and moving. On screen, they teeter between banal and ridiculous.
Woodley is a gifted actor, but the script robs her character of two aspects that enriched Hazel in the novel. In Green's book, Hazel is the misfit who doesn't know she's beautiful and approaches the world with hesitation because the cancer hasn't let her come across regular things like school. It's the exotica of the everyday that first attracts her to Gus, who has been to high school and seems to have that charmed thing called a 'normal' life. Then there's Hazel's near-obsession with an author who has written one single novel -- about cancer, of course -- and it's used cleverly by Green in the book. In the film, Woodley's Hazel is a character who is flatly brave, obviously strong and not really fazed by anything that the fates send her way. As a result, The Fault in Our Stars becomes boring very, very quickly and the twist in its tale is about as tense as a wet noodle.
The best part of The Fault In Our Stars is Laura Dern, the enormously gifted actress who has been largely forgotten of late. As Hazel's mother, she's a fascinating character who seems more interesting than her daughter, the star of the film. Dern plays a mother who isn't over-protective and instead finds the strength to trust her terminally-ill daughter and support her even when the teenager makes decisions that may be questionable. Her performance is strong enough to make you wish Green had written more about Hazel's mother.
As any teenager will tell you, it's easy to be wannabe, but it takes something special to be truly quirky. As a film, The Fault in Our Stars lacks the directorial vision that would have translated the sweet, geeky charm of the book. The lines that read smoothly sound clumsy when spoken. The fault doesn't lie in the words. The most un-normal of dialogues and conversations can become magical (remember "What kind of a bird are you?" from Wes Anderson's beautiful, kiddie love story Moonrise Kingdom?), but it takes a talented director and a superb cast to make the weird wonderful. Unfortunately, The Fault in Our Stars isn't so lucky.
Entertainment
With every plot uptick, first in the form of nationwide media attention, then a CBI enquiry, comes a greater fall. When Siya refuses to be guilted into marrying one of her rapists and pursues justice, her father is tied to a tree and publicly lynched to death.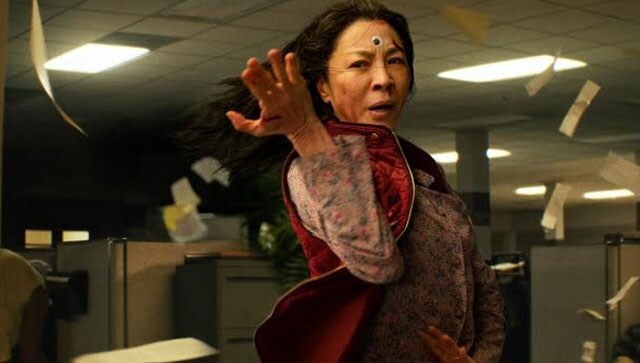 Entertainment
The Daniels take us on a freewheeling adventure where metaphysics and martial arts don't exactly make for the strangest bedfellows.
Entertainment
R Madhavan, Khushalii Kumar and Aparshakti Khurana's Dhokha Round D Corner keeps you at the edge of your seat with its solid twists and turns.