Fatima in Thugs of Hindostan, Jennifer Lawrence in Hunger Games: Who wore the female warrior look better?
Fatima Sana Sheikh's look from Thugs of Hindostan was released by YRF on 19 September, and it reminded us of similar characters from films like Baahubali 2, Brave and Tomb Raider (among others).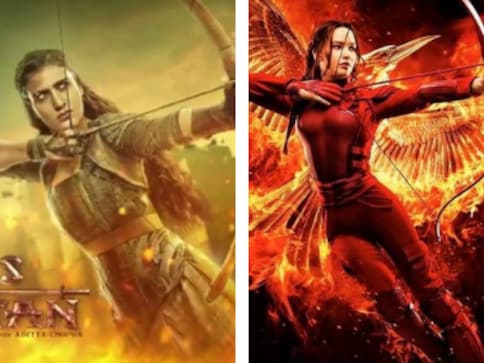 The archery manual from the land of cinema is long. From Katniss Everdeen in The Hunger Games series to Anushka Shetty Baahubali, characters who practice the art of hunting have often resorted to bow and arrow, generating lingering images of them drawing a bow. For long, the film community has discussed the likes of Hawkeye, Robin Hood, Green Arrow and Legolas as the greatest archers of all time.
Joining the bandwagon of female archers in films, Fatima Sana Shaikh arrives as Zafira, the resolute fighter from Thugs of Hindostan.
Here is a look at other iconic looks of female warriors:
Katniss Everdeen in Hunger Games series:
The burning embers in the backdrop of both the posters of Thugs of Hindostan and The Hunger Games: Mockingjay might give them a somewhat similar look, but the protagonists can be seen in different attires. Fatima's gusto is apparent, as she dares to rage the battlefield (or in her case, the water) with her long flowing hair. Jennifer Lawrence, on the other hand, is seen with her hair tied in a braid and her swagger is palpable. Our vote here goes to both the looks.
Anushka Shetty in Baahubali 2: 
It could be a coincidence, but why do all the attackers seem to charge only from one direction? As far as the posters are concerned, a saree-clad fighter always grabs eyeballs (and how). Anushka Shetty's Devasena, the sister of Kunthala kingdom's ruler, ditched the mainstream one-arrow-per-bow weapon to use a bow that could release three arrows at a time in the film Baahubali 2. Devasena for the win.
Lara Croft in Tomb Raider: 
Alicia Vikander's Lara Croft, from the 2018 film Tomb Raider, is seen in the poster of the film with a quiver slung to her back, clutching on to her bow. While Alicia dons it as if an extension of her herself, Fatima's command over the weapon is apparent. We're going with Thugs of Hidostan for this round.
Abigail Whistler in Blade—Trinity : 
The illegitimate daughter of Blade's mentor and tech man Whistler, Abigail (played by Jessica Biel) is one of the fiercest characters on the big screen. Together with Hannibal King and friends, she forms the vampire-slaying Nightstalkers. Alongside her bow, Abigail has a small arsenal of weaponry, which makes her the undisputed crown-bearer of an archer. It would be interesting to see how Fatima's character fares in comparison. Biel wins this one.
Brave: 
The flame-haired heroine Merida from Pixar's Brave is a Scottish princess whose father gives her a bow for her sixth birthday. Her unparalleled bowmanship, and the fact that she is never deterred by the cascading cape that she always has tied to her back, makes her the winner in this case.
Entertainment
Katrina Kaif and Vicky Kaushal got married in an intimate ceremony in December 2021.
Entertainment
A video has gone viral showing actress Taapsee Pannu getting over being mobbed by reporters. She was then asked about the actor-comedian's demise.
Entertainment
Atlee is presently working with Shah Rukh Khan for his Bollywood debut, Jawan, which is all set to release on June 3 next year.