Farouque Shaikh's 70th birthday commemorated with Google doodle inspired by Umrao Jaan poster
Google said the doodle is a tribute to Farouque Shaikh's cinematic career in a style evocative of hand-painted movie posters of the 1970s, and especially Umrao Jaan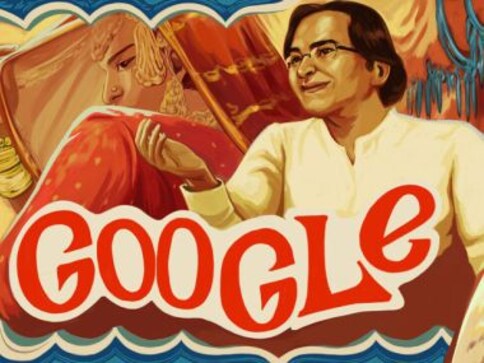 When Farouque Shaikh passed away aged 65, of a heart attack, back in December 2013, an obituary published by the Associated Press described him as "the plump, unlikely hero of scores of Bollywood films".
Shaikh was perhaps an unlikely hero, but he was also a much loved one. Perhaps it was his relatability -- the everyman quality he had -- or perhaps it was his innate goodness that seemed to shine through, even on celluloid.
Had Shaikh lived, 25 March 2018 would have marked his 70th birthday. To commemorate the occasion, Google has come up with a special doodle that depicts Shaikh in one of his most acclaimed films, Umrao Jaan.
A statement released by Google read: "Today's Doodle by Nimit Malavia is a tribute to Farouque Shaikh's cinematic career in a style evocative of hand-painted movie posters of the 1970s, and especially Umrao Jaan. We see the wide-eyed romantic hero of the 1970s mature into a comfortingly familiar TV presence of the 1990s, bridging the gap between mainstream and arthouse cinema in India along the way."
Shaikh grew up in a comfortable upper middle-class family in (then) Bombay. His father was a lawyer and mother, a housewife. Shaikh was the eldest of five siblings and fully intended to follow his father into law. Despite performing in several plays with Shabana Azmi during their college says at St. Xavier's Mumbai, Shaikh said he never considered taking up acting as a profession. He even got his law degree -- but realised that it wasn't the noble calling he had thought it to be. So he turned to acting.
Shaikh's film career began on a high note with the 1973 new wave film Garm Hawa, about the 1947 partition of the subcontinent at the end of British rule. He earned only Rs 750 as his fee, but the performance earned him a key role in director Satyajit Ray's Shatranj Ke Khilari, a film about the decadence of India's feudal class. (Incidentally, Shaikh himself was a vocal opponent of the caste and class system.)
As the Associated Press
obituary had noted, "Shaikh's cherubic looks struck a chord with ordinary people who tended to identify with his man on the street image."
On TV, Shaikh made his presence felt with shows like Ji Mantriji and Jeena Isi Ka Naam Hai, while on stage, Tumhari Amrita was among his most successful endeavours. His pairings with Deepti Naval (Chashme Buddoor, Saath Saath, Katha), Rekha (Umrao Jaan, Biwi Ho To Aisi) and Shabana Azmi (Tumhari Amrita) were nothing short of iconic. The Ranbir Kapoor-Deepika Padukone starrer Yeh Jawaani Hai Deewani was among his last films.
Shaikh once said: "I would rather not be remembered. Everyone comes into and goes from this world. I have no great desire to be remembered after I am gone. I believe in celebrating life. If at all anybody cares to think of me after my death -- my children, for instance -- they should remember me as someone who intended to do good as often as he could."
Happy 70th birthday Farouque Shaikh...
Entertainment
The video of the actor's gesture is going viral on social media.
Entertainment
Celebrities including Deepika Padukone, Ranveer Singh, Amitabh Bachchan along with his family, Kiara Advani, Janhvi Kapoor, Kangana Ranaut, Allu Arjun, Kartik Aaryan, Karan Johar, among others shared videos of themselves as they clanged 'thalis'
Entertainment
Twitter users were furious at Jimmy Kimmel's error in calling RRR a "Bollywood" movie and immediately expressed their displeasure at the matter.