Farhan Akhtar on Ae Dil Hai Mushkil: 'Fadnavis' deal with MNS has set a terrible precedent'
Farhan Akhtar has strongly spoken against MNS' protest against the release of Ae Dil Hai Mushkil. 'By all means pass a law. But why target only the film industry? Why not stop the 2 billion dollar business between India& Pakistan?' he said.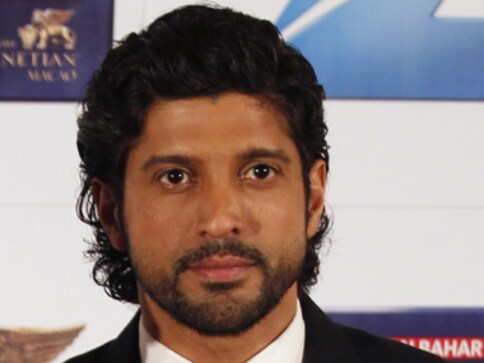 After Maharashtra Chief Minister Devendra Fadnavis mediating a deal between the Producers Guild and the Maharashtra Navnirman Sena (MNS) to 'allow' the safe release of Karan Johar's film Ae Dil Hai Mushkil, Farhan Akhtar has strongly spoken against the deal.
Speaking to The Indian Express, Akhtar said that the move by the elected head of the state was unfortunate as it sets a terrible precedent.
He said that by following the diktats given by MNS we are obeying orders given by people who are threatening with violence. He feels that the film industry was being selectively targeted while other industries continue business as usual.
"By all means pass a law. If you pass a law, you are representing the voice of the people. We've elected you to do it, so by all means pass a law. But don't hold that standard only for the film industry. Why only the film industry? Because we are easy targets. Why don't you stop business between India and Pakistan, this two billion dollars of business that happens every single year? Stop it, go the whole hog. This is like window dressing," he said.
He also pointed out Karan Johar had cast Fawad Khan in the film at a time when India and Pakistan shared friendly relations and even the Prime Minister was visiting the country to encourage exchange. So it was not fair to harass him now that situations have changed.
Earlier this week Akhtar's step-mother Shabana Azmi also spoke out against Fadnavis on Twitter.
What a sorry state of affairs!CM brokers deal n buys patriotism for 5 crores!After Home minister had promised peaceful passage 4 #ADHM

— Azmi Shabana (@AzmiShabana) October 23, 2016
SanghParivar spks in diff voices most blatant expression is CM MHRSTA brokering deal withMNS instead of enforcing law n order4 ADHM release

— Azmi Shabana (@AzmiShabana) October 23, 2016
MNS will decide whether Im patriotic or not?I bow to d Indian Constitution Raj Thackeray does not.Whos patriotism needs questioning?

— Azmi Shabana (@AzmiShabana) October 23, 2016
CM Fadnavis shows scant respect for Home Ministers assurance of safe passage for #ADHM. BJP better haul him up and demand explanation

— Azmi Shabana (@AzmiShabana) October 23, 2016
After Fadnavis intervened in the issue, Raj Thackeray, MNS chief, laid down certain conditions before allowing the release of the film. He demanded that no Pakistani artiste should henceforth feature in a Bollywood film.
All the producers who had already employed them, must pay Rs 5 crore each into the Indian Army's welfare fund as atonement and they must display a slate paying tribute to the brave Indian soldiers who lost their live before the start of the film in theatres.
Entertainment
Made of archival footage and interviews, the film on Jacques Cousteau has been compiled by double-Oscar nominee Liz Garbus.
Entertainment
Kanye West has earlier said in interviews that, along with the shortening of his first name he likes, Ye is a word used throughout the Bible.
Entertainment
Sixteen years after writing her bestselling memoir Autobiography of a Sex Worker, Nalini Jameela has won the Kerala State Film Award for costume designing for Malayalam film Bharathapuzha.