Farah Khan says Sajid will have to atone for his behaviour if proven guilty; Farhan Akhtar extends support to survivors
Both Farah Khan and Farhan reiterated that they in no way endorsed the behaviour that Sajid has been accused of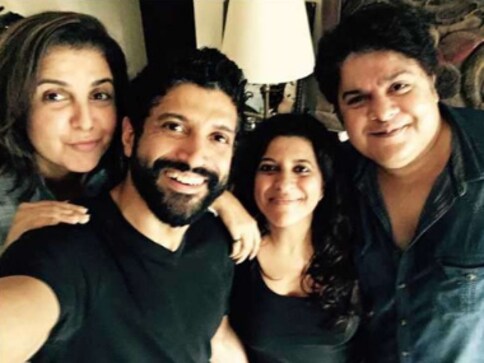 Following news of Sajid Khan's alleged sexual harassment,, as accused by three women, sister and director Farah Khan recently tweeted that in case her brother is proven guilty of the charges, he will have "a lot to atone for". Farah added that this was a trying time for their family, saying that she in no way endorses such behaviour.
This is a heartbreaking time for my family.We have to work through some very difficult issues. If my brother has behaved in this manner he has a lot to atone for.I don't in any way endorse this behavior and Stand in solidarity with any woman who has been hurt.

— Farah Khan (@TheFarahKhan) October 12, 2018
This was seconded by actor Farhan Akhtar, who said that he was "shocked, disappointed and heartbroken" after learning about the allegations against the Housefull 4 director.
I cannot adequately stress how shocked, disappointed and heartbroken I am to read the stories about Sajid's behaviour. I don't know how but he will have to find a way to atone for his alleged actions. — Farhan Akhtar (@FarOutAkhtar) October 12, 2018
Earlier today, Sajid had released a statement via his official Twitter handle saying that following pressure from family, friends and colleagues, he had decided to step down as director of the upcoming comedy Housefull 4, till he manages to prove his innocence.
Akshay Kumar and wife Twinkle Khanna had both spoken up against the issue. While Akshay urged the producers to cancel further shooting of Housefull 4 until further investigation, Khanna asked the women involved in Housefull 4 to 'take a strong stance' against the accused members part of the project. Nana Patekar, who has been accused by Tanushree Dutta, is also scheduled to star in the upcoming comedy.
Entertainment
One of the youngest producers in the country, Jackky Bhagnani talks about what it is that could be ailing Bollywood cinema currently.
Opinion
Jacqueline Fernandez's last two films, Bachchhan Paandey and Attack failed miserably at the box office.
Bollywood
'Rarely do films take such monumental tasks'. Akshay Kumar is amazed that YRF created over fifty thousand costumes for Prithviraj.