Far from picture perfect: How Bollywood film posters depict actresses
The last few years have been marked by positive portrayals of women in cinema, and better representation of women onscreen. How women appear on posters is merely a reflection of the attitude to their presence in cinema. Will the figure of the wilting heroine badly in need of an energy shot gradually disappear from posters of Bollywood films?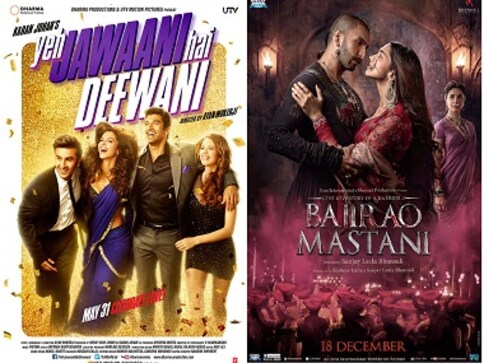 By Amla Pisharody
Recently, when talking to friend, I was directed to a fascinating project: the Headless Women of Hollywood. It was an eye opener: it showed how film posters used sexualised, fragmented portions of women's bodies to sell movies. For example, the poster for the Bond movie For Your Eyes Only has a woman in the foreground, but we only see her from the rear, and waist down, clad in revealing swimwear (perhaps) and wearing high heels. What we see isn't a person, but a woman reduced to her body parts. Of course this wasn't the case in every mainstream Hollywood movie poster, but it made me wonder. How did mainstream Bollywood depict women in their posters? So I decided to look at movie posters from the present all the way back to the 90s, to see how women in them were portrayed.
I chose to look at films about romance — the boy-meets-girl, melodrama ensues, and they live happily ever kind — because going by logic and common sense, shouldn't men and women be equally important? Since nearly every Bollywood romance is heterosexual (hopefully this will change), I found the type of film that I wanted rather easily. But finding the women on these posters — especially in poses that didn't make me want to gag — was a much harder enterprise. Dividing the posters and DVD covers up into three groups: the 90s, the 2000s, and post 2010, here's what I found.
The 90s: Saviour dudes and women low on glucose
This was my least favourite category to look through. Not because it had practically no equal portrayal of women, but because it showed me what I might look like if I don't exercise more often.
Most heroines of the 90s, it appears, could not stand without help from the hero. I mean, The Hero. The 90s woman manages to be helpless and/or lovestruck, juxtaposed against a strong, masculine man. For example, one version of the 1995 hit Dilwale Dulhaniya Le Jayenge poster has Shah Rukh Khan not only picking up Kajol but also draping her over his shoulders, a position she looks extremely comfortable and happy in.
Sometimes this is subtler, with the woman lovingly placing her head on the hero's chest or leaning into him, while he looks away into the distance or protectively towards her, like in Dil, Hum Dil De Chuke Sanam, Bombay, Lamhe, Dil Se, Dil Hai Ke Manta Nahi and Shola aur Shabnam, among others. One of my favorite movie posters from this period is of Phool Aur Kaante. The sexy heroine, Madhoo, is wrapped around Ajay Devgan, who lifts her awkwardly with one arm and holds a rifle in the other hand, looking like the poster child of "MARD" (even though to me it looked like a sexy rendition of Vikram aur Betaal).
Nineties posters also had women on either side of the leading man to emphasise his mardaangi, like in Dil To Pagal Hai, but if the woman occupied the centre of the poster, like in Sajan, the men would be on either side of her with only their faces in the background. The men, in these posters, are sexual beings, but it feels like the women are sexual only with reference to The Hero.
The 2000s: Multiple Men, Fading Sexy Women
This decade was quite interesting. While some films like Jab We Met, Chalte Chalte, Kal Ho Na Ho, Namaste London, Fanaa and Salaam-e-Ishq had women share space equally without looking like they'd stepped out of the pages of a men's magazine, for a majority of movie posters, the man was the focus.
Sometimes, to emphasise how important the man was, they were shown twice as large as the women, or even just shown twice. In Jannat, the woman, Sonal Chauhan, is on the left side of the poster, looking up at Emraan Hashmi's massive face, gracing the poster like the Lord himself. One of the posters for Yaadein has Kareena Kapoor and Hrithik Roshan's huge faces in the background, with a tinier Hrithik in the foreground with his arms stretched out and an "I'm-so-cool" look on his face. Jodha Akbar, Dev.D, Devdas, Tere Naam, Cheeni Kum, Dil Ne Jisse Apna Kaha, and Lucky: No Time for Love were some of the many movies that either had fading women or men who appeared twice.
If women received equal focus, they would have to be sexualised. My favourite example of this is Barsaat with Bobby Deol drenched in the rain, staring into your soul, while on either side of him Priyanka Chopra and Bipasha Basu, both drenched and in white clothes (gone transparent), with expressions that scream of more sexual chemistry with the rain than they ever had with Bobby Deol in the entire movie. Mujhse Shaadi Karogi, Do Knot Disturb, Aashiq Banaya Apne, Neal 'n' Nikki, Suno Sasurjee and Andaaz are some of the movies that have posters along the same lines.
Posters from this decade were also sprinkled with protective males and low-energy females; Vivah, Veer-Zara, Mere Jeevan Saathi, Love Story 2050 and Saawariya were frontrunners.
2010 onwards: Loads of different women
Posters from 2010 onwards show a marked improvement in the way women were portrayed in posters.  Tamasha, for example, has Ranbir Kapoor and Deepika Padukone laughing and walking together, both the same size. The same goes for Shuddh Desi Romance, which allows equal poster space for the leading actors, with neither relegated to stereotypes. My Friend Pinto, Hasee Toh Phasee, Zindagi Na Milegi Dobara, 2 States, Tanu Weds Manu, Cocktail and Yeh Jawaani Hai Deewani are heartening examples of posters that have represent female actors without needing to be sexist in the bargain.
Of course, every now and then, there's an Ishaqzaade, Ek Tha Tiger, Heropanti, Kites or something else that pops up to relegate women to beings that need saving or carrying or rescuing. Even Deepika Padukone in Bajirao Mastaani (2015), a fierce warrior who could stand her own ground, had to be held up in one of the movie's posters by Ranveer Singh.
The last few years have been marked by positive portrayals of women in cinema, and better representation of women onscreen. How women appear on posters is merely a reflection of the attitude to their presence in cinema. Will the figure of the wilting heroine badly in need of an energy shot gradually disappear from posters of Bollywood films? I've got my fingers crossed.
The Ladies Finger is a leading online feminist magazine.
Find latest and upcoming tech gadgets online on Tech2 Gadgets. Get technology news, gadgets reviews & ratings. Popular gadgets including laptop, tablet and mobile specifications, features, prices, comparison.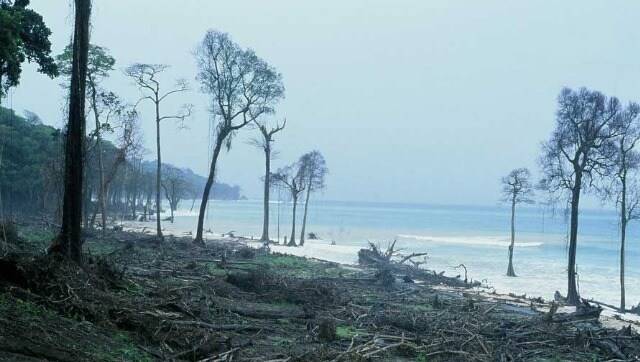 Lifestyle
The 15-metre wave came with a roar of rage. Saw Agu remembers the sound, and the accompanying sound of breaking trees as the water bulldozed its way through the forest.
India
The recent arrest of Umar Khalid is being seen as one of the most outrageous steps in a series of sustained attacks on the flag bearers of a certain cause.
Arts & Culture
Kapila Vatsyayan authored nearly 20 books on different forms of art and their histories in her long career. Some of her notable works include The Square and the Circle of Indian Arts (1997), Bharata: The Natya Sastra (2006), Dance in Indian Painting (2004), Classical Indian Dance in Literature and the Arts (2007), and Transmissions and Transformations: Learning Through the Arts in Asia (2011).