Fantastic Beasts and Where to Find Them: A worthy, magical addition to the Harry Potter universe
The magic of JK Rowling's quill continues with Fantastic Beasts and Where to Find Them.
2007 – The seventh (and then last) Harry Potter book was released.
2011 – The eight (and then last) Harry Potter film was released.
2013 – A film based on Fantastic Beasts and Where to Find Them (a false document book from 2001) was announced.
2015 – The next installment of Harry Potter, a West End play called Harry Potter and the Cursed Child, was announced.
2016, July – The play, and a book based on the script, is released
2016, November – Fantastic Beasts and Where to Find Them is released
In a one sentence the film, written by JK Rowling herself, can be best described thus: Fantastic Beasts and Where to Find Them salved the scars left by Harry Potter and the Cursed Child.
In a span of six months, the film, based on an original screenplay by the author, has returned the hope of magic to Potter fans.
In July this year, ahead of the much anticipated release of the Cursed Child, I had mapped out why and how JK Rowling's legacy of magic endures for almost two decades. A large part of this was the constantly flowing original material, straight from the author – more than 18000 words of content were added on Pottermore, aside from the several short stories, 'news reports', and tweets that let out hitherto unknown information about the series and characters. And a potential next installment, as a play and as a prequel in the form a film, was enough to whet our appetites.
However, soon after the script of the play released, there were several aspersions cast on this legacy. While a bestselling book, there were several things wrong with the Cursed Child. The disillusionment was so widespread, there were doubts about Fantastic Beasts and Where to Find Them as well. It would only be fair to say that while the excitement was great, the expectations weren't very high. There were some unsavoury comparisons to a George Lucas and a certain Prequel Trilogy as well. However, in the end, the concerns proved to be unfounded. The magic of Rowling's quill continues with Fantastic Beasts and Where to Find Them.
The film opens with the now familiar montage of Warner Brothers logo accompanied by the opening bars of Hedwig's theme. That's enough to make nostalgia take over. But the greatest strength of this latest addition to the Potter-verse is that it does not bank on nostalgia to establish itself. Instead, it's a pretty solid, independent piece of work that stands on its own good film-making.
At the same time, it does a fantastic job of establishing a connect with the Potter-verse we know. There are a number of references and Easter Eggs in the 133 minutes of the film that will delight fans – some of the more obscure hints will probably receive screams, some familiar imagery will bring out a smile and the climax will come as a surprise.
The story itself is a classic hero's journey, peppered with a dose of magic, endearing side characters, an ambiguous force of evil, lots of magic, gratuitous and often gorgeous use of special effects, well-timed comic relief, more magical exploration, and a very admirable, adorable performance by Eddie Redmayne. Vintage Rowling.
Note: Spoilers ahead, be warned
The most obvious callback is the very British protagonist in New York, Newt Scamander, and his Hogwarts story. He was expelled from the magic school for letting out dangerous creatures (reminds us of a smaller, neater Rubeus Hagrid) despite having the support of Albus Dumbledore. Mind, this is the 1920's so Dumbledore was just a Transfiguration teacher, under Headmaster Armando Dippet. Despite his expulsion, Newt remains fond of his school and even does the typical student thing where you argue over whose alma mater is better with the Ilvermony-educated witches in America. Eagle-eyed fans will recall Ilvermony from the Pottermore quiz and back story. (Fact: Hogwarts is better. Also, keep an eye out for Newt in a Hufflepuff scarf. One can take a student out of Hogwarts, but can you Hogwarts from them?)
Another Easter Egg (not to be confused with the eggs thrown around in his briefcase) is the mention of one Leta Lestrange as Newt's estranged lover. There seems to be very little detail about her, but the name (and Redmayne's heartbreaking acting) is enough to signal a major potential plot point.
But perhaps the most striking shout out was the symbol of the Deathly Hallows. It makes a brief appearance when Auror Percival Graves, played by Colin Farrell, gives a Hallows locket to Credence, played by Ezra Miller. He says it's an important object, which he can use to summon the Auror, and he trusts it with a very few. This appearance of the Hallows takes an even more intriguing shade when you realise that he is not Auror, but the dark wizard Gellert Grindelwald himself, in disguise. What exactly is Grindelwald doing, handing about Hallows lockets to potentially combustible people? There is definitely more to it than meets the eye.
One other throwback to the past (or future?), although very subtle, that hit home was the passing reference to Ariana Dunbledore. Though not by name, News talks to Credence, who is revealed to be the Obscurus terrorising New York, about knowing another young girl who had to be shut because of her unpredictable magic powers. Knowing what we do of the tragic Dumbledore history, and the fact that this series traces the rise of Gellert Grindelwald, this passing mention can have big implications.
Speaking of the evil himself, the dreaded Grindelwald does show up, making the most direct connect with the Potter-verse, and he is played by Johnny Depp. Not just any Johnny Depp, a very made-up Joker-esque Johnny Depp, complete with white face, hair and a villainous grin. His reveal is quite spectacular – the ambiguous Auror played by Farrell turns out to be Grindelwald, right in the heart of the Magical Congress of the United States of America (MACUSA) aka the American Ministry of Magic. While we await more details on what exactly was Grindelwald doing in 1926 America, it definitely teases out a healthy triumph of good vs evil arc in the upcoming films.
Of course, there were several let downs in the film as well. The two intertwining storylines – Newt and his suitcase's journey in New York and the growing presence of evil in the city seemed to lack cohesion, at least till the interval. The jumps from Newt's magical, comical quest to find his fantastic beasts (but Redmayne's mating dance was definitely worth it) to the gloomy, horror-film like treatment of the Graves-Credence plot were not smoothly juxtaposed. Although it did all come together in the end, in breathtaking fashion, when the fantastic beasts helped to take out the evil in a visually amazing manner.
From a textbook to a film, the path of Fantastic Beasts and Where to Find Them has been well paved for the proposed franchise of films. Although the merits of five-film series seem dubious as of now – how much can one fit in five films based on original screenplay without becoming repetitive – the series is well on its way of taking the magic of Harry Potter to a whole new level. A prequel series, which might not only show the fall of Grindelwald but the rise of Voldemort as we, has a great responsibility resting on it. But if Rowling's screenwriting debut is anything to by, Cursed Child seems to a blip in the legacy of Potter. In simple words, the magic continues.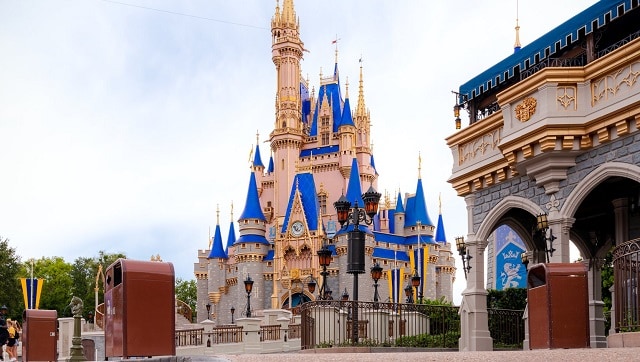 Entertainment
Disney said it was seeing "encouraging signs of recovery" across a wide range of its businesses even while its streaming television service grew slower than expected in the second quarter.
Entertainment
J Balvin, who was diagnosed with coronavirus in August 2020, shared his experience at the Global Citizen's Vax Live concert
Entertainment
"You're there with five other people, honoured for the work that you've done. What's better than that?," says Glenn Close, who's earned eight Oscar nods in her career.