Family Time with Kapil Sharma has nothing new to offer, with predictable jibes, film promotions and a weary host
Family Time with Kapil Sharma has the worst of 'family' (his extended family in Kiku Sharda and Chandan Parashar) and Kapil Sharma put together.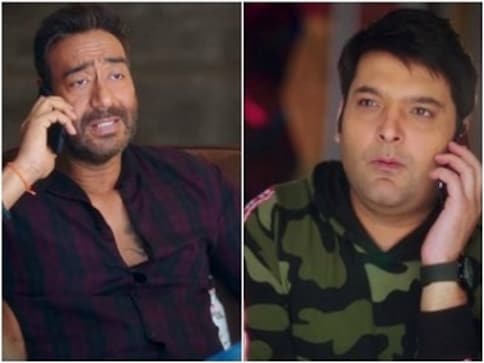 "Myself-Kapil…naam to suna… nahin…. hoga, che mahine se."
"Che mahine se bhaav khaa rahe the…"
Comedy is Kapil Sharma's forte, and it's fun to laugh at oneself after the past stress and the mess of drunken fights in a flight, rehab and countless apologies — all of which were anything but comedy — in hindsight. But the rest of the jokes on his comeback show  Family Time with Kapil fall as flat as the balloons they smash in the family games which follow.
Family Time with Kapil Sharma has the worst of 'family' and Kapil put together.
For starters, the show plays it too safe. They bring back some old players who have nothing new to offer. No, that does not include the really funny Sunil Grover or Sumona. Instead, we have someone with the scripted, predictable lines and fake laughter: Navjot Sidhu. When Sidhu makes an entry with a couplet that says, "Sidhu ki chaati Punjab ho gayi", you know that the bright side to this will be setting your eyes on dazzling turban colours. As long as you can also ignore the unsightly chair brought for him, just so that they can crack jokes like "kursi apne aap aa jaati hai", alluding to Sidhu being a minister now.
Kiku Sharda is back, too, playing the same old character. He/she does not make an entrance once but thrice, completely ruining whatever moments Kapil might have on his own. Kiku is also joined by another familiar face from the previous show, Chandan Prabhakar, who is as pleasant as his old Chandu the chaiwala character. He continues to play the poor man here. Apparently, poverty and sexism jokes are still considered necessary by the show creators.
This time Kapil is joined by a co–host, Neha Pendse, so that he can play his more winsome "flirt' card for the laughs. This works slightly better than the rest, thanks to Neha's fresh and friendly presence.
It's only when Kapil turns to his real strength — his ease at disarming the show's live audience with his sugar coated insults — that we see a glimmer of the old, entertaining Kapil. However nothing else adds up, and the charm of the early few episodes of The Kapil Sharma Show seems lost forever.
The games introduced in this reboot are meant for 3-year olds. It's all about bursting the balloons, they tell the participants. Only, it's with your butt or your head. The prizes are home gadgets and the final biggie is a regular car. The participants are of course handpicked and trained to say some nice things to Kapil like, 'please never leave us again."
The big fat family time ends with the predictable Bollywood entry and so begins the tiresome vicious circle of film promotions. The first guest is Ajay Devgn who looks like he will be happier raiding homes as a cop than being here. There is none of the usual banter between Kapil and the celebrity, almost as if everyone is scared that Kapil Sharma may just end up offending more Sunil Grovers or more importantly, the TV channel heads.
also read
Photos
Known to have a penchant for classic tailoring, minimalism and glamor, Anushka's overall sense of style is the confidence and authenticity that she exudes naturally. One brand that has been a constant in her wardrobe over the years is Dior. Let's take a look at some of her most stunning Dior outfits
Entertainment
Kangana Ranaut highlighted that watching films in the multiplexes have become very expensive.
Entertainment
When asked about the recent controversy surrounding Ryan Gosling being too old to plan Ken, she completely disagreed. Priyanka said, "Ryan Gosling will eternally be one of those guys who are hot!"