Entertainment review: It is Akshay Kumar's funniest film since Hera Pheri
Brace yourselves for the shock of your lifetime: Entertainment is sheer genius. It's the funniest Akshay Kumar film since Hera Pheri.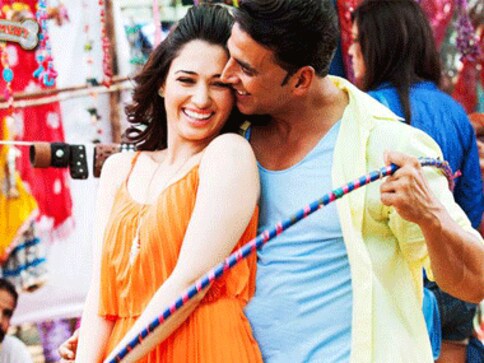 The deadly duo of Sajid-Farhad has had a deadly hand in creating some of the deadliest films ever made – Dhamaal 2, Golmaal 2 and 3, Housefull 2, Singham, Bol Bachchan, the Chashme Baddoor remake, Policegiri and even Chennai Express. These films aren't just horrendous, they're a scourge on this planet. We need something like the Guardians of the Galaxy to rid us of such bubonic atrocities.
Having been exposed to all of the aforementioned titles over the past few years and losing both my tear ducts in the process, I walked into Entertainment with a loaded gun, in case I felt the need to end my misery once and for all.
But as the first five minutes of Entertainment flashed before my eyes, my pupils dilated. I couldn't believe it – I began smiling, and then laughing uncontrollably, and then clapping at the jokes. Before I knew it, I had turned into the apes from the opening scene of 2001 A Space Odyssey, genuflecting and worshipping that large black slab we call Bollywood.
Brace yourselves for the shock of your lifetime: Entertainment is sheer genius. It's the funniest Akshay Kumar film since Hera Pheri.
Once in a while, Bollywood churns out a classic comedy. It's either a genuinely funny film (like Hera Pheri), or a movie that is so bad that it's great fun (like One Two Three). Entertainment is a multilayered landmark that commands both those qualities and adds a third layer – it satirizes all the awful Sajid Khan-Anees Bazmee movies and even takes potshots at everything that is wrong with desi cinema and television.
To demonstrate the above points, here are some samples of comic excellence from Entertainment.
a) Tamannaah is acting in a television soap opera. She holds an aarti plate. It's Karva Chauth and she is ready to bless her husband who tells her he's in love with someone else. The camera dramatically jerks around three times and Tamannah expresses over-the-top shock. "Hamari Ekta humein Shobha nahi deti," she tearfully says. A brilliant takedown of idiotic desi soap operas.
b) A DVD store is called 'Mere paas CineMAA Hai' and the owner is Jugnu (Krushna Abhishek), the geekiest of film geeks. Upon seeing a happy Akshay Kumar, Jugnu asks "Kahan chale Sonakshi Sinha taan ke?" Later, when Kumar escapes death, he says "Prabhu Deva ki Mahima Chaudhary thi jo tu bach gaya." To cheer his morose friend up, he says, "Itna Pankaj Udhas mat baith."
c) Johnny Lever plays a lawyer named Habibullah, but is often mistakenly called called Dracula and Gorilla by others. In one instance, he tells Akshay Kumar, "Mai aapse do minute guftgoo karna chahta hu." Akshay asks, "Guft? Goo?" And the scene transitions to a slow zoom and shows us a pen stand shaped like a toilet.
d) The Ring is parodied here. The TV is turned on and Entertainment (the dog) walks through the screen into the real world, complete with extra long hair falling over his eyes and red contact lenses.
e) Three inscrutable lawyers in the film are called Sanjay, Leela and Bhansali.
In case you haven't picked it up, the not-so-subtle references, celeb bashing, potty humour and wordplay are all meta - the film is completely self aware. But there's more to it than that. In Entertainment Farhad-Sajid actually deconstruct the meaning, fabric and setbacks of entertainment in Bollywood.
The dog in the film is called Entertainment. It's a statement by Farhad-Sajid that entertaining movie audiences constantly is a bitch. In the film, Kumar is helpless when his character Akhil's family property is inherited by a dog. It's a metaphor for how the quality of entertainment in Bollywood has gone to the dogs. Akhil repeatedly tries and fails to kill the dog and take over. It means Farhad-Sajid have been struggling to produce a worthwhile comedy, because audiences seem to only want Housefull sequels, Grand Mastis and Salman Khan movies.
In one scene, Entertainment (the dog) falls in a crack in a frozen river. A distraught Akhil slams his hands repeatedly on the ice, screaming "ENTERTAINMENT! ENTERTAINMENT!", till they bleed. You get my drift? Entertainment is slipping away and the hands of Bollywood writers bleed when they try to recapture the fading art form.
Later, a rehabilitated Akhil apologizes to Entertainment (the dog). "Tu sahi hai, mai galat tha," he says. "Mujhe rasta dikhane ke liye thanks." It's Sajid-Farhad giving in to the demand of the public and the producers - there is no point making smart, original comedies. Generic, loud, crass, vulgar, regressive comedy is what makes money in Bollywood.
Habibullah informs Akhil, "Entertainment ka kehna hai ki maalik ka beta naukar nahi ban sakta." That's Sajid-Farhan telling us that the son of a star should only be a star, and star sons will always rule Bollywood.
Farhad, Sajid and Kumar feel guilty about being part of films that were offensive to women. So in one scene, a villainess beats Akhil up, but he refuses to hit her. Instead, he lets Tamannaah do the deed. "Aurat ka bojh aurat hi utha sakti hai," he says, as Tamannaah literally lifts the villainess up.
The sibling villains of the film Karan (Prakash Raj) and Arjun (Sonu Sood) are about to punch each other. But they look into each others' eyes. "Ye bandhan to pyaar ka bandhan hai" starts playing; the scene cuts to a black and white flashback showing a widowed mother feeding two kids. Cut back to the present as Karan and Arjun weep and hug each other while the song continues to bellow in the background. Later Karan and Arjun brashly take over a 'Johri empire', a sly hint at Rakesh Roshan taking over Bollywood with his dreadful movies in the '90s.
All of this hard work in writing would have been futile had the film been tackily shot, just like the films it parodies. Surprisingly, Entertainment is technically great, even the scene transitions are well done. There was a lot of noise made about Darren Aronofsky's Noah having a path breaking CGI shot where hundreds of animals exit the frame to go to the ark. In Entertainment, hundreds of dogs enter the frame and one bites Sonu Sood's crotch. Dear Farhad and Sajid, please shut up and take my money. I bow to you in reverence.
Entertainment
Filmmaker Ashima Chibber's movie Mrs Chatterjee Vs Norway starring Rani Mukerji revolves around a mother's fight for her two young children who were literally snatched away from her on the grounds of bad parenting by the Norway Children's Welfare Program.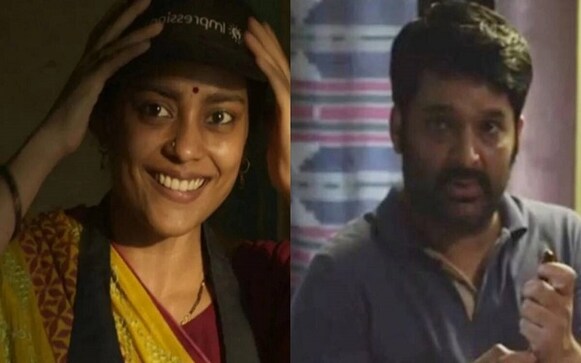 Entertainment
Nandita Das directorial Zwigato strikes a conversation on gig economy and unemployment situation of our country.
Entertainment
Keanu Reeves' John Wick: Chapter 4 is an action-packed adrenaline rush filled with breathtaking cinematic moments.