Emmys 2017 highlights: Alec Baldwin snipes at Donald Trump; Netflix, HBO battle for awards
Here's the big question: In the absence of dragons (Game of Thrones, duh), who would take over the Emmys?
Would Westworld (with a whopping 22 nominations) fill in for its HBO counterpart or would Netflix's streaming sensation and retro darling Stranger Things (marginally behind, with 18 nods) dominate?
Both shows started great at the Creative Emmys early last week, with 5 wins each, so understandably, the talk of a rivalry between the two shows was legit.
This was a HBO vs Netflix battle as well; for television geeks like us, this is such a great time to be around!
The Emmys seem to think so too, and promptly awarded both networks for their shows (ahem, HBO did better, ahem) — only thing, the winning shows didn't involve androids/robots or '80s kids and a demogorgon.
Instead, HBO's big winners  were Big Little Lies (with 5 wins, including Outstanding Limited Series and Outstanding Lead Actress in a Limited Series or Movie for Nicole Kidman), Veep (2 wins), Last Week Tonight with John Oliver (2 wins), and The Night Of (1 win).
Netflix won fewer awards tonight, with Black Mirror: San Junipero leading with 2 wins, followed by Master of None (1 win), and The Crown (1 win). If Westworld or Stranger Things didn't win Outstanding Drama Series, who won then, you ask? In a nod to everything that's happening in the world right now, The Handmaid's Tale (Margaret Atwood's brilliant feminist dystopian novel brought to life by Hulu), won 5 big awards tonight, including Outstanding Drama Series and a very well-deserved Outstanding Lead Actress in a Drama Series for Elisabeth Moss.
The world in 2017 is terrifying, and our TV shows are the cautionary tales we know we need.
But first things first, let us take a moment to acknowledge our spot-on predictions for the big winners at this year's Emmys - besides Ann Dowd, who was as shocked as us for winning Outstanding Supporting Actress in a Drama Series for her role of Aunt Lydia in The Handmaid's Tale (come on, you thought Thandie Newton would win too), we're happy to report we got them all correct.
The big question, I'd asked in our roundup of our favourites, was whether the Emmys would award "socio-cultural relevance or pop culture relevance" in choosing between The Handmaid's Tale and Stranger Things for Outstanding Drama Series. Politics and socio-cultural relevance won big-time!
Besides the shows about women's issues (The Handmaid's Tale - women and their reproductive rights, Big Little Lies - domestic abuse against women) that won big, shows with and about minorities won almost every major award tonight:
Atlanta (2 wins) - Outstanding Lead Actor in a Comedy Series for Donald Glover, and Outstanding Directing for a Comedy Series for the episode "B.A.N."
Black Mirror: San Junipero (2 wins) - this episode about an interracial lesbian couple, broke boundaries in storytelling. It also won for Outstanding TV Movie and Outstanding Writing for a Limited Series, Movie, or Dramatic Special.
The Night Of (1 win) - Riz Ahmed, who plays an Islamic cab driver who is accused of murder, won Outstanding Lead Actor in a Limited Series or Movie.
Master of None (1 win) - Aziz Ansari and Lena Waithe won for Outstanding Writing for a Comedy Series for the utterly beautiful "coming-out-but-also-so-much-more" episode "Thanksgiving."
Highlights

Lena Waithe made history tonight as the first black woman to win Outstanding Writing for a Comedy Series ("Thanksgiving", Master of None).
Donald Glover, in his acceptance speech, thanked "Donald Trump for making African-Americans the most oppressed group in the US." He (in a tongue-in-cheek manner) said that was probably the reason he was standing there with his award. Come on Donald, you know you good.
Julia Louis-Dreyfus, in her acceptance speech, cracked everyone up when she talked about how they were planning a storyline about impeachment on Veep this season. They ditched it because they thought someone else might beat them to it. Remember the presidential debate last year when Hillary Clinton talked about Donald Trump's mindset and his tendency to accuse everything of being "rigged" — the elections, even the Emmys — and Trump interrupted her, retorting, "should've gotten it."
When Alec Baldwin came up to accept his Outstanding Supporting Actor in a Comedy Series award at the Emmys for his Trump impersonation on Saturday Night Live, he directed a pointed insult at Trump, saying, "maybe now the President will feel like he finally got his Emmy!"
Many stars wore blue ribbons on their outfits to show their solidarity with the American Civil Liberties Union (ACLU) and the continued good work the organization does, which is more important than ever now.
In a Westworld inspired spoof-skit, host Stephen Colbert and Jeffrey Wright (Bernard on Westworld, for the uninitiated) played out a hilarious scene where - (1) Colbert was the "host" (see what they did there?), and (2) he was naked.
Nicole Kidman looked like this at the Emmys (in a red tea-length Calvin Klein by Appointment frock).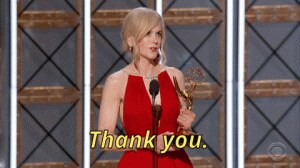 John Oliver thanked Oprah during his acceptance speech — for no reason other than she was there in the front row and it seemed impolite not to thank her.
After losing to John Oliver, Stephen Colbert and Jimmy Kimmel drank their sorrows, and (in good natured late night fashion) took digs at Oliver and his show.
Our hearts swelled with pride when The Handmaid's Tale creator Bruce Miller, in his acceptance speech for Outstanding Drama Series (he also won Outstanding Writing for a Drama Series for the episode "Offred") thanked Hulu for allowing them to do "horrible things to Rory Gilmore"
ICYMI, Alexis Bledel, who played Rory Gilmore on Gilmore Girls for seven seasons and a Netflix revival, stars in The Handmaid's Tale as Ofglen; she won an Emmy for Outstanding Guest Actress in a Drama Series for her role, earlier last week.
Now that he's not employed with the Trump administration, former White House press secretary Sean Spicer really wants to be in (liberal) folks' good books - he walked on stage at the Emmys behind a podium, talking about the amazing size of the audience at the awards. The audience couldn't believe he was there! You've got balls, Spicer, but you'll always be on the wrong side.
Updated Date: Sep 18, 2017 13:06:04 IST
Your guide to the latest election news, analysis, commentary, live updates and schedule for Lok Sabha Elections 2019 on firstpost.com/elections. Follow us on Twitter and Instagram or like our Facebook page for updates from all 543 constituencies for the upcoming general elections.