Emmy Awards 2018 top moments — from Kate McKinnon and co's hilarious intro to on-stage marriage proposal
Game of Thrones stormed back onto the Emmys stage winning the coveted best drama series prize on a night full of surprises, including an on-air marriage proposal that stunned the audience.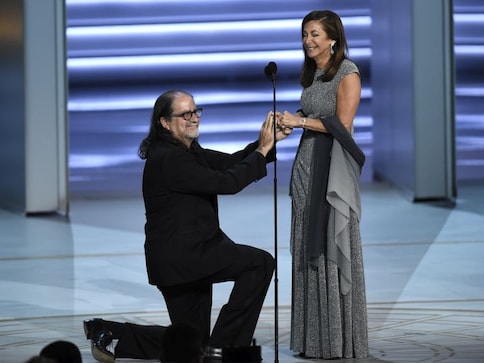 HBO's record-breaking fantasy epic Game of Thrones stormed back onto the Emmys stage on Monday, winning the coveted best drama series prize on a night full of surprises, including an on-air marriage proposal that stunned the audience.
The other big story of the gala, television's answer to the Oscars, was the huge success of eight Emmys overall for best comedy series The Marvelous Mrs Maisel, Amazon's story of a 1950s housewife-turned-stand up comic.
Also see the full list of winners at Emmy Awards 2018
So, let's look back at some of the most memorable moments from this year's Emmys — on and off stage.
"We Solved It"
The Emmys started with a song whose chorus was "We Solved It," a comic ode to the diversity of nominees — and Hollywood self-satisfaction. Saturday Night Live stars and Emmy nominees Monday night Kate McKinnon and Kenan Thompson started the song, pointing out that Sandra Oh could become the first woman of Asian descent to win an Emmy. The comedians sang: "There were none, now there's one, so we're done."
They were joined by Tituss Burgess, Kristen Bell, Sterling K. Brown and Ricky Martin, who declared the song "too white" and gave it a Latin turn. Andy Samberg showed up to ask in song if there was a place for a straight white male in the song before being sent off. Martin and Samberg were met with loud cheers inside Microsoft Theater. 
The group gave way to the night's hosts Michael Che and Colin Jost, who continued to riff on Hollywood diversity and the sexual misconduct scandal that has roiled the industry.
Henry Winkler wins Emmy 42 years after first nomination
Henry Winkler won the first Emmy of his career, more than four decades after he was first nominated for his role as The Fonz in Happy Days. The 72-year-old Winkler looked bowled over when he won for best supporting actor in a comedy series on Monday for his role as Gene Cousineau on HBO's dark comedy Barry.
Once he took the stage amid roaring applause and a standing ovation, Winkler joked that he wrote his speech 43 years ago. Then Winkler quoted some advice he got in Hollywood, saying that "if you stay at the table long enough, the chips come to you."
"Tonight I got to clear the table," he said. Winkler was nominated three times for his work on Happy Days, in 1976, 1977 and 1978. His character Arthur "The Fonz" Fonzarelli spawned a cultural craze and made him one of the biggest stars on TV. Winkler also was nominated for an Emmy in 1979 for an informational program and most recently in 2000 as a guest actor in The Practice.
Backstage after his win, Winkler joked with reporters that he was wearing rubber pants with a little powder, just in case he wet himself if he won. "But I had control," he joked. He expressed wonder at the win and the path his life and career have taken, saying he dreamed of being an actor when he was 7- years-old living in New York City "with short German Jewish parents who did not want me to be an actor." "I was 27 when I started doing The Fonz. I'm now 72 and I'm standing right here in front of you with her," Winkler said, referring to his Emmy statuette. "Wow."
Creepy character from Atlanta appears in crowd
A creepy, whiteface character from the FX hit series Atlanta had been seated in the front row and taking selfies at the Emmy Awards. Teddy Perkins appeared on Monday night at the Microsoft Theater in the same attire as worn on the comedy-drama on the show, sporting red velvet dinner jacket, heavy white makeup, prosthetics and a bob cut wig. The character was played by the show's star Donald Glover, but it's unclear whether the actor-singer dressed up as Perkins who became a main attraction in the crowd and social media taking selfies during commercial breaks.
Perkins congratulated Bill Hader, who won an Emmy for best actor in a television comedy over Glover — last year's winner. Even Hader had no idea who was dressed up as Perkins. "I don't know who it was, but I know it was that guy from Atlanta," Hader said backstage. When Glover was shown in the crowd, Perkins was not around. Perkins became one of the most intriguing figures during the second season of Atlanta for his eerie appearance. The character tricked Darius, played by LaKeith Stanfield into visiting his home.
On-stage marriage proposal
The Oscars director Glenn Weiss walked away with an Emmy and his girlfriend walked away with a ring. Weiss won the Emmy on Monday night for directing the Oscars telecast and was giving the sort of speech from a non-celebrity that makes most viewers tune out when he said that his mother died two weeks ago, and she was fond of his girlfriend.
He then said, "You wonder why I don't want to call you my girlfriend? It's because I want to call you my wife." The star-studded crowd, realising a proposal was on, whooped and cheered. Leslie Jones of Saturday Night Live stood with her mouth agape in surprise, as did the woman herself.
Weiss's girlfriend, who he called Jan without giving her last name, ran up on stage then Weiss took a knee and said he was giving her the same ring his father gave his mother 67 years ago. Only then did he actually ask the question. She said yes.
Mrs Maisel makes plea to vote
In the comedy categories, The Marvelous Mrs Maisel bested all comers in its first year of eligibility, sweeping the female acting prizes (star Rachel Brosnahan and co-star Alex Borstein) and best series honors. Earlier this year, the series won two Golden Globes.
"One of the things I love the most about this show, while I have you captive for another two seconds — it's about a woman who is finding her voice anew," Brosnahan said. "It's something that's happening all over the country right now. One of the most important ways that we can find and use our voices is to vote. So if you haven't already registered, do it on your cell phone right now."
(With inputs from agencies)
Entertainment
The author noted that living in the closet is often glorified in the film industry.
Entertainment
He said the ministry does receive complaints about content on over-the-top (OTT) platforms, but almost 95% grievances are settled at the level of producers