Ek Je Chhilo Raja movie review: Srijit Mukherji returns to form with a balanced, beautifully executed film
Ek Je Chhilo Raja – though still not his best – is clearly the film which has the potential to mark the beginning of Srijit Mukherji's rise to critical fame
In a review of his film Uma earlier this year, I had mentioned how I had been pained to see writer director Srijit Mukherji's films slowly moving away from me. The process of alienation began after what is essentially one of the finest thrillers I have watched in Bengali films in this decade – Baishe Srabon. To me, it seemed that Mukherji had lost his mettle, the fine spark that I had admired him for in his early films. I wrote in detail about the problems I saw in his films – lack of economy, graceless exits, unrealistic writing and too much theatricality being only some of them. But every single time I criticised his films, I also spoke about how I hoped he would turn things around and come back to form, proving me wrong – because there is nothing we critics love more than to be proven wrong by a commendable feat. Ek Je Chhilo Raja – though still not his best – is clearly that film which has the potential to mark the beginning of Mukherji's rise to critical fame.
The film is based on the infamous Bhawal Sanyasi incident – a court case that lasted for 16 years. Raja Mahendra Kumar Chowdhury – the second prince of Bikrampur is a philandering, wayward but kind zamindar in undivided Bengal. When he is not hunting tigers in the forests, or throwing lavish parties to celebrate the wedding of his cats, he can be found in his music room, drunk to his gills, or in the arms of one of his concubines, playing a desi version of strip poker. He is close to his sister Mrinmayee though, who looks up to him with both affection and reverence. Mahendra Kumar is coaxed into marrying a young girl, but has little time for her. The girl's brother hatches a plan with the royal family's doctor to poison Mahendra Kumar to death. The king dies, his corpse is taken away for cremation, but before the pyre can be lit, there is a thunderstorm. Everyone flees to take shelter, and when they return, they find the corpse gone. The entire matter is hushed up, but years later, a sadhu comes to Bikrampur, bearing an uncanny resemblance to the dead prince. While some people instantly brand him as an imposter, others truly believe that the prince has come back from the dead, and amidst such divided opinions, the sanyasi claims his right to the throne of Bikrampur. What follows is a protracted legal battle – the case of the Bhawal Sanyasi.
The film is essentially divided into three parts – the regal lavishness of Raja Mahendra Kumar Chowdhury, his life as a sadhu traveling through the length and breadth of the country till his return to Bikrampur, and finally – the legal battle. While the first two are shot in colour, the third has been shot in black & white, with the two merging at the climax, much like Christopher Nolan's Memento. The necessity and logic of such a stunt may be arguable, but there are several facets of the film which are undoubtedly fantastic. Principal among these is the art direction. The sets have been designed and erected with such detail that it adds to the regal charm of the film. Locations have been carefully selected and brilliantly shot, and I was relieved to see Mukherji gracefully cutting his scenes on time, unlike what we have seen in some of his recent films.
There are several commendable performances in the film – Anjan Dutt is remarkably poised as the defence lawyer, Aparna Sen is sweet but razor sharp as the prosecutor, and as usual, Anirban Bhattacharya is brilliant as the man who changed Raja Mahendra Chowdhury's life forever. But two performances stand out, and not merely because they have been given maximum screen time, but by dint of merit. The first is Jaya Ahsan's performance as Princess Mrinmayee Devi, who does not give up on her brother, even after the news of his death. And the final one is Jisshu Sengupta in what can be best described as an absolute revelation. Clearly offering his career-best performance by a far margin, Sengupta seems to have drawn the very spirit of the Kumar of Bikrampur within himself. In a beautifully written scene, Sengupta's prince is ruthless, unapologetic and obnoxious as he stops to scrutinise a new maid dusting royal vases in the corridor, asking her casually if she is on her periods, and instructing her to come to his bedchamber at a specific time that night. Consider this in contrast with yet another extremely well written scene, in which the same Raja is confined to his bed, his entire body full of sores from systematic arsenic poisoning that his own brother-in-law and the family physician has been subjecting him to. I was moved to tears watching the fall of the man from his royal brashness, as he begged the two men to either do something to stop him from soiling his bed, or to end his life so that he could go out like a king. These are examples of top-notch writing, ably performed by a man possessed by the very idea of the character he is playing. No excesses, no shortfalls, just the right amount of deft touches, and beautifully executed.
There are problems too, though. The whole angle of the two lawyers having had a past relationship not only seems unnecessary, it also comes across as intrusive, diluting the smooth and perfectly even flow of an otherwise beautifully told story. I also felt that the back and forth jumps in the timeline could have been more carefully placed, some of them came across as rather jarring for my viewing comfort. While Rudranil Ghosh does his job well as the house physician, there are scenes in which he overacts, or does not seem to know how to use his space. Last but certainly not the least, there were several 'fillers' in the storytelling – events not actually shown on screen, but characters telling us that they did happen – which make for rather unnatural dialogue delivery. I felt the same fillers could have been better conveyed, weaving them into the natural order of things, rather than forcing them down the audience's throat.
It is the music of Indraadip Dasgupta that elevated the film to a whole new level though. The background score and the well-placed songs makes for a pleasant viewing experience. My favourite is clearly the song 'Tu Dikkhe Naa', that plays as the former Kumar travels through the land barefoot and stripped to his skin as a common man, in search for truth and enlightenment.
I would recommend you go watch Ek Je Chhilo Raja. In more ways than one, it is a story of the return of not one but two prodigal children – its lead character, and its maker.
Entertainment
Director Srijit Mukherji's Jaanbaaz Hindustan Ke, which is inspired by true events, revolves around IPS officer Kavya Iyer (played by Regina Cassandra) of Meghalaya, who is called 'Shillong Ki Sherni' by media and people for her courage and successful missions.
Entertainment
Jennifer Lopez walks down the aisle in Shotgun Wedding with fun, romance and loads of action.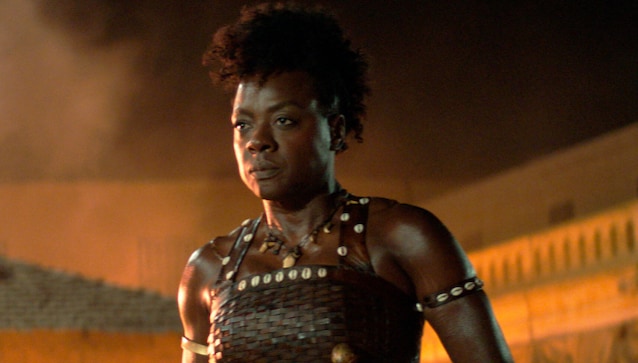 Entertainment
Apart from Viola Davis as The Woman King, Lashana Lynch, Thuso Mbedu and John Boyega stand out with their strong portrayals.