Dunkirk: Why India can't watch Christopher Nolan's IMAX war epic the way he intended
India is watching Dunkirk in what's the relative equivalent of watching it on our phone screens; and that's a cinematic travesty like no other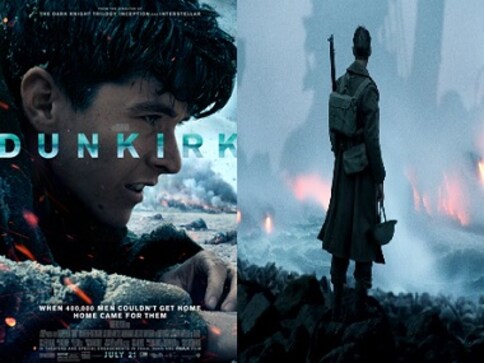 In one of the early scenes in Dunkirk, one spectacular frame shows Fionn Whitehead's character lying flat, face-down on the sandy beach, his hands covering his head. Far in the distance, fighter planes of the fearsome Luftwaffe are pounding the coast.
The bombs begin dropping closer one by one, ominously heading towards our still-crouched soldier. For a heart-stopping moment, as one bomb blows up just a little away from him, it looks like all will be over for him in mere moments. Then, the pounding stops; and the soldier is left worse off only by a falling pile of sand, shrouding him in temporary safety.
All of this happens in just one shot, and that shot is a movie all by itself – the character, the conflict, the rising tension and the ultimate resolution that thrills you with a sense of relief; but only for the time being. The film is a relentless assault of such pure cinematic moments, capturing the horrors of war in a manner that puts our comfy 'real' lives to shame.
And much of the film's ability to thrust you in the middle of the action comes from the technical wizardry at the heart of it - the large format IMAX cameras used to capture a bulk of the film.
IMAX film, with it's unusual, 'taller' aspect ratio and significantly higher resolution, is projected onto giant screens, revealing incredible detail. This, coupled with Nolan's cinematic mastery, is why Dunkirk is being hailed world over as an experience that's arguably unlike anything before.
Unfortunately, here in India, there's isn't a single screen that can show us Dunkirk, the way Christopher Nolan and cinematographer Hoyte Van Hoytema really intended it.
Despite some of India's bigger cities having multiple screens labelled as IMAX (a trademark of the IMAX Corporation, the company that manufactures the cameras as well as installs the IMAX projection systems in theatres), all these screens are in fact digital IMAX – digitally remastered projections on screens quite larger than the average cinema screen size.
As the name suggests, digital IMAX isn't actually projected through film, unlike the full 70mm IMAX film projection. So, while digital IMAX is still a more immersive experience than the usual 2K or 4K projection on a regular cinema screen, the difference between IMAX and digital IMAX was enough for the latter to be colloquially referred to as Lie-MAX. Go figure.
Prasad's in Hyderabad was the only cineplex in India to have the 70mm IMAX projection system. The screen also happened to be the largest IMAX screen in the world, making the experience of watching a film shot on IMAX and projected on that screen, truly incredible. Nolan's previous film, Interstellar, also had significant portions shot on IMAX.
I had the privilege of watching Interstellar in all its glory at Prasad's IMAX; needless to say, the experience blew my mind to smithereens and scattered it across space-time. Interstellar, however, was the last film to be projected in 70mm IMAX at Prasad's (and by extension, in India.)
Since a renovation earlier in 2017, Prasad's IMAX ceased to go by that name, now going by 'Prasad's Large Screen' instead.
IMAX's official website, which once listed Prasad's as one of their many global IMAX screen locations, no longer has Hyderabad on their list either. Unaware of this fact, I once again undertook the Nolan-IMAX pilgrimage to Hyderabad, only to discover that what they have now is simply a 4K digital projection onto a large screen.
It isn't even Lie-MAX that Prasad now has, making the entire situation sound like a meme gone wrong.
With Dunkirk, the craft and technique on display are leaps ahead of what Interstellar had, with the IMAX cameras going to places they hadn't even been imagined in before. The large, cumbersome IMAX cameras were rigged and mounted on fighter planes, even inside the cockpit of one. Basically, Nolan, Hoytema and team used an IMAX camera where others would use a GoPro.
Nolan's peg for the emotional connect isn't through characters or plot, but the idea of war itself. Then, when he puts you in the cockpit of an RAF Spitfire engaged in flight combat with a German Heinkel, you experience it closest to the way the pilot probably would, your head craning in angles the camera forces you to make.
Rich with many such all-consuming moments that capture the grotesque magnitude of war as a human concept, Dunkirk will likely be regarded, in time, as a landmark achievement.
For this is a filmmaker firmly rooted in the traditions of film; and in an age where film is almost extinct, he still pushed the limits a dying format to enrich the very meaning of cinema.
Unsurprisingly, the film is being relatively less well-received in India than other major markets. One possible reason for this, I suspect, is that, with the closure of Prasad's IMAX, India just hasn't seen Dunkirk in all its glory. It's rather disheartening to think that while Dunkirk opened in the US with over 30 locations playing 70 mm IMAX, we in India don't even have one.
A handful of digital IMAX shows in a few metros apart, the rest of India is watching Dunkirk in what's the relative equivalent of watching it on our phone screens; and that's a cinematic travesty like no other in recent memory.
Entertainment
Bruce Willis was diagnosed with dementia earlier this year, as per a statement by his family.
Entertainment
Lance Reddick, 60, died Friday in Los Angeles of natural causes, his publicist Mia Hansen said. No further details were provided.
Entertainment
Bang Si-hyuk, chairman of HYBE and the mastermind behind BTS, said figures including global ratings and album sales now showed declining demand for K-pop.