Ducktales reboot teaser: Rejoice! Uncle Scrooge and Huey, Dewey, Louie will return in 2017
If you are a nineties kid; you surely remember Scrooge McQuack diving into a pile of gold coins in Disney's Ducktales.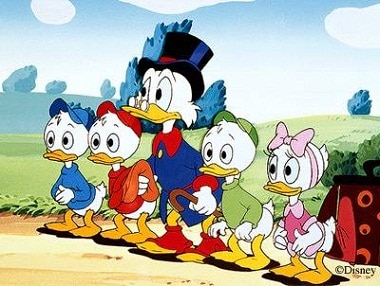 It looks like nineties nostalgia is the flavour of the season; because after Power Rangers, Teenage Mutant Ninja Turtles; guess which cartoon is getting the reboot?
Ducktales is back; with Uncle Scrooge and nephews Huey, Dewey and Louie in tow. When the reboot was originally announced in February 2015, Disney revealed to Entertainment Weekly that other beloved characters from the series like Launchpad McQuack, Flintheart Glomgold, and the Beagle Boys are also set to return.
The original series ran from 1987 to 1990 and followed the adventures of Uncle Scrooge and his nephews who lived a hurricane of a life in Duckburg. Remember the title song, 'Life is like a hurricane?'
The most memorable part of the series was Uncle Scrooge diving into a huge pile of money in his safe; which was a room full of gold coins.
From the new promo just released by Disney XD; we know that Uncle Scrooge is still stacking up on gold coins.
In addition to Scrooge and his nephews Huey, Dewey and Louie, Disney XD's take on DuckTales will feature Launchpad McQuack, Duckworth, Gyro Gearloose and Magica De Spell reports Fuse TV. 'Webbigail 'Webby' Vanderquack (the granddaughter of Scrooge's maid, Mrs. Beakley) will also feature in the reboot in a more regular role. DuckTales Season 1 will run for 21 episodes, plus two hourlong specials. The premiere date is set in January 2017.
Here's a look at the new teaser:
Updated Date: Dec 08, 2016 17:08:09 IST