Dubai International Film Festival 2017: Meet Haifaa al-Mansour, Saudi Arabia's first woman director
Haifaa al-Mansour, Saudi Arabia's first woman director got a warm reception for Mary Shelley, her second film, here at the 14th Dubai International Film Festival (DIFF).
Haifaa al-Mansour, Saudi Arabia's first woman director (Wadjda, 2012), got a warm reception to Mary Shelley, the new film she has directed, here at the 14th Dubai International Film Festival (DIFF).
The lavish British period drama, starring Elle Fanning and Douglas Booth, earlier played at the Toronto and BFI London Film Festivals. We met al-Mansour, who is stockily built, with a commanding presence, and long loose hair. She grew up in Saudi Arabia, the eighth of 12 children, and later studied literature and film studies at universities in Cairo and Sydney. Married to US diplomat Bradley Neimann, she has been living in Los Angeles, and speaks with a strong American accent.
Mary Shelley is about Mary Godwin, the 19th century English writer, who had a tempestuous marriage to the famous poet Percy Bysshe Shelley. A holiday at Lord Byron's in Geneva eventually resulted in her writing the story "Frankenstein or The Modern Prometheus," creating an enduring Gothic classic, at the age of just 18. Mary Shelley's mother had died at childbirth; three of Mary's own four children died, while Percy abandoned her for other women. Her grief and feelings of abandonment led her to creating Frankenstein, with a hideous-looking but intelligent 'Creature,' who craves for love and companionship, in a story combining Gothic horror with science fiction. Frankenstein was published without giving Mary Shelley credit, but Percy Bysshe Shelley acknowledged her as the author.
Haifaa al-Mansour's debut feature Wadjda was a finely observed film about a small girl in Saudi Arabia who is keen to buy a bicycle and beat her friend, a boy, in a bicycle race, but her society does not permit girls to ride bicycles. (In fact, the actual Saudi ban on women driving vehicles was lifted only this month.) Eventually Wadjda's mother helps her get a bicycle. The film chronicles women struggling to find a voice in a conservative, patriarchal society.
"When I was in school, my mother would visit me, wearing not the full veil, but a thin little veil, and I was, like, I don't know you, you are not my mother, because I wanted to fit in. Later, I appreciated how she questioned tradition, and I think of her with pride," said al-Mansour. Indeed, as men and women are segregated in Saudi society, al-Mansour directed the outdoor scenes of Wadjda from inside a van, watching the shoot from monitors, and giving instructions on a walkie-talkie.
Mary Shelley is so different from Wadjda, yet both are about women wanting to carve their own spaces in misogynist societies.
Explaining how she came to make Mary Shelley, she said, "When I received the script, it was a romantic love story. But I wanted to make a feminist film, where I could relate to her journey as a modern woman," said al-Mansour, adding, "Unlike her contemporary Jane Austen, Mary Shelley did not write about love, marriage and jealousy, but philosophical works on life beyond death — not seen as a genre for a woman writer. The loss of her mother and her child at a very young age provoked her questioning of death. Frankenstein and other predators are considered a masculine genre till today. So we should celebrate women who did what they believed in, and not what people expected of them. I'd like women to create a legacy, to celebrate history, so we can move forward."
As a woman director, did she find herself having to assert herself, where a man would not need to?
"I come from a very segregated society. For most of my life in Saudi Arabia, it was an all-girl's school, or a woman's world," she said. "As the leader of a crew, it is not easy as a woman, and I don't fit the image. Once I wanted something put on a bare table, and was questioned about it. But I think we should go past getting angry, when we can't be productive. We should not let our frustration stop us from achieving what we want...Women in film miss many opportunities reserved for "established directors", ie middle-aged white men. Hollywood has pushed for diversity in recent years, and now here (Dubai) as well. There is a window now, and women filmmakers should seize the moment before it disappears."
About the casting, al-Mansour said, "Elle Fanning had been a child actress, and her performance was effortless. It was more difficult to find Percy, who was boyish, yet had an intellectual flair, but Douglas Booth stood out."
Other foreigners have tried to recreate the English atmosphere, including Ang Lee's Sense and Sensibility and Merchant-Ivory's The Remains of the Day. Was al-Mansour anxious about recreating the British period setting?
"I didn't try to be period accurate; I was more interested in creating a dark mood. I didn't have the luxury of making it the England in my mind," said al-Mansour. "It was very challenging, as it was a UK-Ireland-Luxembourg co-production. London was too expensive to shoot in. Ireland was wonderful, but we had a limited budget there. But we got a chunk of the budget from Luxembourg. So, we did exteriors in Ireland and interiors in Luxembourg. Elle Fanning would open a door in Ireland and enter a room in Luxembourg! It was challenging to bring the pieces together," she added.
Next, she's wrapping up Nappily Ever After, a film for Netflix, shot in the African-American community in Atlanta.
At DIFF, al-Mansour also won the IWC Filmmaker Award worth $100,000, for her new feature project Miss Camel. The film is about a Saudi teenage girl named Hayla, who escapes an arranged marriage and discovers she's a 'camel whisperer,' eventually challenging restrictive traditions to compete in the Miss Camel beauty pageant.
"It's not important where you come from. It's important that you connect with the character," al-Mansour concluded.
Entertainment
An FIR was registered at the Amboli police station against a man for extortion and other charges of the IPC, a day after an offence was registered against Bhushan Kumar for allegedly raping a woman under the pretext of providing her with a job in T-series.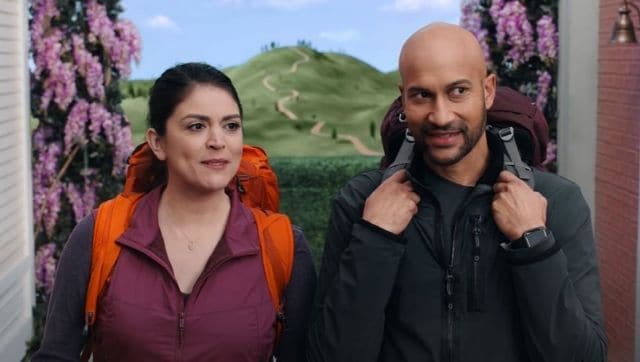 Entertainment
Though bumpy at times, Schmigadoon! is a feel-good comedy and a hat-tip to musicals, worth a slow-Sunday watch.
Entertainment
Britney Spears will have to undergo a psychological evaluation to end her conservatorship, which uneasily melds mental health criteria with legal standards.