Donald Trump calls Borat creator Sacha Baron Cohen a 'creep, phony guy'; actor responds
Donald Trump has labelled Sacha Baron Cohen 'a phoney guy' and 'a creep' after the British comedian featured the president's lawyer in his new Borat movie
President Donald Trump says he thinks Sacha Baron Cohen, the comedian behind the Borat films, is "a creep." Baron Cohen's new movie, Borat Subsequent Moviefilm, shows Trump lawyer Rudy Giuliani in a compromising position in a hotel room with a young woman acting as a journalist.
Trump told reporters aboard Air Force One on Friday night that he didn't know what happened with Giuliani.
"But, you know, years ago he tried to scam me," Trump said of Baron Cohen. "And I was the only one that said, ''No way. This guy is a phony guy." "I don't find him funny," Trump said, adding, "To me, he's a creep."
Cohen responded on social media Saturday to Donald Trump's assessment.
Check out his tweet here
Donald—I appreciate the free publicity for Borat! I admit, I don't find you funny either. But yet the whole world laughs at you.

I'm always looking for people to play racist buffoons, and you'll need a job after Jan. 20. Let's talk!https://t.co/itWnhJ8TQF

— Sacha Baron Cohen (@SachaBaronCohen) October 24, 2020
Trump appeared briefly on HBO's Da Ali G Show in 2003 but walked away from an interview with Baron Cohen's Ali G character after just a minute.
One scene in Cohen's new movie scene shows Giuliani on a bed, tucking in his shirt with his hand down his pants after the woman helps him remove recording equipment. Giuliani called the scene "a hit job" and said he realized he was being set up.
(With inputs from Press Trust of India)
Find latest and upcoming tech gadgets online on Tech2 Gadgets. Get technology news, gadgets reviews & ratings. Popular gadgets including laptop, tablet and mobile specifications, features, prices, comparison.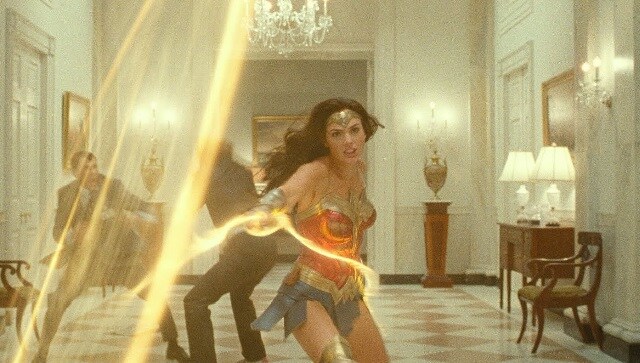 Entertainment
While Wonder Woman 1984 will release in international theatres on 16 December, the Patty Jenkins directorial will also be made available to HBO Max subscribers free of charge for its first month.
Entertainment
Universal and Cinemark announced an agreement that guarantees three weekends of theatrical exclusivity for Universal and Focus Feature titles before a film can become available to rent on demand. Films that open to $50 million or more, however, will stay in theatres exclusively for at least five full weekends.
Entertainment
Sylvester Stallone joins Margot Robbie, Viola Davis, Idris Elba, among others for James Gunn's The Suicide Squad